Still Crazy for Comics
Click the Buzz Me button to receive email notifications when this writer publishes a new article or a new article in this column is published.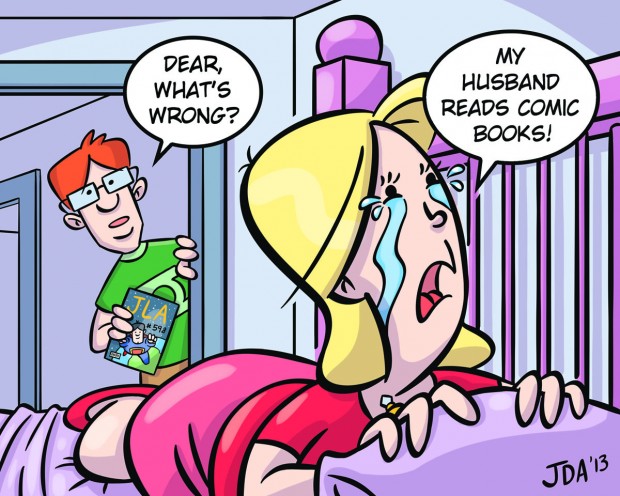 About 30 years ago, Alex Johnson was on the couch reading a comic book when his wife, Kathy, walked by. He could tell something was bothering her, so he followed her into the bedroom, where he found her crying on the bed.
"My husband reads comic books!" she burst out.
They'd been married about a year, and comic books were a longtime hobby of his. He'd bought his first one, Justice League of America #29, for 15 cents from a hotel vending machine in 1964.
But, according to much of society and apparently his wife, comic books didn't count as real reading. He stopped buying them.
Six years later, a co-worker walked by his office carrying the comic book Lex Luthor: The Unauthorized Biography. The next day the co-worker brought in a bag of comics for Johnson to read.
"That infected me with the disease again," he said. He was so excited, Kathy says, that she finally understood how important comics were to him. It helped that the conspiring co-worker was a well-respected "normal guy."
Over five decades, Johnson, now 57, has bought more than 20,000 comic books, including such sought-after issues as the first appearances of Wolverine, the Punisher and Green Lantern, all but three issues of Thor, and Fantastic Four #30.
"A good comic book does everything that a good movie or novel does," he said. "There's imagination and special effects and a good story."
He's read each of his comics at least once, so they're not in mint condition. Despite that, he estimates the collection is worth $50,000 to $100,000.
But he doesn't collect for the money. He says he collects for the enjoyment. "Anybody who thinks they're going to get rich from comics is an idiot," he said.
Jeff Bobbitt, manager of Nan's Comics & Games Too, said, "The jig is up on collecting comics for money." Because of more information about upcoming comics on the Internet and social media, publishers know when a comic is going to be popular and they print more of those issues. Some collectors say the days of rare, important comics died in the 1990s.
Stewart Wieck, a writer and game designer, has been collecting comics since he was 5 or 6. By the time he was 8, he was spending all of his allowance, birthday and Christmas money on comics. He's 45 now and not sure how many he has. When he moved from Braeswood Place last year, he had to recruit a dozen friends to help him just move the comic book boxes.
For Wieck, comics are nostalgic and fun. They're also an investment.
"It was a hobby that I was able to turn into an investment," he said. "I don't know the stock market, and I don't want to. But I know comics."
He buys some "slabbed" comics – comics that are bagged and graded by the Certified Guaranty Company to certify condition and quality. Those have value; he sold a copy of Journey Into Mystery #86 for $12,500, turning a $5,000 profit. Those are old comics. The money just isn't in the new comics, he said.
But they're about more than the money. They're about escapism, good vs. bad, the wacky, anything being possible, larger-than-life solutions.
"It's a modern mythology," Wieck said. "They resonate with our times and our lives. If you were into them as a kid, there's a strong nostalgia. You remember the fun you had reading them."
As co-founder of the White Wolf role-playing game company and now co-founder of Nocturnal Media, which is developing an augmented-reality game, Wieck draws on an imagination honed in part by years of comic book reading.
"If there's any single facet of comics that continues to influence me, it's probably the world-building of the Marvel Universe," he said. "I enjoy creating entire worlds, à la Tolkien's Middle Earth, and my first exposure to a cohesive universe was in comic books."
Fueled by blockbuster movies and merchandising, superheroes are ubiquitous, and comics currently are hot, Bobbitt said. That popularity, among men and women, is visible with the continuous growth of Houston's annual Comicpalooza convention in May, plus Space City Con in January and other area conventions.
Comics' growing acceptance in popular culture, and as an art form, has no doubt alleviated the stigma that lead Kathy Johnson to tears all those years ago. A modern fan's spouse is just as likely to pull on a costume and head to the comics convention too.
Want more buzz like this? Sign up for our Morning Buzz emails.
To leave a comment, please log in or create an account with The Buzz Magazines, Disqus, Facebook, Twitter or Google+. Or you may post as a guest.