Honeymoon Adventures Around the World
Click the Buzz Me button to receive email notifications when this writer publishes a new article or a new article in this column is published.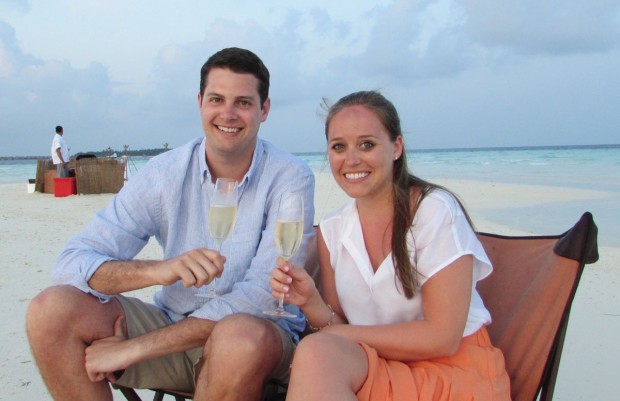 Now that you've decided to tie the knot, it's time for the next big decision: What about the honeymoon?
Houstonians, world citizens that they are, fall right in line with global trends. Brooke and Colton Braud, who were married March 22, chose the Maldives – as did one in five of those recently surveyed by Agoda.com, a popular online booking service. The survey asked 15,000 customers all over the world to choose their preferred honeymoon destination, and 20 percent chose the Maldives.
Ashley and Alan Appling, married in August, chose the Greek Islands for their honeymoon – the No. 2 destination for North Americans who were surveyed, and tied for No. 2 among the rest of the world.
Sydney and Robert Eifler, who married March 29, opted for New Zealand and Australia; New Zealand was chosen by 5 percent of the respondents.
Beyond trends, Houstonians like to think outside the box too, as our honeymooning couples demonstrated.
The Brauds had a two-part honeymoon, with the two parts as different as they could be. First the theme would be water, with an exquisite island resort; the next would be sand, with a layover in the desert metropolis of Dubai.
Colton had always dreamed of escaping to his own overwater bungalow on a remote tropical island. He researched Tahiti, the Seychelles, and other tropical destinations. The Maldives, a precious island nation set in the middle of the Indian Ocean like a chain of pearls, has only in recent years become a popular tourism destination.
Made up of 1,192 islands grouped into a double chain of 26 atolls, the peaceful nation has decided to capitalize on the spectacular vistas of its turquoise seas by promoting itself as a high-end tourism destination. In recent years, the impetus to welcome tourists has grown with the realization that these islands may soon disappear beneath the waves due to climate change. The government has set up a fund from tourism revenues to purchase land in India, Sri Lanka and Australia so that island residents will have a place to go if, as scientists predict, the sea level continues to rise.
Brooke and Colton knew they might never have another chance to see this one-of-a-kind place with a colorful reef swimming with hundreds of species right outside their door. They chose Baros Maldives, a resort with its own island that Trip Advisor travelers rated the No. 1 most romantic hotel in the archipelago.
"That was pretty convincing," said Colton. They spent their days snorkeling off the edge of their patio, walking the sparkling golden beaches and dining. On the last night, Colton surprised his bride with dinner in the middle of the ocean – on a private sandbank, just before sunset. The hotel had set up a waiter and chef for them; other than that, they had the tiny island to themselves.
"We had champagne and appetizers and walked on the beach and watched the sunset, and then had a candlelight dinner prepared right there for us," said Colton. "It was an amazing way to end our trip to the Maldives – the two of us on a sandbank in the middle of the Indian Ocean."
Brooke was, needless to say, swept off her feet. After five days of this, Colton knew they'd be ready for some urban action – and so it was off to Dubai, a logical layover on the 24-hour trip to the Maldives.
"It was perfect," said Brooke. "We went from lying on the beach one day to going into the desert the next, and then we were indoor snow skiing."
Naturally the couple hit the massive Mall of the Emirates, the one that grabbed world headlines a few years back when it opened a 22,500-meter ski resort inside, with artificial snow and the world's first indoor black run.
"It was a really stark contrast but at the same time exactly what we needed and wanted," Colton said.
They packed as much as they could into their three days there: a desert safari tour, an authentic Mexican lunch with table-side guacamole and build-your-own margaritas, skiing an hour later, then for something completely different, an evening in a Thai restaurant.
"It was a complete 180 from what we'd been doing in the Maldives," said Colton. "We figured, if you're going to travel that far, you might as well try to do it all."
The Eiflers felt the same. They both wanted to go somewhere they'd never been – Italy was high on the list, but the weather report for March didn't look so good. On the other side of the world, Australia and New Zealand were warm and sunny – and there was, of course, the question of the bride's name. She'd always wanted to go to Sydney… so the stars lined up for the Land Down Under.
They flew into Sydney, and from there to the Whitsunday Islands off the coast. Their first adventure fulfilled a lifelong dream of Sydney's: snorkeling in the Great Barrier Reef.
"I've wanted to be Jacques Cousteau since I was little," Sydney joked. The beauty of the Whitsundays exceeded her expectations. They stayed at the top-rated Qualia resort and visited Whitehaven Beach, named the world's most eco-friendly by CNN.com. It's also been called one of the most photographed beaches, and with swirling blue waters mixing with snow-white sands, it's easy to see why.
They packed a lot into their three days here, then headed back to Sydney before catching a flight to Queenstown, the Telluride of New Zealand.
"We decided to make Queenstown our adventure-seeking part of the trip," said Sydney. A helicopter tour took them to Madagascar Beach, a glacier lake, a wildflower-filled meadow and a glacier; they took a sunset cruise on a vintage steamship built the same year as the Titanic; they visited a ranch and observed the sheep-shearing operation. The next day they did a 15,000-foot skydiving jump, followed by a bungee jump from the Kawarau Bridge, suspended over the vast chasm of the Kawarau River, where the bungee-jumping craze got its start.
After that they decided to take a more pedestrian approach with a hiking trip into the mountains outside Queenstown. Next day they flew to Auckland on the North Island for a stay at the Huka Lodge near Lake Taupo, where Robert got to go fly fishing. Sydney worked on improving her skills and enjoying the pinot noir and roasted lamb.
Asked what her favorite memory might be, Sydney didn't hesitate.
"It was strange, hearing people say 'Mrs. Eifler, your bags,'" she said with a laugh. "I'd look around a minute to see who they were talking to…. It's such a wonderful time of your life. People are so excited for you; they congratulate you and offer you champagne."
8 tips for the best honeymoon
The Maldives, the Greek Islands and New Zealand may top the lists of dream destinations for honeymooning couples, but the reality is that budget considerations keep most of them much closer to home – typically, Mexico or Hawaii – and they still have fabulous getaways, said The Honeymoon Hut's Beth Taylor, a Houston-based honeymoon planner.
Indeed, that's the biggest mistake people make, says Skip Neal of Honeymoon Guru of Austin. "Things are expensive – even if you want to go to Cancun. People will tell me, 'I want five stars but my budget only allows for three, so you need to get me five.' People need to be a little more realistic."
Advice from the experts:
If money is an object, choose a cheaper destination. If you've got $6,000 to $8,000, stick closer to home. The Maldives or French Polynesia will be a minimum of $12,000 for five days.
Spend the money instead on extras – like an upgraded room category, a private plunge pool or a swim-up room – that will make your stay really special.
Don't over-plan; too many activities can run you ragged and leave you with little time for relaxation.
Leave for your honeymoon on Monday if the wedding is Saturday. This will give you time to rest so you're really ready to enjoy the honeymoon, and will also allow you to enjoy your wedding and your friends and family a little more, rather than having to catch an early flight after your wedding night. You'll also get better rates on airfares and possibly hotel rooms too.
Mexico, and especially the Riviera Maya, is where you'll get the most bang for your buck, says Taylor, which is why about 75 percent of her clients end up going there. For those who are worried about safety concerns, don't be. "Mexico is a whole country, not just a place," Taylor emphasizes. Mexico's top tourist destinations are far from the conflict zones. And if you've already been to the Riviera Maya, you will have an entirely different experience in Puerto Vallarta, the Riviera Nayarit, Cabo San Lucas, or one of the beautiful colonial cities in the interior.
Reserve your honeymoon suite six to nine months ahead of the wedding.
Ask yourselves how much time you want to spend on the flight. "A lot of people want to do Tahiti or Bora Bora, but they don't really want to spend eight hours on a plane," said Neal.
Consider hiring a honeymoon planner to cover all the bases – and to make sure all the memories are good ones.
Some travel agents, like the Honeymoon Hut, have a gift-registry service for their clients. Some resorts participate, so that guests can register to give a couples massage, a tour or a room upgrade, for example. If their resort isn't registered, couples can write in their own idea for what they'd like the gift money to go towards.
Want more buzz like this? Sign up for our Morning Buzz emails.
To leave a comment, please log in or create an account with The Buzz Magazines, Disqus, Facebook, Twitter or Google+. Or you may post as a guest.