Take it Outside
Backyard bashes worth the effort
Click the Buzz Me button to receive email notifications when this writer publishes a new article or a new article in this column is published.
There's something intrinsically special about being invited into someone's home. It's more intimate than meeting at a restaurant. It takes more thought. It's entry, for a little while, into someone else's world. But for whatever reason – the huge numbers of great Houston restaurants, the extra effort entertaining requires, the fear of pulling it all together – the option of entertaining at home sometimes gets overlooked.
So as Houston weather peaks and we all want to exit the air conditioning for crisper outdoor climes, it's time to call some friends, make a date and take it outside. To the backyard.
That's what Shelly and Jeff Schultz have been doing for the past two-plus years. "We had built our house, and we had this huge backyard with just grass," says Shelly, a program coordinator for MD Anderson Cancer Center's Blood Bank. Eventually Shelly convinced Jeff, her dentist husband, to think about landscaping, even though he wouldn't initially acquiesce to a pool. But one thing led to another, and the couple and their now 10-year-old daughter wound up with what Shelly calls "a party house," complete with a pool, hot tub, arbor, fire table and custom swing bed. "It's like a couch, but it's a swing," Shelly says of the giant bed-swing that guests inevitably gravitate to and fall in love with.
"Cole Parish, our landscaping architect, changed our lives and the way we live," Shelly says. "He took our house from a blank slate to my fantasy backyard."
After the redo, Shelly and Jeff began entertaining outdoors often. "We went from our bungalow to a bigger house so that we could have friends come over, so that's what we do. We're not fancy entertainers; we just invite people over for beer, host school socials and have kids' swim parties." When asked if she cooks, Shelly says, "No. That doesn't work. I'm not a cook and I don't bake. My skills with decorations are limited. I work full-time, life is busy and full, so to entertain it's take-out and having people over."
Shelly's favorite take-out menu is barbecue from the Old Hickory Inn in Meyerland. "That's our favorite sausage place, and people go nuts for it." She's also known for her "skinny" sweet tea vodka-lemonades and her Jell-O shots. "Everyone talks about the Jell-O shots," she says. "We make them with vodka and different flavored Jell-O, and we have a kid version and an adult version in different colors so we don't mix them up." Shelly is a purist. "There are so many fancy Jell-O shot recipes I've thought about doing, but who has time for that?
"By the way, I'm also the pool boy," she adds.
Cathy and David Herr entertain similarly, having built a backyard pool five years ago. "That's when it all started, and this whole thing of Sunday parties kind of kicked off," David says. The energy trader, his wife and their two young children host friends every Sunday the family is in town. "They aren't big raging parties," David says. "But there's an open invitation to friends and neighbors if we're in town."
While David is quick to demur – "We're not making five-course meals, just chicken and sliders and hot dogs" – his entertaining style falls a bit closer to the foodie end of the spectrum, with more attention paid to the menu, than that of the Schultzes. "I like to be on the grill, and I'm always cooking something," he says. "Sometimes I'll look for recipes, like this weekend I'm going to make a peach chutney pork dish that I found when one of those summer grilling ideas popped up on my computer. I just thought it sounded good." Note: David made the pork and sent an update with the recipe: "The peach pork chops were a huge hit and complemented Cathy's salad perfectly! I highly recommend them."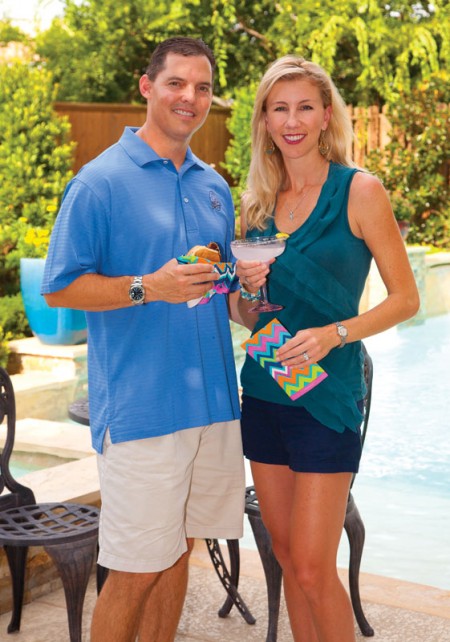 The Herrs don't have a signature drink, but they do keep their fridge stocked with beer and wine, and they'll often make margaritas. Generally, decorations are minimal. But for both children's birthday parties, they strung up Christmas lights from the back fence to the house. "Week to week we keep it simple," David says, explaining how they manage to make it happen every Sunday.
Syma Levy takes backyard entertaining up a notch. The party planner and owner of Oulala! What an Event has ideas upon ideas of ways to theme parties and make them "cohesive." She likes to elevate a backyard barbecue with burlap linens, yellow rose centerpieces in galvanized tins and longneck beer "coozies" printed with something like, "Thank your lucky stars you're in Texas." Instead of barbecue, she suggests grilling steaks – and then branding them with the hosts' name. (She orders brands at bbqfans.com.) "You could serve Texas wines, maybe have a Texas wine tasting," she says. "And serve Blue Bell ice cream with miniature pecan pies for dessert." (Syma suggests ordering the mini pies from House of Pies or Goode Company Barbecue.)
For a crawfish boil, she decorated with lots of sunflowers and wrote menus on galvanized chalk boards. Mason jars served as glasses for iced tea with mint, and favors were personalized Tabasco bottles that said, "Thanks for spicing up our party." Syma says, "You could use kraft paper to print your own labels on the computer. Just manually feed it through the printer." Other readers like to add quartered muffalettas, the New Orleans ham, cheese and olive salad sandwiches, to the crawfish mix. Zapp's Cajun Crawtator or Who Dat? potato chips and Abita and Dixie longnecks bring more Louisiana to the party. (Go to nolacajun.com to buy the chips or source more ideas for favors, menu and décor.)
Syma is all for comfort food – mac and cheese, grilled cheese, fried chicken. "It's generally taboo, but it's fun to eat it all when we're given the excuse. I can't tell you how many parties I throw, and we spend thousands of dollars on tenderloin and sushi, but the adults wind up eating the greasy burgers and waffles meant for the kids."
With all her creative ideas, the bottom line, Syma says, is that it doesn't have to be elaborate. Pick and choose a few details to focus on, and let the rest happen. "We all get dressed up and go out to dinner on Saturday night. But entertaining and being invited to someone's home refreshes us, gives us something to look forward to," she says.
"Sometimes we try to make things so different and special, but really we just need to go back to basics and give people comfort – that's what they love. Keep it simple. People will like it."
Want more buzz like this? Sign up for our Morning Buzz emails.
To leave a comment, please log in or create an account with The Buzz Magazines, Disqus, Facebook, Twitter or Google+. Or you may post as a guest.