Football, Cajun Style
Saints and Tigers fans live among us
Click the Buzz Me button to receive email notifications when this writer publishes a new article or a new article in this column is published.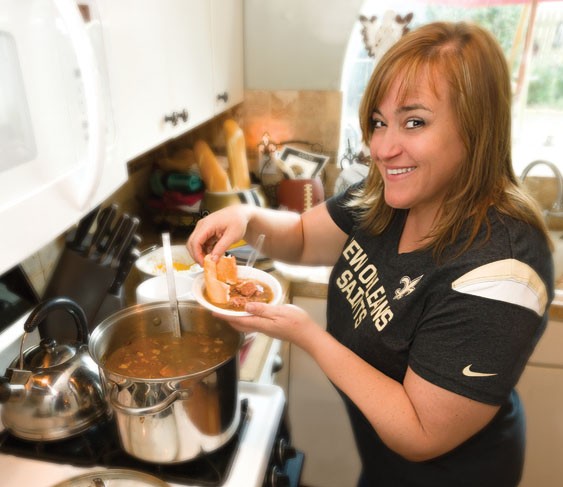 Each Sunday at this time of year, you can find 50 or so neighbors at Charles and Chandel Hancock's Mimosa Drive home, decked out in gold and black, eating gumbo, drinking Miller Lite, cheering on the New Orleans Saints – and enjoying playful bickering between their husband-and-wife hosts.
Charles, an art director at digital-marketing agency BubbleUp, and Chandel, an assistant principal at Johnston Middle School, moved from New Orleans to Bellaire more than 20 years ago, but they never let go of their love for the Saints. Over the past 10 years, they've converted many neighbors into Saints fans.
During the football season, they inflate "Bubba," a 6-foot-tall Saints player, in their yard and put on the gumbo. The neighbors bring their children, pets and food. They sit on the couch, lean on bar stools. Everyone is welcome, even fans of opposing teams, but they'll need a thick skin for the good-natured heckling they'll endure.
Chris Ferris showed up at the San Francisco 49ers-Saints playoff game in 2012 wearing 49ers' scarlet and gold. When the 49ers pulled ahead 14-0 in the first quarter, Ferris started chanting, "For-ty ni-ners, for-ty ni-ners." Chandel's mother turned to Charles and said, "Who is that boy? He needs to go." In her Louisiana drawl, it came out, "Who's dat bah-yee?"
"The game itself is only half the fun," said Chris, who goes to the Hancocks' most football Sundays with his wife, Meg, and their son John. "The rest is watching Charles and Chandel enacting all their crazy superstitions."
If Charles is sitting on one seat when something good happens, Chandel instructs him not to move from that spot. If someone is talking about something other than the Saints, Chandel will shout, "Focus, people! There's a game on here!" If Charles gets overconfident and declares victory, Chandel will yell across the room at him.
Ground rules include no talking about anything but football, no moving around during the action, and mandatory arrival before kickoff. Unless you arrive late and the Saints win. Then, you have to arrive late every time.
"Really, it's a bonding ritual for the whole neighborhood," Charles said. "These games have brought my neighbors and my street even closer together, where we are almost like family."
In Houston's Buzz-area neighborhoods, you'll see mostly Texans or Texas-college flags and bumper stickers. But there's a vocal minority who eat and breathe Louisiana football. In Louisiana, they say, not unlike Texas, football is religion, something everybody either does or watches.
Realtor Ces Guerra was raised in New Orleans and clings to his love of Louisiana State University, his alma mater. He has friends who trickle through his house during away games. He has eight season tickets at Tiger Stadium, aka "Death Valley."
Each year, he and his college roommate meet for a game. And he reunites with his old Army buddies. "It's really more than a football game," he said. "It's a chance to maintain our friendships. The environment is so electric. It keeps you young."
He likes to invite newcomers to a game and his favorite hangouts – Walk-Ons Bistreaux & Bar, The CHIMES, TJ Ribs, Acme Oyster House – and over to Victory Hill, on the west side of the campus between the quad and stadium, where residual sediments from the ancient annual rising of the Mississippi River has left a 20-plus foot terrace. There, they watch the Tiger band march through campus and down into the stadium.
"I get so much pleasure out of seeing their eyes go wide at the throng of people marching down that hill," he said.
Kevin Labban and his wife, Christy, both LSU alumni, say they have been to games at other colleges, but Tiger Stadium is a unique experience.
When the sun is setting and the announcer says, "Ladies and gentlemen, it's now Saturday night in Death Valley," Kevin gets goose bumps.
"When it's a night game, it's the most special place ... the culture, the people themselves, the passion for LSU football, the energy, the tailgating, the number of people."
Kevin and Christy have 10 season tickets to each LSU game and love to tailgate. "It's like being there with a hundred thousand of your closest friends on a Saturday afternoon," Kevin said.
Christy doesn't care about other teams, collegiate or professional. "But it's so much fun to root for LSU," she said.
But the biggest fan in the family is 10-year-old Alden. On Fridays, she wears LSU gear to Memorial Drive Elementary, earning her the nickname "Tiger Girl." Now, she is taking friends to a game every year.
And the Cajun-football cycle continues.
Want more buzz like this? Sign up for our Morning Buzz emails.
To leave a comment, please log in or create an account with The Buzz Magazines, Disqus, Facebook, Twitter or Google+. Or you may post as a guest.