Halloween on the block
Click the Buzz Me button to receive email notifications when this writer publishes a new article or a new article in this column is published.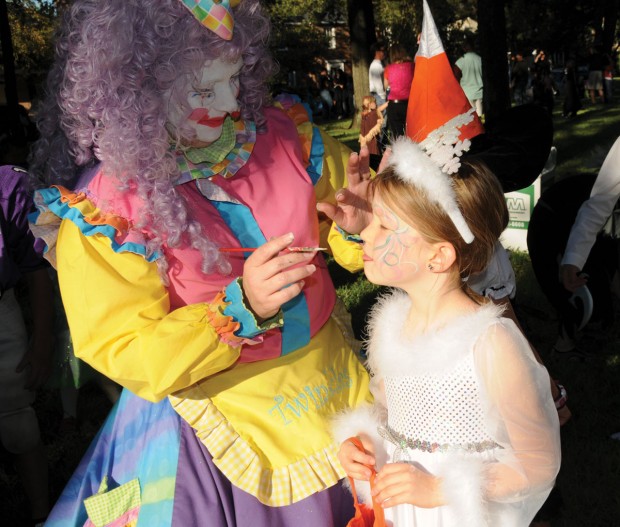 At 6:27 the night of October 31, one usually subdued Houston neighborhood will feel the deluge of 300 trick-or-treaters flying like bats out of a gargantuan Halloween party. Why 6:27? Because that's when the party's organizer will call it officially over, having pre-determined (i.e. Googled) civil twilight time, or the moment the sun has set but it's still light enough to trick-or-treat.
Also at that moment – or somewhere thereabout – the same lead hostess will do a quick wrap-up with the party's DJ, bounce-house procurers, James Coney Island and taco truck vendors just to be sure they're already booked for next year. There, simply, is the cycle of this legendary neighborhood Halloween bash.
Back up a decade or so. This party of 300 began with one resident gathering 10 neighboring families on a beautifully manicured, traditional street to celebrate Halloween. Today the mega-block party creates a giant ruckus in a usually quiet neighborhood. It's hosted by 20-plus families within a two-block radius; each family invites five more families. This crew does Halloween big.
"In the beginning, we had a decorations committee, a food committee, and invitations committee," the lead organizer says. "Everyone would contribute." (This giant carouse's planner – the originator moved years ago – asks that we keep her mask secured. In other words, no names or identifying details – party crashers beware.)
Another host remembers, "People would bring things like spring rolls and spread them out on picnic blankets. It was like a carnival, with bounce houses and a rock wall and older siblings and parents helping with games." Decorations were elaborate: bales of hay and pumpkins prevailed.
Invitations were copied at Kinko's, "before anyone had nice printers at home," the planner says. They used Paper by the Pound bordered stationery, and they brainstormed clever wording. One early invitation asked guests to bring "horror d'oeuvres."
But as children grew and time for planning Halloween parties fizzled, families couldn't put in the work. That's when the superhero organizer started outsourcing and billing the 20 hosts for their share of the party.
"The parents want to be social," she says. "They want to come outside and have a cocktail together and chitchat. They don't want to run games anymore." So she asked a DJ – the same one who'd been part of the party since its inception – to bring a helper to engage the kids with party games (think limbo).
Decorations fell away as well. "Who wants to clean that up after coming home from trick-or-treating?" With practicality prioritized, the planner now orders disposable trash cans and liners online at Uline.com (alternatively, she's picked them up at Waste Management, but she warns that's a pretty significant drive). She works with neighborhood trash pick-up to clean up the next day. "You have to think about these things," she says.
The advent of Paperless Post and Evite relegated printed invitations to the past. The organizer creates a Gmail account, giving each host the password, so that each family individually adds names to the guest list and checks responses. Some years digital invites have surprised with Halloween music chosen by the planner (try smilebox.com).
Now, the party is "much more about the parents having cocktails than about the kids playing games," says the second host. People bring drinks, and those who live near the party site open their homes. Some families still dress up together (memorably, one family dressed up as matador, Spanish dancer and little bulls), but mostly kids do their things and parents wear funny hats or costumes that don't require much planning.
"That's how life is. When the kids are little, you can dress them up and bring them out. Then they get older. They're telling you what they're going to be, and they don't want to play games, and they want to be with their friends.
"They've outgrown us, but the party's continued. The kids look forward to James Coney Island and visiting; we see neighbors we haven't seen in a year. I hope it goes on for a long time, because it's really a fun family party." And these memories will last much longer than the Butterfinger and Twix bars amassed after dusk.
Spooky playlist
For parties big and small, Billboard's Top 10 Halloween songs:
Thriller, Michael Jackson
Monster Mash, Bobby "Boris" Pickett & the Crypt-Kickers
Ghostbusters, Ray Parker, Jr.
Werewolves of London, Warren Zevon
Highway to Hell, AC/DC
Don't Fear the Reaper, Blue Oyster Cult
Runnin' With the Devil, Van Halen
Somebody's Watching Me, Rockwell
A Nightmare on My Street, D.J. Jazzy Jeff & the Fresh Prince
Dragula, Rob Zombie
Want more buzz like this? Sign up for our Morning Buzz emails.
To leave a comment, please log in or create an account with The Buzz Magazines, Disqus, Facebook, Twitter or Google+. Or you may post as a guest.