Low and Slow
Grilling dinner all day for fun
Click the Buzz Me button to receive email notifications when this writer publishes a new article or a new article in this column is published.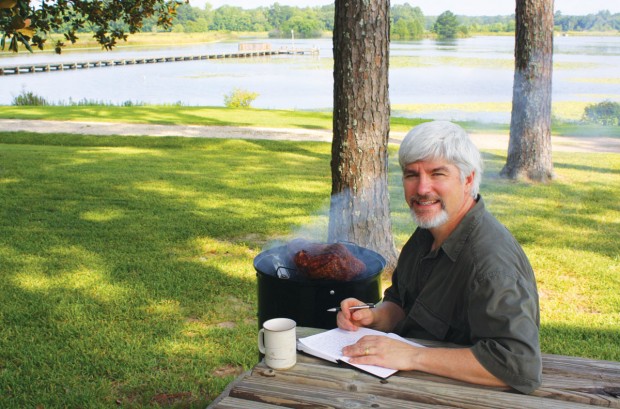 As the sun just starts its slow climb over distant pines, I light an open fire and watch as orange sparks rise and float.
It's 6 in the morning, and I've risen early on vacation to cook. It's not breakfast, and it's not lunch I'm working on. This is Texas brisket, cooked low and slow. This meal will be served 13 hours later, about the same time the sun starts its trip back down behind the other tree line to the west.
After years of cooking meat with gas and electricity, I've abandoned convenience and predictability for something more steeped in tradition, more aggravating to manage and far more satisfying when everything does come together.
Of course, part of the pursuit is chasing better results. My gas grills never got hot enough to sear a steak like the beauties served at the best restaurants. But the end product is only part of the explanation. For some time now, I've wanted to go back to where all cooking began –  over an open flame.
And once you make the commitment to cook with fire in this part of the world, sooner or later, you're probably going to try your luck with brisket, the giant slab of beef that's the grail of Texas barbecue. Even if it means hours of study and buying more equipment. (I picked up a used smoker cheap on a Facebook Trading Group I'd read about in The Buzz. A woman was getting rid of it because her husband said she had too many smokers. So it's not just a guy thing we're talking about here.)
There's a community of barbecue enthusiasts in Texas who are uncommonly generous in sharing what they know. David Edwards, a local engineer who has created rubs and sauces called Duke's Best, shared cooking tips with me over the phone for an hour. And one Houston-based website, texasbbqgrub.com, publishes a free newsletter with directions that are so detailed, the basic overview is seven pages long.
The one constant for every School of Barbecue is patience, typically in short supply in this day and age. As one pit master told me, "You have to be a person of patience to do this right, or you are wasting your time."
Patient is the last word I'd use to describe my wife's uncle, who confessed to burning or undercooking about 50 briskets. "The only one I didn't ruin, I forgot about and left on the pit overnight. The next morning I woke up and thought, 'Oh my gosh, I completely forgot the brisket!' And I'll tell you what – it was delicious."
Going to bed may be one approach, but most cooks keep a much closer eye. All told, I spent around four hours fussing over my fire. The work would have been easier if I'd remembered to pack a thermometer. So I spent the morning adjusting the smoker's air vents and scratching madly through cabinets at the vacation home. I finally found an old candy thermometer from the 1960s and stuck it on the grate. (I can't vouch for its accuracy, but it smelled really good afterwards.)
Beyond the necessity of patience and a working thermometer, don't expect experts to agree on much. The advice I'm currently going with is to cook the brisket fat side down, not up. I don't understand it, but it works. For your fire, charcoal is fine but toss some big hickory or oak chunks on there, too. After seven hours on the pit, I wrap it in foil, pour some Dr. Pepper over it and stick it in an oven on 200° for the last three or four hours, depending on the size of the brisket.The endless tweaking of smoke and sauce and fuel and flame is what make the pursuit so interesting.
"It's a quest. As soon as you finish eating you think, 'That was good. How can I make it better?'" said Greg Gatlin, a graduate of St. Thomas High School and Rice University who now owns Gatlin's BBQ. "It creates a conversation, a dialog that you're never going to solve.... You are in search of that ultimate feeling you get from some brisket, some ribs and a nice cold beer."
And while you can expect your family to appreciate the fruits of your labor, don't expect them to fully understand the allure of your new hobby.
 "That's the best brisket I've ever had. How long did it take to make it?" my mother-in-law asked later that night. When reminded it was 13 hours, she raised her eyebrows.
"Then it was almost worth it."
Want more buzz like this? Sign up for our Morning Buzz emails.
To leave a comment, please log in or create an account with The Buzz Magazines, Disqus, Facebook, Twitter or Google+. Or you may post as a guest.