Brookwood Community
Where there's opportunity for all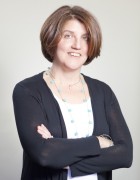 Click the Buzz Me button to receive email notifications when this writer publishes a new article or a new article in this column is published.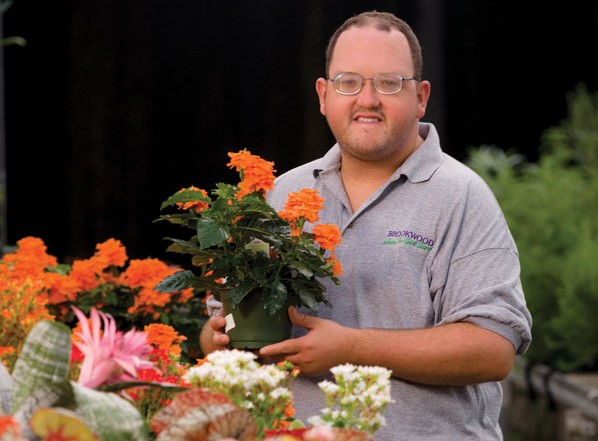 Many famous thinkers have pondered what it takes to live a satisfying life. Tolstoy once wrote, "One can live magnificently in this world if one knows how to work and how to love."
And Freud said, "Love and work are the cornerstones of our humanness."
No one has to tell that to Michele Jardine, a citizen of Brookwood, a community for adults with functional disabilities, in Brookshire, 40 miles west of Houston.
Before coming to Brookwood, Michele had trouble finding and keeping a job. "They are not supposed to judge you if you have a disability, but they do," she said. Michele, originally from Louisiana, also lived alone. "I didn't like to go home because there was no one to go home to," she said. Michele moved to the Brookwood Community four years ago. "I found that God does have a place for me – and a purpose," she said.
Brookwood was founded in 1983 by Yvonne Tuttle Streit. Streit's daughter, Vicki, who was left severely brain-damaged after contracting encephalitis and meningitis as a toddler, has lived at Brookwood since the beginning. Meanwhile, Streit's other daughter, Vivian Streit Shudde, now Brookwood's executive director, also has an adult child living at Brookwood, her son Wilson.
Today, the non-profit Brookwood is home to 111 adults whose mental or physical disabilities prevent them from living on their own. An additional 88 adults participate in Brookwood's day program. The residents live in eight group homes, large houses on a sweeping cul-de-sac street that wouldn't look out of place in any Houston subdivision, or at the Inn, a college dorm-like space. Brookwood citizens, as they are called, have a wide range of disabilities, from paralysis and blindness to autism and intellectual and developmental disabilities. What sets Brookwood apart from other facilities that care for the disabled is that it pays as much attention to its participants' need to live satisfying lives as it does to their physical care.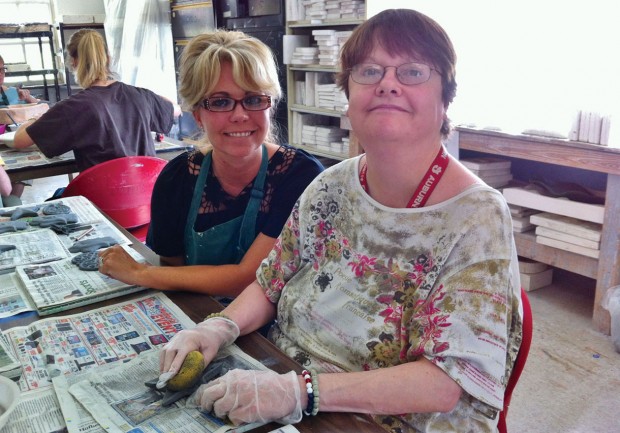 Missy Bynon, 56, has been at Brookwood since December. Before that, apart from a short stint at another facility, she had always lived with her family, first in Alabama and then in Houston, when her brother, Steve Bynon, a liver-transplant surgeon, and his wife Nancy moved to West University. But it became clear to Missy's family that she wasn't comfortable in her life. "She spent 18 hours a day in bed," said Nancy. "She would sleep all day and then get up at night to read magazines, I think because, then, she wouldn't have to deal with people."
At Brookwood, Missy, like every other Brookwood citizen, has a full-time job and receives a paycheck every two weeks. "I never dreamed Missy would get up in the morning and go to work," said Nancy. "She's lost 20 pounds; her diabetes is better. This is the best I've ever seen her."
The Brookwood Community runs several enterprises. Citizens make Christmas ornaments, garden statuary, stone castings, ceramics, greeting cards and candles that are sold in its shops, one at Brookwood (1752 FM 1489 Road in Brookshire), which recently added a fine-arts gallery, one in Spring (318 Gentry St.), an online store, brookwoodstore.com, and a new store, slated to open in late fall, in space donated by Gallery Furniture in its store at the Market at Long Meadow Farms (7301 Grand Parkway, Richmond). Also, from now through the holiday season, Brookwood is running a store in Town & Country (600 W. Sam Houston Parkway North). Brookwood is also looking for a location in the Conroe/Woodlands area.
The citizens also work as servers in the gourmet café at Brookwood and work in its 47 greenhouses, raising about 500,000 flowers and plants, including 45,000 poinsettias for Christmas, every year. Brookwood also caters in homes for private events and holds over 30 weddings each year in Brookwood's worship center and café, which transforms into a garden ballroom.
All proceeds from these enterprises support the community, funding over 42 percent of Brookwood's operating budget. The rest comes from tuition and donations. Tuition fees are $1,000 per month for day citizens and $4,450 per month for residents. About 40 percent of the citizens receive some sort of financial aid, totaling over $1 million a year. Brookwood's last biennial charity luncheon raised over $1 million. Brookwood accepts no government funding.
"Brookwood is wonderfully driven to make sure that its citizens are living," said Lee Rosenthal, whose oldest daughter, 28-year-old Rebecca, has lived at Brookwood for seven years. "They understand that we all have a deep need to work and be productive – and they are enormously creative at shaping work to fit the needs of each citizen." Rebecca, for instance, loves to sort; her favorite job at Brookwood is to unscrew molds in the ceramic workshop and return the screws to their correct containers.
But it's not all work at Brookwood. Activities include swimming in the indoor pool, designed with help from Schlitterbahn, making music in the bell choir, riding custom bikes around the 485-acre campus and participating in book groups, held by Rebecca Rosenthal's grandfather, Dr. Harold Hyman, a World War II Marine who was a historian at Rice University before retiring.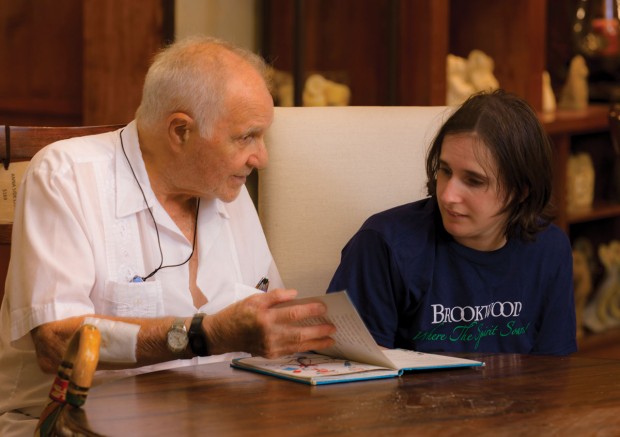 Dr. Hyman, now 90, and his wife Ferne were the first to build a retirement home at Brookwood, in a program called "Retirement with a Purpose." So far, two retired couples have built or are building homes at Brookwood and are volunteers in the Brookwood Program.
Diane Phillips, who has lived at Brookwood for 22 years, frequently visits and travels with her family. "But often, she tells us she wants to get back. She doesn't want to miss anything, which is exactly where you want them to be," said Kay House, Diane's sister.
Kay remembers when Diane first arrived at Brookwood. "Diane pushed someone's wheelchair for them. And that was the first time that Diane, who had always been the one who was being helped, got to help someone else," she said. "That was our 'aha moment.' If Diane had remained with us at home, she would never have been able to contribute like that and feel that sense of self-worth."
 "I am so grateful to Brookwood," said Lottie Smith, whose son, Brian, age 50, has lived at Brookwood for 28 years. "They have taken Brian in and loved him and given him space to be himself."
Jamie McCulloch, 31, has lived at Brookwood for three years. He moved from Arkansas after his family looked all over the country for a place for him. Mary McCulloch, Jamie's sister-in-law, said, "He often tells us, 'I can't see you tonight; I have plans,' which makes us really happy. Jamie is the youngest of five boys, and he watched his brothers go off to college, get jobs, move out. I know he wondered, 'When will it be my turn?'"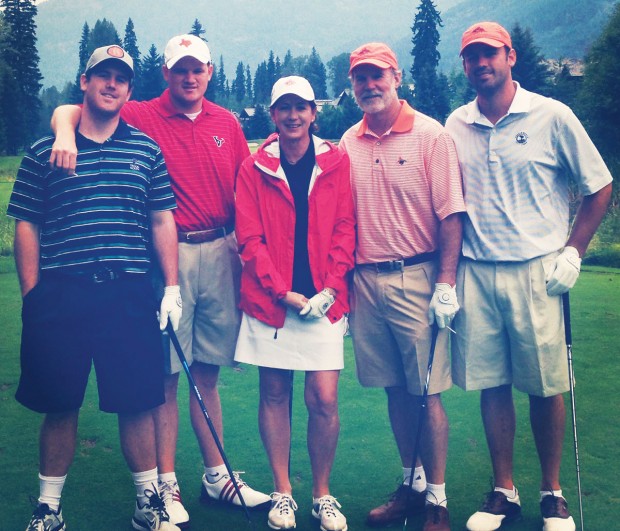 Frank Tucker, 25, has been a day citizen at Brookwood for the last three years, traveling daily by Brookwood's bus from Tanglewood. "Frank had been at the Tuttle School, from age 6 to age 21," said his mother, Stephanie. Like all families who have a child with a functional disability, Frank's loved ones worried about what kind of life he could have as an adult.
Frank works at three jobs: as a café server, bringing plants to customers' cars and painting ceramics. "He doesn't want to miss a day of work," said his mother. "He's got a purpose in life, he is a productive citizen, he has lots of friends at Brookwood. Frank is the happiest guy in the world."
According to the latest statistics from the U.S. Census Bureau, approximately 38.3 million Americans have a severe disability, either mental or physical. "And a tsunami is coming," said Joe Mazzu, Brookwood's director of advancement. "People are surviving disabilities, and living longer with them, than ever before – and there is also the coming wave of people, now children, suffering from autism and other developmental disabilities."
When Erin Kiltz attended her daughter Gracie's last high school ARD (Admission, Review and Dismissal) meeting, which public schools use to determine a student's need for special-education services, she remembered, "I asked, 'So, what's next?' And the answer is: nothing. We as a nation spend millions on early intervention, but there is nothing for these individuals when they become adults. The No. 1 fear of parents of children with disabilities is what will happen to them when I am gone?"
Kiltz, who lives in Georgetown, outside of Austin, toured Brookwood. "That first visit, I felt like Dorothy in The Wizard of Oz when she opens the door and the world changes from black and white to color," she said.
Kiltz returned again for Brookwood's Network Day Conferences, for those interested in learning how to do what Brookwood does. These conferences attract people from all over the world. Kiltz started her own day program in Georgetown, with eight adults with disabilities, in her backyard. Two and a half years later, the program, now running in donated space at the Georgetown Church of Christ, has 25 citizens, runs five of its own "enterprises," and has officially become the first affiliate of Brookwood, called Brookwood in Georgetown, or BIG. Kiltz's long-term plan: to have a full-residential community, with its own store and café, just like Brookwood.
From the beginning, Kiltz has been deluged with phone calls, including from one family who moved from Illinois to Georgetown to enroll their child.
Back at Brookwood in Brookshire, Yvonne Streit is finishing up a book about Brookwood, while executive director Shudde said she hopes to increase the number of people who take Brookwood's public tours, from the current 75,000 per year to 200,000, as well as to host more conferences for those seeking to start their own programs.
"We believe there is a national problem, a national need," she said, "and we may not have all the answers, but we do have an answer."
People in this article:
Lottie Smith
,
Michele Jardine
,
Yvonne Tuttle Streit
,
Vicki Streit
,
Vivian Streit Shudde
,
Wilson Shudde
,
Missy Bynon
,
Steve Bynon
,
Nancy Bynon
,
Lee Rosenthal
,
Rebecca Rosenthal
,
Harold Hyman
,
Ferne Hyman
,
Diane Phillips
,
Kay House
,
Jamie McCulloch
,
Mary McCulloch
,
Frank Tucker
,
Stephanie Tucker
,
Joe Mazzu
,
Erin Kiltz
,
Gracie Kiltz
,
Brian Smith
,
Ben Tucker
,
Brad Tucker
,
Sam Tucker
,
Jonathan Campuzano
,
Dan McCulloch
,
Sharesa Henderson
Want more buzz like this? Sign up for our Morning Buzz emails.
To leave a comment, please log in or create an account with The Buzz Magazines, Disqus, Facebook, Twitter or Google+. Or you may post as a guest.