Dinner Parties
"Put on your aprons and adjust your pearls."
Click the Buzz Me button to receive email notifications when this writer publishes a new article or a new article in this column is published.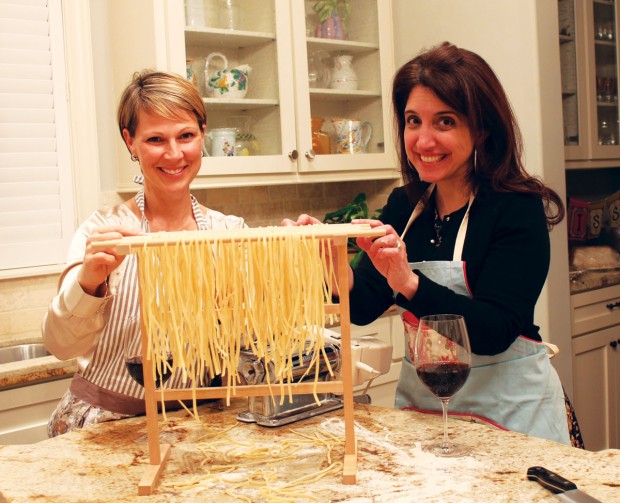 For Janis Jarosz, a dinner party isn't just about dinner. Growing up, says the director of marketing for Service Corporation International, "our home was always open. My mother loved to take care of people, and she did it through cooking."
Now that Janis' mother, Ines Lino, is no longer around to cook for her Italian family, Janis says she likes to "keep that open house and bring people together. It's about keeping her spirit alive."
That spirit couldn't have been more alive than when Janis hosted a pasta-making dinner party for four couples using her mom's recipes, pasta maker and pasta-drying rack.
"It's a process. [The pasta] has to go through the machine about eight times before it's ready to be cut. Then it's hung on a drying rack, which is basically like a wooden clothes-drying rack, and you put your pasta on it. Someone would put it through the machine, and someone with good fine motor skills would separate it on the drying rack. It takes time, so we ate a little later. I kept the hors d'oeuvres going."
Janis is not the cook in the family – she leaves that part to her speech pathologist-husband Paul, who makes the pasta dough and Janis' mother's Bolognese sauce before the party. But she loves setting a table and "doing little party favors that tie into the evening." That night she gave all the women silver musical-heart paperweights "because the night was about love and passion and friendship." She also set the scene with Italian music – "Frank Sinatra, Andrea Bocelli, old-fashioned accordion music that came from my mom" – and Italian wines. Women were given aprons from Italy to wear for the night.
"Deep down, I don't think I want to be a party planner. But I love getting together to celebrate the everyday. That night, between the wine flowing and the pasta going and people getting involved, it was so much fun. And it brought back family traditions."
Janis' mom would have been right at home at B.J. Kilbride's recent 1950s-inspired dinner party. When each of her 19 guests arrived at B.J.'s doorstep, the women found a chair full of aprons to don. "My mother and aunt had given them to me, and they were genuinely from the '50s and '40s. If you were a hostess then, you just put an apron on." A sign gave instruction: "Ladies, put on your aprons and adjust your pearls."
Inside, it was all '50s comfort food. "I circulated a sign-up list via email telling people the theme, so it was like a pot luck, but everybody had an assigned category of what to bring. So we had macaroni and cheese, Frito pies, potato chips with onion dip, chocolate pie for dessert. Calories were not an issue."
B.J., a part-time mediator, also instructed guests to bring photos of themselves from the '50s, which she displayed "on top of the TV, because that's where all the pictures went then." A few guests dressed the part in poodle skirts and fluffy sweaters.
To get new friends talking, B.J. made binders for each table filled with '50s trivia questions and answers. "We came up with questions about TV shows, politics, music and actors and actresses. We weren't intimate friends, so it was nice to have a segue into talking about something besides the weather and our aches and pains!"
While Janis' and B.J.'s parties celebrated tradition, Solace and Jim Southwick's annual "Traditional Yuletide Sushi Bar" party flies in its face. Even absent the traditional part, says Solace, "it's very merry."
Solace and Jim, both lawyers, host close to 200 friends every year just before Christmas. "It's not elegant or complicated; it's just lively and fun," Solace says. Invitations instruct guests to "bring anyone you want," including kids. "It's amazing how much sushi people eat. Some 6 year olds eat more than you can imagine."
The glass-cased sushi bar, hired through Sushic, "looks like a sushi bar you'd see in a restaurant," Solace says. "We set it up in our backyard, and it becomes the focal point of the party and takes the pressure off." Inside, Solace, who loves to cook, sets tables full of more classic holiday fare. Think tenderloin, holiday ham, cheese trays and desserts.
"It's so easy," Solace says. "I hire the sushi bar, buy the wine, hire help and address invitations. Nothing fiddly or formal."
Whether formal or casual, traditional or new, dinners with friends, in their homes, are always something special.
Janis says, "It's a gift when someone cooks for me. And it's important to my husband and me to do that and to bring people together who are interesting and dynamic and who like to have a good time."
Want more buzz like this? Sign up for our Morning Buzz emails.
To leave a comment, please log in or create an account with The Buzz Magazines, Disqus, Facebook, Twitter or Google+. Or you may post as a guest.