Wedding Stories
Memories from the big day
Click the Buzz Me button to receive email notifications when this writer publishes a new article or a new article in this column is published.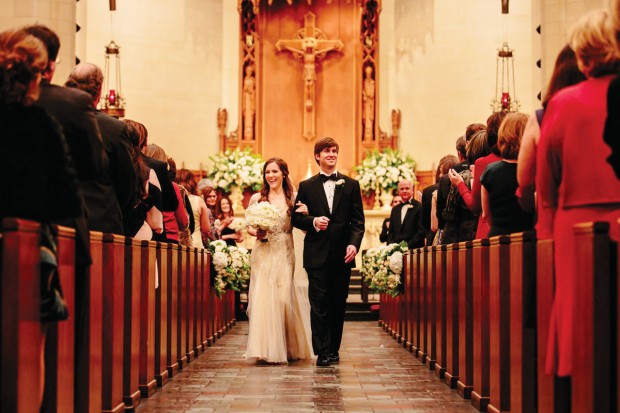 I wasn't nervous about marrying Matt. We'd already been together for more than seven years, and, as corny as it may sound, we both knew within six months of dating that we would marry each other one day, even though we were still in college at the time.
But I was nervous about tripping down the aisle. Or falling up the aisle. I worried about stumbling during our first dance. (Notice a common, klutzy theme here?) I envisioned fainting while reading my vows. The scenarios of embarrassing situations played out in my mind for months during our engagement. However, I was determined that, no matter what went wrong, nothing would ruin our weekend. And thankfully, nothing like that happened in real life. Our wedding weekend, except for a few minor snafus that I didn't even learn about till later (thanks to my detail-oriented wedding coordinator) was perfect.
The real reason I was able to stay calm, despite my pervasive fear of tripping and ripping my dress, was because of my bridesmaids. These girls, some of whom I've known since elementary school, demanded that I drink lots of water – through a straw, so as to not mess up my lipstick – and eat a substantial amount of food. They put my shoes on for me so I wouldn't have to bend down in my dress. They made sure I had everything I needed and, more importantly, that I laughed all day long. They goofed around, making me (and our hair stylists and makeup artists) laugh, and made the day, which had felt so full of pressure, feel light, like the fun, joyful day it should be.
The process of planning and executing a wedding is made up of tiny details, all of which feel so significant. And at the end of the day, it generally comes together the way it should. No matter what happens – even if I had tripped down the aisle – the most important thing is marrying the person you're meant to marry and enjoying the moment with your best friends and family.
I returned from our mini moon (see this month's Travel Buzz column on mini honeymoons on page 30) in Wimberley at Blair House Inn and got back into the wedding spirit all over again by asking Buzz residents to share highlights of their recent weddings with me.
Laura Bagwell + Casey Doherty (Feb. 7, 2015)
One of Laura Doherty's good friends had told Laura for years about a friend she thought would be a perfect match for Laura. Casey had been on the East Coast for college and law school, and Laura didn't get a chance to meet him till he moved back to Houston much later. Turns out their mutual friend was right: Their personalities meshed seamlessly.
Casey, an attorney, brought up the idea to meet Laura, a high school counselor, at her parents' house on her last day of school to celebrate and so she wouldn't have to commute in rush-hour traffic that day. Once she arrived, she headed to her parents' backyard to find Casey on one knee surrounded by sweet mementos of their time together. He had arranged for her family, including her sister and her family, who live in New York, to be there to celebrate.
Their wedding ceremony took place at Holy Rosary Catholic Church, and the guests proceeded to La Colombe d'Or to celebrate. One sentimental aspect of their ceremony was that the lace around Laura's bouquet was from her mother's and grandmother's dress, and the lace for their ring bearer's pillow was made from the lace from Casey's mom's and grandmother's wedding dress. "No one else really knew that, but it felt really intimate and special," Laura said. "All of the important women in our lives were equally represented in some way."
Also, the priest who married them, Father Daniel Lahart, who's the president of Strake Jesuit College Preparatory School, was at Strake Jesuit when Casey was a student, so the ceremony was much more personal, since he knew Casey and got to know Laura as well through the planning process. Laura described the wedding night as "warm, intimate and fun" and loved that everyone kept dancing past midnight.
Vendors + Venues
Rehearsal dinner: River Oaks Country Club; Church: Holy Rosary Catholic Church; Reception venue: La Colombe d'Or; Wedding coordinator: Lauren Carrillo, Something to Celebrate; Wedding gown: Joan Pillow; Bridesmaid dresses: Weddington Way; Groom's tux: Brooks Brothers; Florist: Blooming Gallery; Band: The Royal Dukes; Cake: World Catering; Photographer: Caroline + Ben; Videographer: Robert Oberg Wedding Films; Bridesmaid gifts: Robes and monogrammed tote bags; Groomsmen gifts: Monogrammed Patagonia fleece vests; Rings: Queen of Heirs; Honeymoon: Hawaii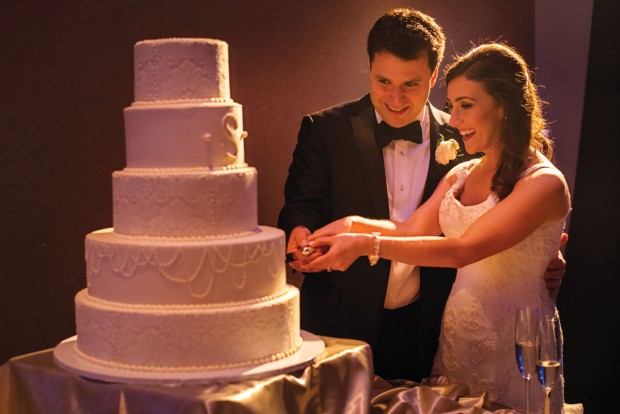 Stacy Shapiro + Zach Samet (March 7, 2015)
Stacy and Zach Samet, both originally from Houston, were living in Dallas. Stacy was teaching, and Zach, who works in real estate, had been sent there temporarily for work. They met at a Jewish young-professionals event, which Stacy had planned. "I thought I had met every Jewish guy in Dallas. Apparently I hadn't," she said. They started dating, and, when Zach moved back to Houston soon after, they had a long-distance relationship for about six months before Stacy decided to move back to Houston, too, and started teaching second grade at The Shlenker School.
She says her parents were thrilled, and the couple visited with both families frequently. One night, they went to Zach's parents' house for dinner. Stacy didn't suspect anything when he called her into the backyard. She walked out to a lit-up backyard filled with lights, candles and flowers, and he got on one knee to propose. She realized both families had been hiding, waiting to pop out and celebrate.
"Everything for us was about family," she said, describing the wedding weekend as very family-oriented, starting with the proposal. They had the wedding ceremony and reception at Congregation Beth Yeshurun, which was special because Zach's grandparents, parents and siblings all got married there, too. The large size of the synagogue meant that both the ceremony and reception could be held in one spot. "It was important to me to have it be convenient, and not a lot of places around town can hold more than 300," said Stacy. "The room was really transformed; it was so beautiful."
Lanterns with romantic candle lighting lined the aisle during the ceremony, and the chuppa was composed of elegant chiffon draping with two small floral pieces on the sides. The ceremony was a traditional Jewish wedding, and many aspects of the ceremony honored family members in some way: They exchanged gold bands, both their grandparents' rings, they used Stacy's late grandfather's tallit that he used at his Bar Mitzvah in 1939, and they sipped from Zach's late grandfather's Kiddush cup. They were also able to honor friends during the ceremony, asking their best friends come up to read blessings.
Food was catered by Beth Yeshurun, and Three Brothers made their five-tier, traditional cake. Zach's groom's cake was a big bowl of matzah ball soup, his favorite dish, which said "Zach's Bowl." They had a s'mores bar, since Stacy loves s'mores, as another dessert. Then, to top off the party, the couple had a "bagel bar," a nod to Stacy's family's bagel shop, Bagel Express in Sugar Land. Guests filled a bag of bagels on the way out and chose a cream cheese; it was a perfect after-party breakfast for the next day.
Vendors + Venues
­­ Rehearsal dinner: Cadillac Bar; Venue: Congregation Beth Yeshurun; Hotel for the guests: Hilton Post Oak; Wedding gown: David's Bridal; Bridesmaid dresses: Pearl's Place; Groom's tux: Jos. A. Bank; Groomsmen tuxes: Men's Wearhouse; Flower girl dresses: Monsoon; Florist: Plants n' Petals; Photographer: Anthony Dinh with Composure Studios; Videographer: Crescent Video; Band: Password Productions; String quartet: Avalon Music; Rings: Dubin's Fine Jewelry; Bridesmaid gifts: Kendra Scott custom earrings and a monogrammed button-down shirt to get ready for the wedding; Groomsmen gifts: Engraved mugs, monogrammed suspenders, bow ties from the Tie Bar; Honeymoon: St. Lucia
Jessica Sowers + Casey Holm (Sept. 27, 2014)
Jessica and Casey first met in kindergarten at West U Elementary. It took a few years (read: fourth grade) before Casey discovered he had a crush on Jessica and wrote her "love notes" in Mrs. Williams' class. The two stayed in touch, as he went on to Pershing Middle School and Lamar High School and she went to St. John's School for middle and high school. They dated on and off, but it wasn't serious until 2011. They remained long-distance for a few months until Casey joined Jessica in the Washington, D.C., area, where she had moved for graduate school.
Not too long after, the two traveled to New York together to visit Colgate University, where Jessica had attended college, for homecoming. On their trip, they visited Willow Path, a tree-lined pathway on campus. Legend has it that the person you kiss on this pathway is who you'll marry. Turns out the legend came true for them because, in May 2013, Casey gave Jessica a bouquet of flowers with a postcard of Willow Path. On the back, it said, "Will you marry me?" 
Jessica, now a clinical psychologist, and Casey, who's the CFO of a chiropractic company, chose to get married in Washington, D.C., where they currently live, though they made sure to give their wedding a Texas twist, such as including local favorite Tito's Handmade Vodka in the gift bags. Jessica wanted an all-white, romantic, classic wedding, so there were white flowers everywhere, plus touches of ivories, gold and champagne to accent. Jessica said a lot of people had advised her not to worry about small details; however, "I'm a very sentimental person, so the details were very important to me."
On the morning of the wedding, she gave Casey a charm to put on the inside of his jacket that had a picture of his grandfather, who passed away, and a picture of his best friend, who'd passed away in a car accident. She also gifted him a signed photograph of Andre Johnson wishing them congratulations. "The whole weekend was especially sentimental for us because we've known each other for so long and there were so many people there who've known us our whole lives," Jessica said.
Vendors + Venues
Rehearsal dinner: La Chaumière; Venue: Fairmont Washington, D.C.; Wedding gown: Town Shop Bridal; Bridesmaid dresses: Bella Bridesmaid; Groomsmen tuxes: Men's Wearhouse; Florist: Distinctive Floral Designs by Alison de Wit; Band: Mutual Fun Band; Photographer: Kelli Elizabeth Photography; Videographer: Sweet Start; Party favors: Homemade, knotted "wish bracelet" for each guest that said, "Thanks for helping us tie the knot"; Registries: Pottery Barn and Crate & Barrel; Bridesmaid gifts: Robes from Love Ophelia, plus a framed photo and a jewelry dish with their initial; Groomsmen gifts: A golf game and a golf accessory; Rings: Mervis; Honeymoon: Antigua 
Michelle Benson + Alfred Soyyar (April 17, 2015)
Michelle and Alfred initially became friends during college at the University of Houston. Years later, they became friends on Facebook and started dating soon after.
Napa Valley was one of the first vacations they took together, so they decided to go again as an anniversary trip. Michelle thought they were at a vineyard for a wine tasting when a man asked if they would be interested in a horse and carriage ride through the vineyard. They said yes and, toward the top of the vineyard overlooking the valley, Alfred proposed.
They decided to get married at The Ritz-Carlton, St. Thomas in the Virgin Islands, as they had visited the year before and loved it. "We loved the views and surrounding islands," Michelle said. "The hotel was breathtaking."  They kicked off the wedding weekend with a rehearsal dinner on the beach, including a steel-pan band and a fire dancer. The ceremony took place on the hotel's cliff-side gazebo, draped with white sheer drapery with floral sprays on each side. The celebration went inside for the reception, decorated with tall, floral centerpieces and white, sheer drapery throughout. Festive Caribbean dancers started the party after Michelle and Alfred said their "I dos." The guests totaled 50 close friends and family members, including Michelle's matron of honor and her husband's best man, his cousin. The adventure continued for their honeymoon, as they traveled to the Maldives for their honeymoon and stayed in an overwater bungalow. 
Vendors + Venues
Venue: The Ritz-Carlton, St. Thomas USVI; Wedding coordinator: Kaley Houdyshell; Wedding gown: Winnie Couture; Bridesmaid dresses: David's Bridal; Groomsman tux: Macy's; Florist: East End Flowers USVI; DJ: Eric Snow; Photographer: Blue Glass Photography; Videographer: Chris Bramley; Registries: Bed Bath & Beyond and Crate & Barrel; Bridesmaid gifts: Robes from Plum Pretty Sugar to wear while getting ready for the wedding; Groomsmen gifts: Cuff links; Rings: Nacol & Co. (engagement ring); David Yurman (wedding band); Honeymoon: Maldives 
Brittany Bloom + Brad Dinerstein (Sept. 6, 2014)
Brittany had just moved back to Houston to attend law school at the University of Houston Law Center after graduating from Southern Methodist University. Mutual friends had set her up on a blind date with Brad, an apartment builder and developer based in Houston. "Brad is nearly five years older than me, which seemed really old at the time," said Brittany. So she cancelled on him, more than once, but Brad remained persistent and asked again. Brittany's mom insisted that she meet him for a first date and, thinking Brittany would not show up again, actually showed up at the restaurant, RDG + Bar Annie, on their first date. "She introduced herself to him on our first date," said Brittany. "He probably thought I was crazy." 
Even after that first experience, the two started dating, and two years later, Brad bought a house to tear down and told Brittany he needed to show her something he was planning to salvage and reuse for the next house. When she walked in, she saw that he had spray painted on the wall: "Will you marry me?" Shortly after, he led her to his parents' home for a surprise celebration with family and friends. 
The two were married at The Houstonian Hotel. Brittany wore her grandmother's original wedding ring for the ceremony. The color scheme was blush pink, metallics and ivory, and the room was decorated with tons of flowers, including a ceiling piece with roses and orchids hanging above the dance floor. "There were over 350 people there, but we tried to make the room and reception feel as intimate as possible," Brittany said.
The seated dinner featured steak and lobster, and the wedding cake by Susie's Cakes was white with raspberry filling. Instead of a groom's cake, Brad opted for a bananas foster station. For guests craving salty treats after all the dancing, they offered late-night burgers and truffle fries. The bride and groom exited the celebration in Brad's father's 1966 Corvette before honeymooning in Maui. 
 Vendors + Venues
Rehearsal dinner: St. Regis; Rehearsal dinner décor: Plants n' Petals; Venue: The Houstonian Hotel; Wedding coordinator: Jennifer Hobson, Keely Thorne Events; Wedding gown: Ivory Bridal; Florist: Wedding Flowers by Lisa; Band: Big Blast and The Party Masters; Cake: Susie's Cakes & Confections; Photographer: J. Cogliandro; Paper products and photo booth: Joan Lebow; Registries: Williams & Sonoma, Kuhl-Linscomb, Bering's; Honeymoon: Maui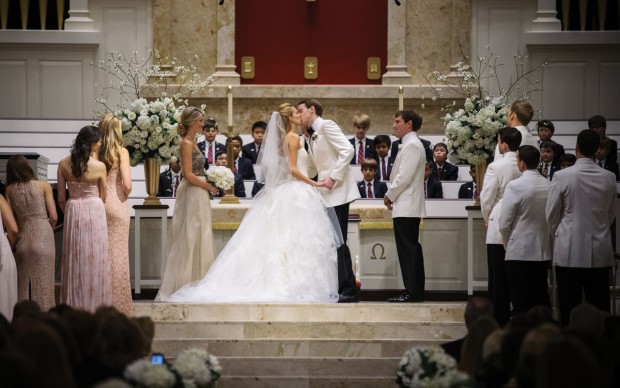 Lauren Baughman + Max Barrett (March 28, 2015)
Lauren, who works in public relations, met Max Barrett, an investment banker, at a party that mutual friends hosted several years ago. At first, Lauren "didn't give him the time of day," but things changed and they started dating. One night, they went to a black-tie gala, and, afterward, he "kidnapped" Lauren, not letting her ask questions about what they were doing next. ("I ask a lot of questions – I'm not very go-with-the-flow," she laughed.) They ended up at Ruchi's, a now-closed Mexican restaurant where they used to hang out a lot when they first started dating. Max had rented out the space and filled it with flowers and a mariachi band to set the scene for a celebration with friends and family as he proposed to Lauren.
The wedding day, for Lauren, started off with relaxing at her parents' house in River Oaks with her bridesmaids as they got their hair and makeup done and sipped on champagne and rosé. Max enjoyed lunch with his groomsmen at Brooklyn Athletic Club and then got ready at his mom's house in River Oaks, just a mile down the road from Lauren's parents. A boys' choir sang during the traditional ceremony at St. Luke's Church. Then, guests headed to River Oaks Country Club, which was decorated with big, white flowers with lots of leafy greens. Lauren particularly loved the chandeliers in the ballroom, decorated with green foliage. Each chandelier had 100 candles dropping from it.
There were several symbolic pieces throughout the ceremony and reception, including the cake topper on their wedding cake, which was the same one that topped Lauren's parents and her sister's wedding cake. Throughout the wedding day, Lauren wore her grandmother's hair pin, which was her "something old" and her way of honoring her.
The food was catered by River Oaks Country Club, with several stations, including beef, fish, chicken, pasta and veggies. After dancing had been in full swing for hours, the couple brought in Whataburger taquitos and honey butter chicken biscuits, which had personalized labels on the wrappers that said: What-a-wedding.
Vendors + Venues
Rehearsal dinner: Max's mom's backyard, catered by Elizabeth Swift, with an island theme in honor of the couple's St. Lucia honeymoon; Venue: The St. Regis; Day-of wedding coordinator: Allison Williford of Soiree Bliss; Wedding gown: Casa de Novia; Groom tux: Wayne Jones Custom Suit & Shirtmakers; Groomsmen tuxes: Jos. A. Bank; Flower girl dress: Jenny Kim; Ring bearer tux: Tuechild; Florist: Events In Bloom; Band: Tenacity; Cake: Who Made the Cake; Photographer: Chris Bailey; Videographer: Cakewalk Films; Registries: Neiman Marcus, Bering's, Williams & Sonoma; Bridesmaid gifts: Monogrammed GiGi New York clutches; Groomsmen gifts: Monogrammed Smathers & Branson belts; Rings: Herfort Diamond Ring Factory (engagement ring), Deutsch & Deutsch (wedding band); Getaway car: Monarch British Limousines; Honeymoon: St. Lucia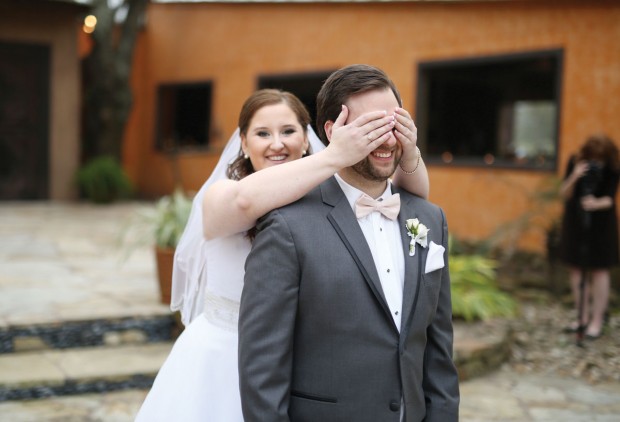 Gina Garcia + Casey Gallio (March 7, 2015)
Casey and Gina Gallio met at Midnight Rodeo, a country-western dance bar, and instantly hit it off. After dating for a while, Casey, who works in the oil and gas business, told Gina, a substitute preschool teacher, that they were attending a friend's party in Corpus Christi. They were enjoying a nice day on the beach when one of their friends started playing the guitar, and Casey confessed that they weren't really there for a party, but for him to ask her a question. That's when he got down on one knee to propose.
They married at Agave Road estate in Katy. Gina's dad, Omar Garcia, who's the missions pastor at Kingsland Baptist Church, officiated the wedding, which "made the day 10 times more special," said Gina.
The décor for the ceremony was "simple," Gina said, with minimal flowers and blush-pink chair sashes. For the reception, the centerpieces included lanterns surrounded by flowers and pink berries on top of ivory tablecloths with glass charger plates, lined with silver beads. At the party, they especially enjoyed having the photo booth. The wedding cake was a four-tier, white, cream cheese-frosting cake with pink roses. The groom's cake was a marble cake with chocolate ganache that resembled the face of Casey's Rolex watch, which "looked super realistic," according to Casey.
The last song of the reception made the celebration come full circle for Casey and Gina: Casey's best friend, who had been playing his guitar during the proposal, also played the last song at their wedding reception (Thinking Out Loud by Ed Sheeran).
Vendors + Venues
Rehearsal dinner: Perry's Steakhouse & Grille; Venue: Agave Road; Wedding gown: David's Bridal; Bridesmaid dresses: David's Bridal; Groomsmen tuxes: Men's Wearhouse; Florist: Agave Road; DJ: DJ Ivan Rojas; Cake: Edible Designs by Jessie; Catering: Three Olives, Frana Old World Catering; Photographer: Heather Crump; Videographer: Sweet Spirit Productions; Registries: Honeyfund.com; Bridesmaid gifts: Monogrammed makeup bags from Etsy with useful items for the wedding day; Groomsmen gifts: Charging station from Agave Brothers; Rings: Klein's Jeweler (engagement ring); wedding rings (Etsy); Honeymoon: Antigua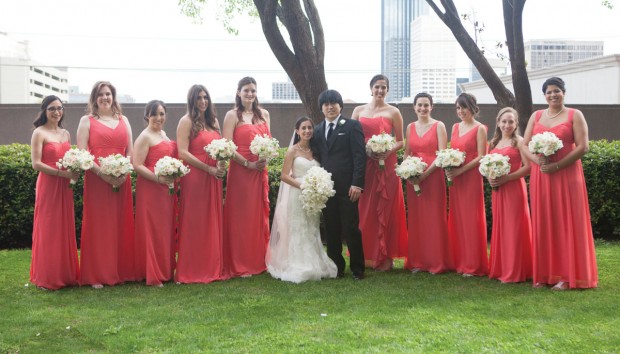 Jordan Magaziner + Matthew Steinfeld (March 14, 2015)
I remember a moment right after we got engaged. My mom said, excitedly, "I'll call the rabbi!" and I said, casually, "That's okay. I'll call the rabbi." And she was silent. We had entirely different ideas of who was supposed to do what. My dad called himself "Switzerland," and my now-husband, busy with law school, mostly wanted to show up to the wedding without knowing too many details. Later, my mom and I agreed that having a wedding coordinator was the best decision we made. Our coordinator, Resha Zazueta from Something to Celebrate, made the wedding planning process go smoothly (or as smoothly as can be when a mom and daughter have such different styles and ideas) and helped us execute a vision that we both ultimately loved and truly made us both happy.
The ceremony was decorated with lots of white, romantic flowers with touches of green. The chuppa had white, sheer fabric and was lit up by a crystal chandelier, and the aisle was lined with stands of white flowers with some subtle crystals coming down. We had written our own vows and worked closely with Rabbi David Lyon and Cantor Daniel Mutlu from Congregation Beth Israel on our ceremony, which felt personal and intimate, especially as songs that were meaningful to us were performed by the pianist. Better Together by Jack Johnson played as our wedding party walked down the aisle, I'm Yours by Jason Mraz played as I walked down with my parents, and Rather Be by Clean Bandit played as Matt and I walked down together.
We tried to infuse our wedding with beautiful décor but also incorporate what's special to us; for example, the table with the place cards was decorated with a cherry blossom, symbolic of Washington, D.C., where Matt and I met during college. Our white wedding cake also had sugar cherry blossom flowers down the sides, though Matt loved his groom's cake shaped like Yankee Stadium even more. (He grew up in upstate New York and is a big Yankees fan. I still root for the Astros.)
The reception was decorated with four, tall columns made up of white flowers surrounding the dance floor and the band played lots of fun, modern tunes, which kept guests dancing past midnight.
Vendors + Venues 
Venue: Hilton Post Oak; Wedding coordinator: Resha Zazueta from Something to Celebrate; Wedding gown: Winnie Couture; Bridesmaid dresses: David's Bridal; Groomsmen tuxes: Men's Wearhouse; Florist: Wedding Flowers by Lisa; Band: The Pictures; Cake: For Heaven's Cake; Photographer: Kelli Elizabeth Photography; Videographer: Click; Registries: Bed, Bath & Beyond, Crate & Barrel, Kuhl-Linscomb; Bridesmaid gifts: Monogrammed zip-up hoodies from American Eagle and personalized clutches from Etsy; Groomsmen gifts: Cufflinks from groomstand.com; Rings: Charde Jewelers (engagement ring) and Shaftel Diamond Company (wedding bands).
People in this article:
Jordan Magaziner Steinfeld
,
Matt Steinfeld
,
Laura Doherty
,
Casey Doherty
,
Daniel Lahart
,
Stacy Samet
,
Zach Samet
,
Jessica Holm
,
Casey Holm
,
Andre Johnson
,
Michelle Soyyar
,
Alfred Soyyar
,
Brittany Dinerstein
,
Brad Dinerstein
,
Lauren Barrett
,
Max Barrett
,
Gina Gallio
,
Casey Gallio
,
Omar Garcia
,
Resha Zazueta
,
David Lyon
,
Daniel Mutlu
Want more buzz like this? Sign up for our Morning Buzz emails.
To leave a comment, please log in or create an account with The Buzz Magazines, Disqus, Facebook, Twitter or Google+. Or you may post as a guest.