Playing It Safe
Preventing crime on campus
Click the Buzz Me button to receive email notifications when this writer publishes a new article or a new article in this column is published.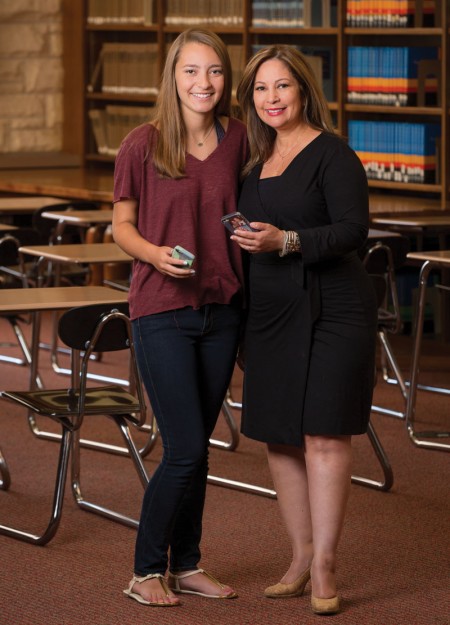 With summer drawing to a close, parents' minds start the race: Do last year's uniforms fit? Do we need new backpacks? Have we gotten all the school supplies? Have we talked about school safety?
Back up.
What about school safety? Isn't that a worry parents can generally hand over to school administrators? Yes and no.
"The assumption is that you're sending your kids to school in a safe environment where they're protected from fraud, theft, bullying – crime of any type," says Yvette Webb, a wealth advisor and mother of Allana, a sophomore at St. Agnes Academy. "But what we've come to realize is that crime is everywhere. They're not as protected as we think."
Yvette sits on the board of Crime Stoppers of Houston and advocates for its Safe School program, which educates parents, faculty and students in kindergarten through grade 12 on crime prevention, safety tips and reporting sketchy behavior. Through it, Yvette says, "we're educating children, giving them a voice so if they see something, they have a place to report it anonymously, with no fear of retaliation."
That reporting vehicle is Crime Stoppers' new app, launched last year, which gives kids the ability to directly report, via call or text, anything from a fight in a school hallway to drugs or weapons on campuses. Students can even take a discreet photo of what they've seen and send it to Crime Stoppers anonymously and quickly. The app is free to download; type in "Houston Crime Stoppers " in the app store.
"This is an incredible program for all schools who are interested," Yvette says.
Kathryn Childers worked in the district attorney's office for eight years before retiring to care for her two boys, Staton McCrae and Wyatt, students at St. John's School. Kathryn also likes the app for reporting but stresses the importance of crime prevention. "When I became involved [with Crime Stoppers, as a member of the board], we were just a tip organization. You see a crime, you report it, you get a reward.
"As a mom, that kind of bothered me. I thought, 'Instead of spending all our focus on the tail end, why don't we start at the beginning and educate children and young adults on how to respect officers and not get involved in crime?'"
To that end, the Safe School program recently produced eight safety videos – on alcohol abuse, bullying, child abuse, cyberbullying, domestic violence, drugs in schools, human trafficking and teen dating violence – to be used as conversation-starters in schools.
Lane Deaver, a senior at Memorial High School, recently "starred" with several classmates in the video on human trafficking. "I learned that you really have to be aware of who you meet, who you date," Lane says. "There's bad people out there and you can't trust everyone you meet. Also if you see something happening and you think someone's in trouble, you have to get help for them and talk to them about it and let them know you're worried for them."
Lane is proud to be part of the videos. "We're letting people know what's going on and that this isn't just something happening on TV."
Tama Lundquist has a safety plan in place for her son Cole, a freshman at Lamar High School. "I don't live my life afraid, but I'm always thinking," Tama says. "So if there was ever a major incident at school and it was utter chaos, if there's no cell-phone service, we've talked about what to do. We have one, two and three back-up meeting points. We've walked through the steps of keeping your head about you.
"I tell Cole that the likelihood of something happening is slim and try to cover the bases without scaring him. But if something were to happen, we have a plan."
While mass incidents may seem remote, there's no disputing the immediate need for Internet safety controls. Rania Mankarious, executive director at Crime Stoppers, says, "I can tell you right now that I haven't been to a middle or high school where they haven't had a problem with inappropriate pictures. Every single one."
But are inappropriate pictures actually crimes? Surprisingly, to many, yes. Photos of children 18 years or younger, scantily clothed or unclothed, sent over the Internet, are lawfully considered child pornography. Even a child who sent a photo of himself or herself can be charged for distribution.
"Kids don't even realize some of the things they're doing are illegal," says Michelle Sacks, Crime Stoppers' Safe School program manager. "The legal age you can be charged with a crime is 10." Parents, as owners of the phone containing the inappropriate photo, are liable as well. That indecorous picture making its way around the sixth grade just got serious.
To make matters worse, kids think photos they send via Snapchat vanish within seconds. But screen shots can be taken, and computer experts can retrieve "deleted" information that the average user isn't tech-savvy enough to wipe out. The take-away: Once you send information over the Internet, even if it's to one person, you immediately lose control of it.
"These kids are not criminal," Kathryn says. "Used to be they'd call your parents and send you home. But if we don't monitor and help our children learn to use the Internet appropriately, we do a complete disservice to them.
"There is not a school in Houston, private or public, where [crime is] not happening, whether it's drugs, assault, weapons, bullying," Kathryn says. "It doesn't do anybody any good to act like, 'It's not happening in our school.' We have to educate teachers and parents to help kids so they know what to do and feel safe. Anything we can do to give them the tools they need is what Crime Stoppers is trying to do.
"This is about how to be a good citizen. How to prevent bullying, how to be respectful. It's about creating kids with good moral character," Kathryn says. "I tell my own children every morning, 'Good choices, good manners.' If you remember those two things, you can stay away from a lot of the bad in the world."
Editor's note: To have Crime Stoppers of Houston visit your school for a free safety program, contact Michelle Sacks at 832-849-1585 or [email protected]. 
Want more buzz like this? Sign up for our Morning Buzz emails.
To leave a comment, please log in or create an account with The Buzz Magazines, Disqus, Facebook, Twitter or Google+. Or you may post as a guest.