Tackling Grief
Living life jelly side up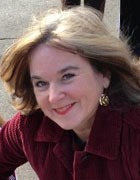 Click the Buzz Me button to receive email notifications when this writer publishes a new article or a new article in this column is published.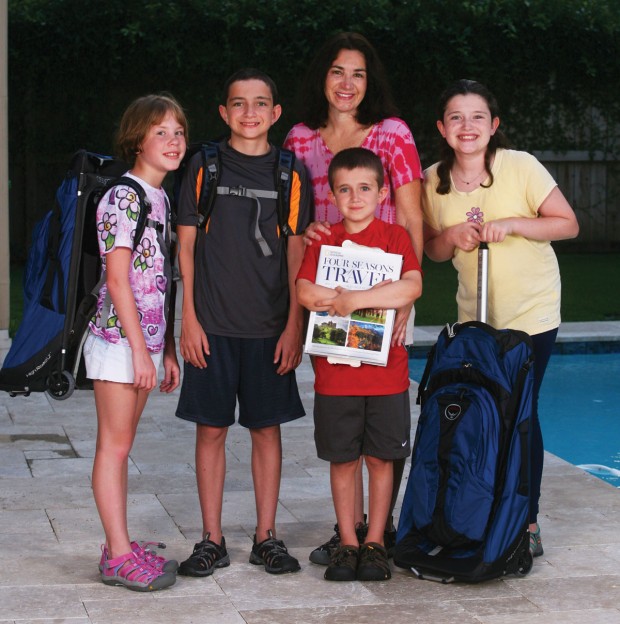 Somewhere on this planet, at this very moment, is a happy family of Germainiacs, globetrotting from country to country with nothing but backpacks as luggage. Living light. Embracing life.
"Living life jelly side up," mom Dana Germain calls it.
A year and a half ago the Bellaire family was sinking under the weight of loss.
Dana's husband, Rich, died unexpectedly of a heart attack in January 2014 at 52, leaving behind four children and a wife who adored him for his sense of adventure.
"We always called ourselves the Germainiacs," says Dana, who met her match through work, the two zipping around the globe handling renewable-energy finance in developing countries. They exchanged vows on Halloween 1999 in a black-tie, jungle-theme wedding. Four kids with their vagabond genes would surely love a trip around the world, they figured.
"The Germainiacs on a year sabbatical," says Dana. She and Rich had been visiting the idea "more and more."
On Father's Day, also her youngest son's birthday and 1½ years after Rich had passed, Dana set off on a meticulously planned, yearlong, worldwide homeschooling adventure with twins Alegra and Ryker, 13, Ellery, 10, and Davis, 9. They'll sail the seas, scuba dive, ride camels and hang with orangutans, among other exploits. One month in, they'd already eaten their weight in kabobs and tzatziki across Greece and Turkey.
They are in a healthy place, thanks in part to individualized grief therapy through the Trauma and Grief Center for Youth at the University of Texas Health Science Center in Houston, says Dana. "I was not going to rest until my kids were okay. They helped my kids."
The worst day of their lives is etched in memory.
Dana was on a Paris trip with daughter, Alegra. Coincidentally, one of Dana's best friends, Jeryl Golub, was also in the city with family, staying nearby. The families had gone to dinner.
Back at the hotel, Dana discovered a dozen missed texts and Facetime messages from son Ryker who was on an outing with his father, sister Ellery and brother Davis at the Hyatt Wild Oak Ranch in San Antonio.
Strange, she thought. "The first text was like, 'Hey Mom, give me a call.' The last was in all caps. 'I HAVE A SERIOUS PROBLEM HERE. WHY AREN'T YOU CALLING ME BACK?'" Dana's head whirled. "There was something really wrong here."
She used her phone's Facetime feature to call and see Ryker. "Daddy never woke up," he said, nervously.
"What do you mean he never woke up?" she replied. "Did you have a busy day and he's taking a nap?"
"No, Mom, he never woke up today."
Her head reeled in time zones. What time was it in San Antonio anyway? What do you mean he never got up today?
She calmly told Ryker to take his siblings into the adjoining room of the hotel suite, shut the door and call the hotel manager. "Tell them you have an emergency and that your dad needs an ambulance," she instructed.
Minutes pass. She remembers the punch of the hotel manager's words as he informs her, discreetly, "I'm sorry to tell you this, but your husband is very clearly dead."
"I'm numb, in shock, panicked. Worried for my kids. How can he be dead? I'm now looking at my three children in a hotel room with their dead father, and the East Coast is shut down with major snowstorms, and I need to get home immediately." She tells Ryker that his dad is ill and will be taken by ambulance to the hospital. She wants to deliver the devastating news to them at home, in person.
Dana alerted her friend, Jeryl, who worked to get them home. "At some point over the hours I had to tell Alegra," says Dana, who felt anything but strong for her daughter. "I was incapacitated and scared. It was chaos. I didn't even have the capacity to comfort her at that point because I was trying to deal with detectives and get home."
Authorities typically take minors into custody when they are in a strange city with no family or friends. Dana couldn't let that happen. A hotel manager agreed to take temporary custody until Dana's sister, Dori Leib, of Detroit, and one of her closest friends, Christine Laskin, could get there from Bellaire.
The two-day trip home was a blur. Tears. Exhaustion. Emptiness. Just breathe.
Once home, Dana gathered her children. "It was the single worst thing I've ever had to do in my life. There was crying and wailing, and some of them were just stunned. My arms weren't big enough to hold all four of them. It was just horrific."
Depression. Anxiety. Post-traumatic stress disorder. This is the face of grief. Rich Germain left a deep void.
This was a dad who, despite a busy, executive position at ConocoPhillips, led Troop 806 Cub Scout meetings and cheered at soccer games. He was fun. He enjoyed scuba diving and biking, whether with the kids or off road in the red-rock terrain of Moab, Utah. He had a quick wit and sense of humor. And he was smart. "If he was on your Trivial Pursuit team, you'd be in good shape," Dana quips.
Family descended. Friends saw to every need, bringing food, words of comfort and helping with chores. But death was at every turn. Within a week of Rich's death, their cat suffered a seizure and had to be euthanized. The next week, Rich's mother died. 
"Everyone was afraid to exhale because if you exhaled somebody else would die," Dana says.
Random bad luck plagued the family too. The garage door spring snapped, trapping their car. A city water pipe burst in their front yard, causing flooding. They had four flat tires, a car accident… "none of which individually was a big deal," says Dana, "but it all occurred within eight to 10 weeks of my husband's death. The kids thought we were jinxed."
For Spring Break, the family went to Luray Caverns in Virginia with her brother's family. Legend has it that for every drop of water that falls on you comes a year of good luck. Her kids emerged sopping wet.
They took comfort in a hand-shaped Hamsa icon, said to ward off evil spirits. "I had called one of our rabbis asking what I could do to give my kids a sense of security and dispel the myth that we were jinxed," says Dana, who called on Rabbi Adrienne Scott at Congregation Beth Israel. "The rabbi suggested the Hamsa and then she came over and blessed them and our house. It really registered with them."
The family went to counseling at Bo's Place, a non-profit that offers grief support. "I was feeling angry. I told them just give me a date when I can feel healthy and happy and life returns to normal," says Dana, her family in turmoil.
"It would only take one small burst of negative air from someone and then it was like entropy, chaos, a free-for-all. And it happened every night in a hundred different ways. There would be crying or screaming, depression, sadness. There were days when no one would speak and there was just an awful silence. We needed help."
Bellaire friend Dana Katz mentioned a Trauma and Grief Center for Youth at the University of Michigan run by a friend, Dr. Julie Kaplow. Perhaps the family could check it out? "She told me about it a couple of times, but I was busy working because you just can't shut things down," says Dana, who raises private equity and venture capital funds.
Coincidentally, Kaplow established a center in Houston, a mile and a half from Dana's house, six months after Rich's death.
Kaplow and Dana met for coffee. "I told Dr. Kaplow, get your center set up. I have the first four patients for you. We are drowning here."
Treatment revealed surprises. Detailed psychological assessments on each child showed some were dealing with high levels of post-traumatic stress, but not necessarily the ones Dana suspected. "Having empirical data in front of you that says this child is X but not Y was really helpful," she says. "I've learned that everyone's grief is different."
Slowly, but surely, the family has healed. "Counseling gave my kids their life back, made this trip possible," says Dana.
So why the trip around the world? She credits Bellaire friend Norri Leder's inscription in the National Geographic book Four Seasons of Travel for inspiring the grand adventure. The book was a gift after Rich's death. She remembers crying alone with a glass of Merlot at 3 a.m., staring at her friend's words.
"Basically it said, 'This is a terrible terrible thing that's happened but don't forget the things that were most important to you and Rich, and I hope looking at the pictures in this book brings you joy.'"
"We are finding that joy," says Dana, who is blogging about the trip. She looks for the trip to "rebalance the scales in a world that has been completely out of wack."
"My children and me, we are going to be okay," she says, recalling the moment she knew this to be true. It was a discussion about rental cars.
Her husband never met one he didn't damage, says Dana. "Over 15 years of marriage we spent our fair share fixing them." He backed out of the garage and ripped off a mirror and scraped the entire top of a mini van when underestimating the height of a parking garage. Then there's the time he locked the keys in the trunk, requiring someone to break the locks.
"Someone joked at dinner about needing a rental car and said, 'Oh, the good news is you won't have to spend so much on a rental car this time,' and we all laughed," Dana says. "It wasn't uncomfortable, and it wasn't sad. Bittersweet, yes. But it's the moment when I knew we were coming back to life."
Follow the family on their trip at www.germainiacsgoglobal.com.
Individualized grief therapy
Dana Germain and her four children were drowning in the wake of grief following her husband Rich's unexpected death in January 2014. She credits the Trauma and Grief Center for Youth at the University of Texas Health Science Center in Houston for providing the life raft.
"I feel blessed, like someone was saying to my family, 'Hang on, keep your head above water, we've got you,'" says Dana. The center, funded by the Substance Abuse and Mental Health Services Administration of the United States Department of Health and Human Services, treats ages 7 to 17.
"We know that grief can be very personal, and each child's own grief experience is unique," explains Dr. Julie Kaplow, a child psychologist who founded the program. "For that reason, a one-size-fits-all intervention does not work. Our assessment tools are designed to tell us about each child's individual needs and strengths so that we can tailor our therapy."
 Depression, sadness, anxiety, anger, posttraumatic stress. Any or all of these can manifest after experiencing trauma and loss, Kaplow says. "We take into account a number of different factors, including the child's own coping strategies, their family environment, their own experience of the death, the circumstances under which the person died and the ways in which their grief reactions may impact function in areas of their life, like school, with friends, in family relationships."
Assessment results are shared with caregiver and child so they fully understand therapy recommendations. "That experience of learning about their specific grief reactions can be very validating to children and families," Kaplow says. "It helps them to realize that there are words for these experiences and that many of these reactions are completely normal and expected and that we have ways of helping them to cope and feel better.
"As a parent, we always want to get inside the heads of our kids and understand their experience. But when it comes to grief, it's really impossible for parents to do that because it is so individualized. It's such a private experience."
Children are assessed at intervals to determine progress.
Dana's children "transformed before our eyes," Kaplow says. "They were truly our first clients here in Houston, and to see the major improvements they made was remarkable. Some of that is likely due to time passing, but I have to give credit to their therapist, Stephanie Yudovich."
Kaplow adds, "Dana is such a resilient person and a proactive mother, an amazing role model for those kids. She has a love of life that's contagious and her attitude is, 'We are going to make sure we live the kind of life we want to live and the one Rich would have wanted for us.' It's really inspiring."
Dana says seeking help from the center was the best thing she ever did for her children.
"When they had their exit testing, I sobbed. They're doing so well," she says. "They're suffering no more level of posttraumatic stress, sadness and grief now than probably any other child walking the streets of Bellaire. This doesn't mean they're not mourning their father. But they have the tools they need to help themselves now."
Want more buzz like this? Sign up for our Morning Buzz emails.
To leave a comment, please log in or create an account with The Buzz Magazines, Disqus, Facebook, Twitter or Google+. Or you may post as a guest.