Still Tony's, after all these years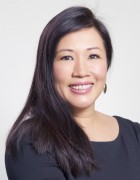 Click the Buzz Me button to receive email notifications when this writer publishes a new article or a new article in this column is published.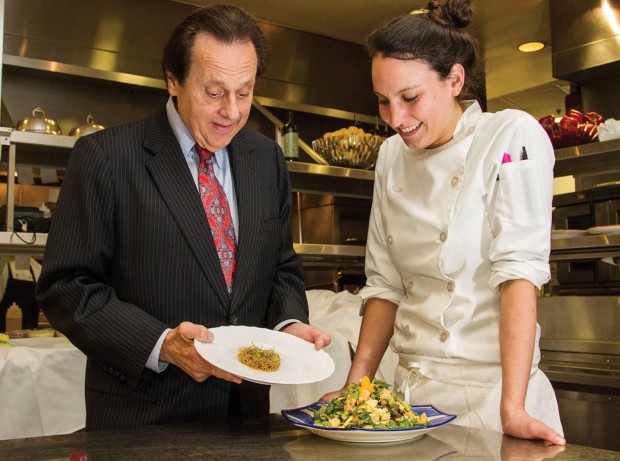 Tony Vallone darts from the dining room to the kitchen, mentally making notes of everything – from the voluptuous folds of fresh, apricot-tinged Ecuadoran roses at the center of every table to the imported, Umbria black truffles nestled behind a glass dome.
Pristine white, purple and fuchsia orchids splash like exclamation marks against the subdued glow of ochre walls at Tony's in Greenway Plaza on Richmond. It is 10 a.m. on a recent Thursday, an hour before lunch, or what some regulars refer to as the first act at the 425-seat, white-tablecloth restaurant. The second act comes at dinnertime, when the lights dim, the corks of rare vintages pop and Vallone takes center stage.
After 50 years, Tony's continues to exude a cinematic charm. Here, life unfolds and the stories born over five decades still permeate the walls, despite three incarnations.
"The early '60s was such a different world," says Vallone, in between a food photo shoot for his website. To start, you didn't have Yelp or food bloggers to market your brand. Diners had little to go on other than recommendations from friends and families along with the occasional restaurant review. But even that was in its infancy – reviews were often penned by the publisher's or editor's wife. It was a hobby, not a serious endeavor. But for a struggling Italian-American kid who grew up in Sunnyside, one of Houston's oldest African-American communities, it was about survival.
There were many days in the early years of Tony's when the soft-spoken entrepreneur thought that his tiny Italian joint, originally located on Sage Road where Macy's sits today in The Galleria, was going to go under, even though his overhead costs were low. Vallone was the cook, busboy and, on occasion, the dishwasher.
Back then, Houston was a steak-and-loaded-potato town. Tony's served Continental and Italian cuisines. "I started doing seafood and pasta," Vallone recalls. "It was being done in Italy for more than a century and in New York, but nobody was doing it here. There were a few Italian-American restaurants, but not many because the market wasn't conducive to it. The first several years, I almost didn't make it."
But you don't give up on love, and "that restaurant is his true love. I truly believe that. He is passionate about it," says former Houston Chronicle food editor Ann Criswell.
Vallone kept at it, even though some folks wrinkled up their noses at a few dishes. Take calamari – fried, it has become a restaurant standard. "Back then, I had to go to a bait camp to buy calamari," he recalls. "Prosciutto wasn't even allowed into the country." 
Then the young man's fortunes turned around. Gerald Hines walked into the original Tony's on Sage. Vallone refers to the legendary developer as his "hero." Hines was opening a shopping center on Post Oak Boulevard, and he wanted Tony's as a tenant.
Hines helped Vallone get a loan and encouraged the young restaurateur to take a posher, more upscale stance. Very quickly, the River Oaks crowd made their way to the new Tony's on Post Oak, with its decadent lipstick-red walls. For three decades, the fine-dining establishment hosted countless celebrities and dignitaries. The stories are innumerable – from evenings with Frank Sinatra to a dinner party for Princess Margaret.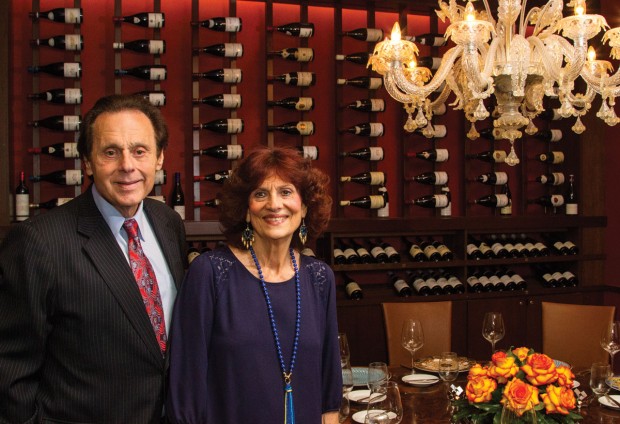 Wife Donna Vallone witnessed many moments. A few moments stand out: when Donna, then a former HISD music teacher and recently married to Vallone, met  Françoise Gilot, Pablo Picasso's artistic muse and Paloma Picasso's mom; a chance meeting with gracious art patron and museum namesake Dominique de Menil, who melted her heart; and still-regular-customer President George H.W. Bush. "Everyone claps until he sits down," Donna says, "and he always smiles and waves."
Tony's tales can easily fill a book, something Vallone is penning with wine historian and author Jeremy Parzen. The part-cookbook and part-memoir, tentatively titled Fifty Years of Food and Stories, is scheduled to be released next spring.
The trim, dark-haired 71 year old, wearing a charcoal blue pin-striped suit, scrutinizes an octopus tentacle on a white porcelain plate splashed with cherry tomatoes and a vibrant yellow sauce. "That's better. We've got to show the yellow." Vallone assesses the presentation by Kate McLean, the first female chef de cuisine at his flagship restaurant. "She plates well. That's important because people eat with their eyes first. Kate, you've got to do the lamb. The lamb – it is dark – but there will be contrasting colors on the plate, and it will be great."
The energetic 31-year-old McLean bobs her head in agreement and rushes back to the kitchen to fine-tune more dishes for the photo shoot. "Are you hungry?" asks Vallone, turning his attention to the photographers. "No? Would you like coffee?"
The courtesy of a professional host takes precedence over the perfectionist. Vallone has high standards, and dishes would be tweaked numerous times during the photo shoot. "There is a lot of passion on the plate," he says. "We need to show that passion."
Donna, a gentle, slender brunette with an easy smile, described her husband of 31 years as an "absolute perfectionist. If it doesn't turn out right, he'd rather throw it out."
Vallone has mentored many talented chefs who carved their own niche, including Grant Gordon, Mark Cox, Monica Pope, Marco Wiles and Olivier Ciesielski. His former employees often described Vallone as tough, demanding and firm, but fair.
Recipes are tested and refined dozens of times before appearing on the menu. But ultimately, at Tony's, the guest has the final say. Red signs – printed with Quiet Please in white bold letters – hang in Tony's hushed kitchen along with another: "If A Guest Is Unhappy With A Dish. They Get Another. No Matter What. No Exception!"
Tony Vallone believes that "no dish can be better than what goes into it," and he says he goes to great lengths to procure the best of the bests. "I'm a nut about it," he says sheepishly.
In his opinion, local isn't always better. Young chefs take great pride in serving local products and even curing their own meats. That's all fine, but other things need to be considered, Vallone says. Where the pigs are raised and what they eat impact how they taste. He still prefers what he considers the rich nuances of authentic Italian salami. 
A half hour before lunch starts, Vallone is conversing in Italian with his food-and-beverage purveyor, Friedel Landa, president of Selected Food & Beverage. The two are in a heated discussion. About 90 percent of so-called San Marzano tomatoes aren't Italian, Vallone laments. Landa chimes in that there is a company that labels its cans San Marzano. The tomatoes are grown in California and China.
Vallone is credited with introducing San Marzano tomatoes to the Houston market. The plum variety has fewer seeds and contain less water, he says, ideal for rich marinara. He even sold them under his own label until they became too much work. He currently uses Luigi Vitelli's, grown in the Agro Sarnese-Nocerino area of Italy.
Since relocating Tony's to Greenway Plaza on Richmond 11 years ago, Tony's has loosened its designer silk tie. Although still low-key and well-heeled, the clientele is getting younger, Vallone says. Generation X and Millennials are ensuring that the restaurant remain relevant. Vallone eyes a young Asian couple dining on hamburgers. At another table, a late 40-something woman savors juicy, warm Blue Point oysters.  
Today, members of Liza Minnelli's band wouldn't have been turned away if they showed up without jackets and ties. (Yes, it happened at the former Tony's on Post Oak. Her band left, but Liza stayed). The dress code has relaxed. But the precision remains.
Tony's buzzes with conversations at lunchtime. The photoshoot is over and Vallone relaxes at a table near the kitchen – his office — with an espresso-spiked chocolate Atkins shake. He prefers a liquid lunch and a regular dinner. Vallone reminisces about learning to excel at making sauces from chef Edmond Foulard. But his grandmother, Maria Aiello Vallone, influenced him most, he says while his eyes scan the faces of diners and servers' movements. Vallone is a skilled conductor and improviser. "We have to move. They need the table," he whispers discreetly, getting up. "The only table left in the main dining room is next to a patron's ex."
Lunch winds down. Vallone prepares to leave for his other two restaurants – the casual Italian Ciao Bello on San Felipe and the upscale Vallone's steakhouse near Memorial City Mall, where he will huddle with son Jeff and partner Scott Sulma. Vallone changes his tasting menu daily, but his schedule is predictable.
He starts and ends at Tony's. Vallone will be back for dinner service to welcome guests. "I don't ever see myself retiring and not working," he says. "I love what I do. They're going to carry me out of Tony's with pasta in one hand and fish in the other."
Five decades of fine dining
Tony's Restaurant, 3755 Richmond, will celebrate its 50th anniversary with a restaurant-wide charity dinner to benefit Memorial Hermann Life Flight on Nov. 18. For details, call 713-242-4450 or email [email protected]. Sponsorships are available for $50,000, $25,000, $10,000 and $5,000. Individual tickets are $500.
People in this article:
Tony Vallone
,
Ann Criswell
,
Gerald Hines
,
Frank Sinatra
,
Donna Vallone
,
Françoise Gilot
,
Pablo Picasso
,
Paloma Picasso
,
Dominique de Menil
,
George H. W. Bush
,
Jeremy Parzen
,
Kate McLean
,
Grant Gordon
,
Mark Cox
,
Monica Pope
,
Marco Wiles
,
Olivier Ciesielski
,
Friedel Landa
,
Liza Minnelli
,
Edmond Foulard
,
Maria Aiello Vallone
,
Jeff Vallone
,
Scott Sulma
,
Austin Waiter
Want more buzz like this? Sign up for our Morning Buzz emails.
To leave a comment, please log in or create an account with The Buzz Magazines, Disqus, Facebook, Twitter or Google+. Or you may post as a guest.