Veterans of the slopes share their wisdom
Click the Buzz Me button to receive email notifications when this writer publishes a new article or a new article in this column is published.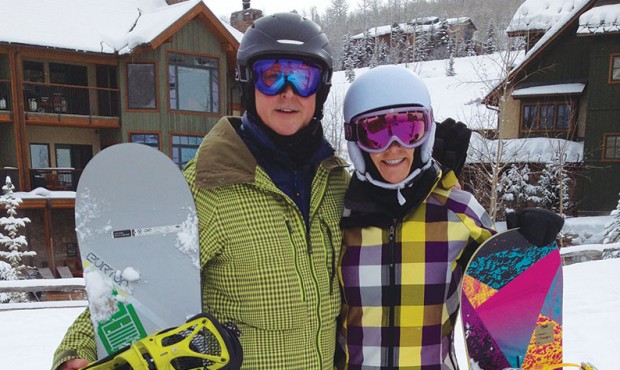 Susan Finnegan may have broken her tailbone when she learned to snowboard. But it also helped her heal a broken heart.
Susan and Bill Finnegan started taking their three kids skiing nearly 20 years ago. Every Spring Break they'd take Nick, Terrell and Scotty to Beaver Creek, Colo.
Nick was an eighth grader at St. John's School when he decided to try his hand at snowboarding. 
"That was back when everyone hated the snowboarders," says Susan. "It was the year 2000, and snowboarding was kind of like long hair, dreadlocks, wild and crazy people on the slopes."
Stereotype or no, Nick was determined, so his parents gave their assent, but with one condition. "We told him, 'When you can't stand it you have to do it anyway – we can't let you get your skis back,'" said Susan. "It takes three days to figure out what the instructors are trying to tell you. But once you learn, it's not hard."
As predicted, he hated it. "I said, 'Sorry, we made an agreement – next year, if you want your skis back, you can have them.' I was kind of tough." But at the end of that trip, Nick was a convert, and the next year, Terrell and Scotty learned, as well.
Every year they went, and every year the adults skied, and the kids snowboarded. The last time was Spring Break of Nick's senior year. Then something happened in August of that year that changed everything.
Nick was on a trip back from Austin, where he was preparing to enter The University of Texas, when he and a good friend were in an accident and were killed.
"I didn't leave the house for two years. I almost died of a broken heart," says Susan. She and husband Bill, an attorney, went on to collaborate with St. Luke's United Methodist Church in the founding of the Nick Finnegan Counseling Center, which has supported hundreds of Houston families in their life challenges. But first, they had a lot of healing to do.
Spring Break came and went. "I said, I can never go to Beaver Creek again – that was our special place."
Finally, some friends invited them to use their home in Aspen. "It was very hard but we said, OK, we're going to go on this trip. I just told my husband I don't know if I can do this – just ski aimlessly – I'm just so sad."
An instructor overheard them and suggested they learn how to snowboard. So in the spring of 2004, at the age of 44 and 48, respectively, they decided to try their hand at snowboarding.
"It was so hard – I think I broke a tailbone, and my husband thinks he got a concussion – but I didn't feel the physical pain, because I didn't care," Susan recalls.  "I can't say it got my mind off Nick, but it gave me something to think about."
Just like Nick, she wanted with everything in her to give it up. But she had to stick to her guns. By the end of the trip, they had a new family tradition. They've been snowboarding as a family ever since.
"We think of Nick all the time – and I'm so happy that I did that; both Bill and I did that. It's one way to honor him, because that's what he did – and we miss him every day and I wish he was there with us – but it's not every 56-year-old woman and 59-year-old man that can snowboard."
The Finnegans are just one of countless Houston families who have grown up with skiing or snowboarding – or both – a part of their family's story. It's been a source of stamina-building, and it's strengthened relationships, but most of all, it's been good, healthy fun.
This month we visited with the Finnegans and five other Buzz families – and a Telluride ski instructor – to glean the best of their advice for those who are new to the sport.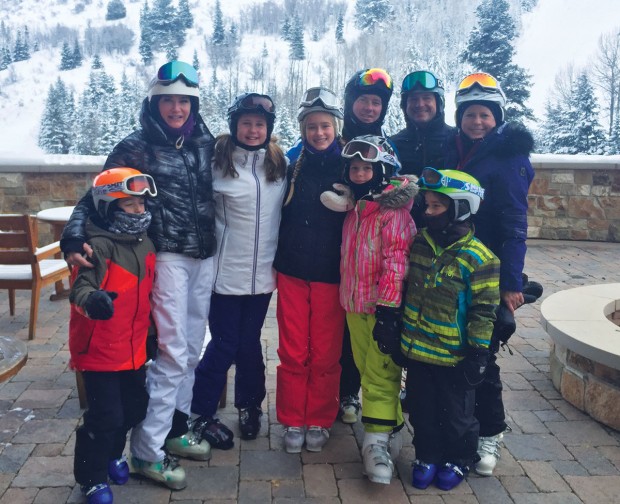 Taking the leap
One thing our veterans stressed is to start as soon as possible; some had their kids enrolled in their first ski school at 3. Not having a mountain in the vicinity, however, many Houstonians don't get around to skiing until later in life – and that's OK.
"There are a lot of adults, particularly from Texas, who think it's too late – but it's never too late," says Rocky Mafrige, a local businessman who grew up skiing in Tahoe. He and wife Joe'l have taken their two girls, Halliday and Olivia, skiing since they were 3, and ended up buying a second home in Deer Valley, where they've entertained and encouraged a number of Houston beginners.  "For people who've never done it, it shouldn't be intimidating; you should do it as a family and just have a good time."
"Put your apprehensions aside and go do it," added Joe'l. "You'll love it. Everything is better after skiing – the great food, beautiful scenery – even if you don't like skiing that much, there's so much to enjoy."
Kathy Berkman, husband Drew and daughters Haley and Ali have been skiing together as a family since the girls, now in their 20s, were small. For Kathy, it's a way that the family can share the majesty of the natural environment.
"One of the things that I love about skiing is just being out there surrounded by such beauty," she said. "Whether it's a bluebird day or you are skiing in a snowstorm in the middle of harsh elements, it is amazing because you can be out there in the middle of it all, enjoying nature."
It's also that it's a wonderful family sport, and it's multigenerational. She hopes to continue as long as she lives. "I want to be the 85-year-old grandmother out on the mountain skiing with my grandchildren."
Getting ready
Make your reservations early – several months in advance, if possible, especially if it's over the holidays or Spring Break. Ski schools, private lessons, hotels, even restaurants get booked early.
If you're just getting started, see if friends who are regulars might be willing to loan you some gear.
"If it's your first time and you're not sure you're going to be a ski family, borrow, borrow, borrow," says Colleen Zatorski, who together with husband Jeff has been taking the kids skiing for more than a decade. "You may get there and your kids may say, nope, we never want to go back, and you're stuck with thousands of dollars of ski clothes and gear."
Pack lightly; ski gear takes up space, and baggage fees are hefty. "Find a place with a washing machine, as your clothes can get pretty sweaty – that way you don't have to pack seven days of clothes, you can just pack three days' worth and wash them," advises Colleen.
Take time to prepare yourself physically, advised Noah Sheedy, director of the ski and snowboard school at Telluride Ski Resort. Get your heart and lungs ready with a good cardio regimen, and coming well rested and hydrated will help with the altitude.
"Obviously skiing and snowboarding are lower-body intensive sports…. Do anaerobic exercises to strengthen your muscles – lunges, box jumps, squats…. Cardio and stretching are really important as well; any kind of yoga classes or stretching classes really set people up for success."
Getting in shape is also a safety issue, said Charles Katz, a physician who relocated his family and his practice from Houston to Salt Lake City, Utah, after falling in love with the lifestyle. Now he patrols the slopes of Brighton Ski Resort on snowboard as a volunteer ski patrol member. "The stronger you are the more you'll prevent injuries. At the last of day if you're exhausted you don't have the strength to avoid that collision."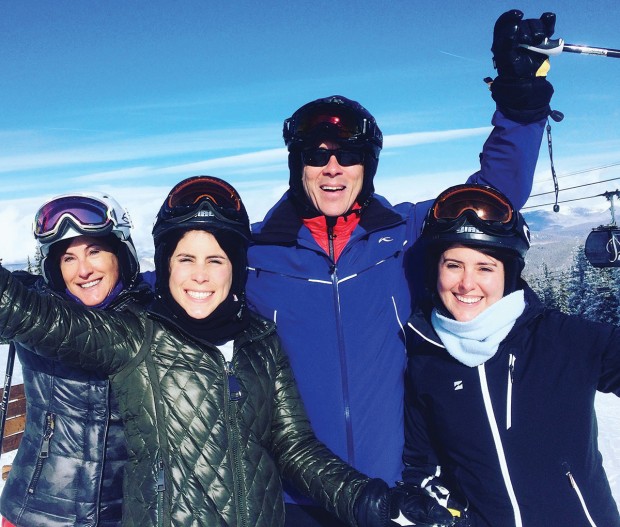 Gearing up
Layering is key to comfort on the slopes: thermal underwear under ski pants, layered tops and fleeces and jackets – and now there are even electric gloves and socks.
"Thin wool ski socks are better because you can feel your feet better in your boots – and your boots are the most important part of your gear, since you steer with your feet and your ankles and your lower part of your legs," said Kathy.
Don't fret if you don't find what you want in Houston, advised Colleen. Competition keeps prices down at the resort shops, she said, and the selection is much better. The Mafriges, who ski at Deer Valley in Park City, Utah, agree. And The Buzz Magazines editor Joni Hoffman says it's the same in Telluride, where she found her super-warm Hestra gloves on sale for 20 percent less than what she'd paid in Houston.
Colleen recommends arriving as early as possible the day before, doing your shopping and getting fitted for rental equipment so you can hit the slopes first thing in the morning.
For skiers and snowboarders alike, helmets are a must – and for those who haven't been on the slopes for a long time, it may come as a surprise.
"Novice skiers or snowboarders might think that by wearing helmets they are being singled out as beginners, but in reality everyone wears them," said Haley Berkman, who's been skiing since she was 5. "Helmets are very sleek and come in lots of different colors; some even have speakers so you can rock out to music on the mountain!" 
Insider tips
Houston businessman Michael Plank and wife Susan, who have made Christmas in Telluride a family tradition for a decade now, recommend taking advantage of some of the extras – for example, Black Tie Ski Rentals, which will come to your home and even up to the mountain to help you make adjustments or swap out your gear; and Boot Doctors, which offers the best high-end custom-fitted equipment. They will also meet you out on the mountain and allow you to ski for awhile and then trade the skis out a few hours later – with rental fees are applied toward the purchase cost.
Getting up to speed
Without exception, all of our veterans recommended skiing school and/or lessons for beginners, even if you feel you'd like to teach your friends and loved ones yourself.
"When you hand your child over to the ski school, you do your best to turn your back and walk away and leave and not interfere with that process," said Charles Katz. "When the kids were in school, we'd meet them for lunch and find out how their first part of the day was, then leave again – at the end of the day, we'd do a run together down the mountain. It was good for them, and it was good for us."
Noah Sheedy emphasized that this rule is important not only for children, but for beginners of all ages.
"Don't let your girlfriend or boyfriend or wife or husband teach you – that never works out," he advised. "Seldom do our significant others have enough patience to teach us… and typically it doesn't end very well."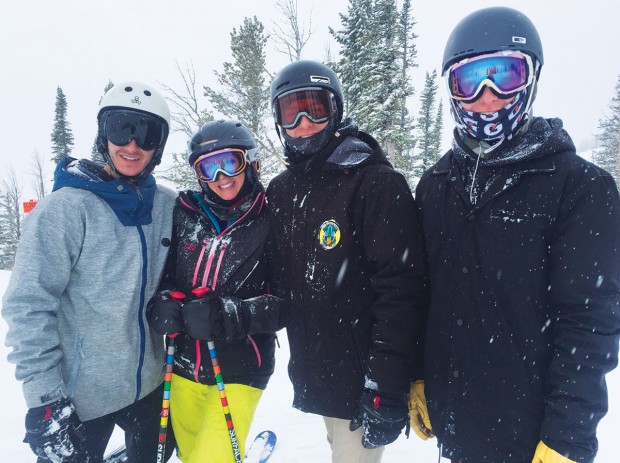 Snowboarding vs. skiing
Since Susan Finnegan made the switch to snowboarding, she's never gone back. "It's a lot cooler, let's face it. People see the snowboard going down the mountain and it looks so effortless – skiing is a beautiful sport, don't get me wrong; it's just not as cool as snowboarding."
Now that she's mastered it, she feels more graceful on a board. "It's easier to get around, the gear's more fun… the clothing, shoes, the boots are just more comfortable. You don't have to lug skis and poles. You can sit at lunch with your snowboard boots on and you're comfortable."
Michael Plank says the learning curve for snowboarders is steep and can be dangerous, so you'd better be prepared to break something. His daughter Kendall broke her wrist the first time she snowboarded. After talking with other families, he found that this is "very, very common."
"If somebody chooses to go down that path… you absolutely better have a damn good helmet and wrist guards, and the wrist guards must be tight," he warned.  Kendall had been uncomfortable and loosened hers, so they didn't protect her when she took a spill. "Also it wouldn't hurt to get a pair of padded sliding pants, because your rear end is going to take a beating."
As a doctor, and also a skilled snowboarder and skier, Charles Katz says the danger level is about the same; it's just that with snowboarding, you're more likely to get a broken wrist, while for skiers, it's more likely to be a knee injury. Snowboarding got a reputation for being dangerous at a time when a lot of young and reckless people were getting started; since then, the sport has matured.
The big difference is that snowboarding has a much steeper learning curve – as the Finnegans learned, it typically takes three days of really hard knocks to get the hang of it. Skiing on the other hand is a skill that can be acquired more gradually, but it takes a lifetime to perfect.
As far as personal preference, Charles goes back and forth, depending on whom he's with. "Whereas some people think of them as rival sports, really they are complementary; they're just two different ways of enjoying the snow."
Ten years ago, he said, most young people were transitioning over to snowboarding as that was seen as the cooler, hipper sport – "that's what most young people wanted to be doing," he said. That's changing, however. "Now ski technology has changed and you can get bidirectional, twin tip skis; you can go frontwards and backwards; and you can get wider skis that allow you to ride powder – the features that simulate all the kinds of tricks that were being done by snowboarders. That 'wow' factor and coolness is available in either discipline."
Check out specific recommendations from these Buzz families on dining, après-ski and alternative activities. 
People in this article:
Susan Finnegan
,
Bill Finnegan
,
Nick Finnegan
,
Terrell Finnegan
,
Scotty Finnegan
,
Rocky Mafrige
,
Joe'l Mafrige
,
Halliday Mafrige
,
Olivia Mafrige
,
Kathy Berkman
,
Drew Berkman
,
Haley Berkman
,
Ali Berkman
,
Colleen Zatorski
,
Jeff Zatorski
,
Noah Sheedy
,
Charles Katz
,
Ethan Katz
,
Bettina Katz
,
Aaron Katz
,
Dylan Katz
,
Joni Hoffman
,
Michael Plank
,
Susan Plank
Want more buzz like this? Sign up for our Morning Buzz emails.
To leave a comment, please log in or create an account with The Buzz Magazines, Disqus, Facebook, Twitter or Google+. Or you may post as a guest.