Sailing Angels
Therapy on the sea
Click the Buzz Me button to receive email notifications when this writer publishes a new article or a new article in this column is published.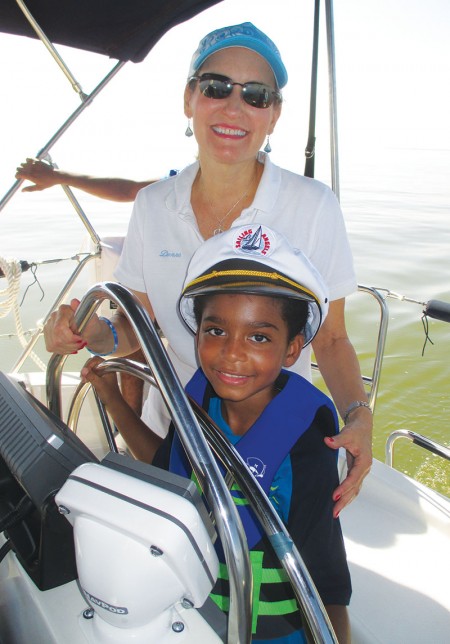 The ocean has long had a healing effect on our 12-year-old son Garrett. Challenged with autism, there is something about the ocean that gives the perfect amount of therapeutic input his sensory-sensitive body needs, whether he is in or on the water. And there is never any mistaking what he is communicating with his shrieks and giggles. Sheer joy.
That's the power of the sea on many who have disabilities. A non-profit foundation made of local sailors – called Sailing Angels – is harnessing that power, sharing their yachts and their time with families who have loved ones with developmental or physical disabilities.
In sailing and motor vessels ranging from 35 to 71 feet, the volunteers take their guests out on two-hour nautical adventures out of Portofino Harbour in the Kemah area.
Buzz resident Laura Chavez plans a trip every October with Sailing Angels for her 7-year-old son, Carlos. Carlos has metabolic myopathy and mitochondrial disorder. Because of low muscle tone, he uses a wheelchair.
"On the water he seems free. I can just see the joy all over his face when we are sailing. We don't own a boat, and it's never going to happen, but doing it every year gives us something to really look forward to," said Laura.
Dave McCabe is the one who made this happen. He started sailing eight years ago when he was part of another international sailing charity. In 2011, he veered off to start his own non-profit called Sailing Angels. It started with one boat, the Blue Marlin III, and a handful of volunteers.
In the past five years, his group has taken 5,000 folks sailing.
At first, the effort focused on special-needs children. But today, with an available fleet of 37 yachts and 138 volunteers, the foundation is able to include chronically ill children, children at risk, disabled veterans, battered women, and the bereaved and their families. 
"There have been critically ill children who have come aboard the boat on stretchers," said Dave. "The therapeutic benefits of a sail have been recognized by the Veterans Affairs and incorporated into their therapy program that helps the wounded, amputees, or those suffering from Post-Traumatic Stress Disorder. It's just so soothing. Everybody lets their cares go."
Buzz resident Donna Carnahan has volunteered on more than 50 voyages for kids and adults, helping the participants sail to the best of their abilities.
She knew it was the perfect place to volunteer her time, but she didn't expect to see the immediate therapeutic effects.
"There was one time we had a pretty severe child on board. At the very beginning of the sail he seemed very agitated. He couldn't stop moving and talking, but by the end of the sail, he was calm and more social. He was engaged. There was a remarkable difference in his temperament from the beginning to the time we were pulling into the dock," said Donna.
She was also moved during a sail with disabled veterans. "They had some skipping stones in their pockets, and they were throwing the stones into the bay to release their bad memories. In the beginning they didn't say much, but they seemed to be more relaxed after that. They opened up and started talking. It really can make a big difference in someone's life."
Volunteer Melody Nitzberg lives aboard her 38-foot Morgan 382 in Kemah. She works as an IT-solutions architect for IronEdge Group in west Houston but she escapes home to her yacht and offers it up to Sailing Angels.
"I love sailing. It's calming. All your cares shrink to normal size instead of a giant size," said Melody. "You can feel the tension levels drop so significantly, and it ministers to the whole family."  
The sail acts as respite for parents, as the volunteers step in and help the participants sail the boat. Carlos' mom, Laura, says, "I feel really peaceful looking at the waves. We feel really blessed that we're able to have that experience and not have to worry about his disability for that brief time."
I understand, and I know it brings our son joy. On more than one occasion he has come out of his room wearing his sailing cap, saying, "Secure the riggings!" I know then that it's time to call our sailing angels.
Learn more about Sailing Angels.
Want more buzz like this? Sign up for our Morning Buzz emails.
To leave a comment, please log in or create an account with The Buzz Magazines, Disqus, Facebook, Twitter or Google+. Or you may post as a guest.