Galveston: Debunking the Myths
Click the Buzz Me button to receive email notifications when this writer publishes a new article or a new article in this column is published.
Galveston Island, only 60 minutes away from Houston, is known for being one of the most fun (although maybe not the prettiest) getaway destinations in the state. Long-time visitors and residents will argue, though, that people often don't give enough credit to Galveston; it is beautiful and safe - what more can we ask for?
Recent news articles about the "dangers" in Galveston have been inciting fear in Houston residents, though. Galveston is one of Texas' gems, and it is so sad to hear people concerned about their safety when going to the beach. Those people are uninformed; Galveston is a great, safe and beautiful beach that is a wonderful place to spend your summertime. These recent news stories may have caused you to take pause. Because my family has owned a house in Galveston since I was very little, I consider myself a quasi-expert on all that Galveston has to offer. I'm here to debunk those myths, or at least reassure you that Galveston IS the place to be this summer (and all year round). 
To start with, you've probably heard of the flesh-eating bacteria. Well, newsflash, people - it's been around for a long time, and it's been in almost every body of water you've probably been in. The bacteria, called Vibrio, according to the CDC, lives in brackish or salt water, and can cause Vibriosis. Symptoms of Vibriosis include skin infections, nausea, vomiting and sometimes, loss of flesh. Vibriosis can also be contracted by eating raw shellfish, too. You are only at risk of getting Vibriosis, though, if you enter the open water (ie the beach in Galveston) with a large, open wound. Chances are, if you have an open wound, the second that it hits salt water, it will be stinging enough that you'll be made aware of it (if you weren't already). Moral of the story: if you have a large cut, don't swim. That's it! In the last five years, outbreaks of Vibrio have occurred on the Atlantic Coast, the Gulf Coast, and even the West Coast, according to the CDC. It's not new, and it's nothing to be afraid of. 
The next thing to address is the fear of sharks. Although sharks are scary, the chance of a shark biting a human is extremely slim. The International Wildlife Museum says that you're more likely to die from fireworks, lightning, drowning, a car accident, a stroke or heart disease. Sharks are in every ocean, so I'd be lying if I said that there aren't any sharks in Galveston. The sharks in Galveston are no different than the sharks anywhere else, though. They want to be left alone, and they have no interest in humans. Don't allow yourself to be mistaken for shark bait by not swimming during shark feeding times, which are dawn and dusk. If you see big fish jumping around you in the water, come in a little closer to the land - a bigger fish could be pushing them in.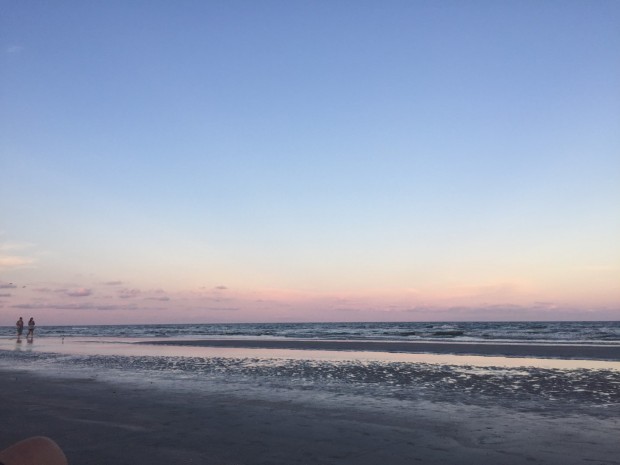 The third complaint is the "dirty" water. This is a common myth that is flat-out false. Galveston's water isn't dirty - it's sand! The sand in Galveston is very fine, almost silt-y. When you walk out into the water, there are more than three sandbars on Galveston's beaches before the deep open ocean begins. Each sandbar is a horizontal raised mound of sand that allows a person to be waist-deep and then shin-deep in the water in a matter of steps. The rougher the waves are (which usually correlate with how gusty the wind is), the more sand is kicked up off the sandbar into the water. Since the sand is so fine, it mixes in well with the water, giving the water the coloration of the sand: a darker brown. If you ever go to Galveston when the waves are extremely calm and sand isn't being kicked up, you'll notice that the water is a blue/green color. It's not clear like Hawaii, but it's beautiful nonetheless. 
Galveston is a fantastic and easily accessible vacation spot for Houstonians. We would all be missing a huge opportunity if we didn't take advantage of the great beaches, restaurants, viewpoints and shops that Galveston has to offer. You can bring your RV or pitch a tent at the Galveston State Park. If you like the beach, go grab a nice lunch on the Seawall then hit the sand. If you like to shop, go to the Strand and visit the boutiques. If you like to play golf, relax at Galveston Country Club. For lunch, I recommend Farley Girls or Mosquito Café. For dinner, try Nate's on the West End or the Gumbo Bar on the Strand. There is so much to do in Galveston, so there's no sense in believing silly myths created by news outlets to incite fear. Enjoy the beach, and be smart. 
See Andria Frankfort's recent story, "Gone to Galveston" for stories about Buzz families who love to hang out on the water in Galveston. For summer events in Galveston, see Sarah Bass' Island Happenings event listing. Plus, see The Buzz Guide to Galveston Island for more on what to do in Galveston.
Want more buzz like this? Sign up for our Morning Buzz emails.
To leave a comment, please log in or create an account with The Buzz Magazines, Disqus, Facebook, Twitter or Google+. Or you may post as a guest.