Back to School
Lunches that make the grade
Click the Buzz Me button to receive email notifications when this writer publishes a new article or a new article in this column is published.
Shannon Bell is a long way from the small town in central Pennsylvania where she grew up. But when she packs lunches for her three children, she is transported back in time to the days when she would open a lunchbox at school and take out a message from her own mom.
"Somehow I have never gotten around to leaving surprises in my kids' lunches and snacks, but I do, however, always write on the kids' bananas," says Bell, owner of S. Bell Designs Jewelry, flashing a smile. "I use the tip of a butter knife and usually write something like 'Have a great day! Love, Mom,' and the writing turns black by snack time. This is something my mom did for me on my bananas growing up, and now I have carried on a little tradition of hers."
Passing on family food traditions is important to the Afton Oaks resident year-round, but even more so in August when her children, Ashton, 9, and Olivia, 7, who both attend Annunciation Orthodox School, and Parker, 2, who attends St. Paul's School, go back to class. "We all want to give our kids the best possible start to a new school year," she says. "A balanced diet is absolutely an important part of that equation."
See some of Shannon's favorite lunch and snack recipes: Banana Bread, Spiced Pretzels, Fruit Rolls Ups, Baked Oatmeal, Zucchini Bread, Deviled Eggs and Apple Crisp.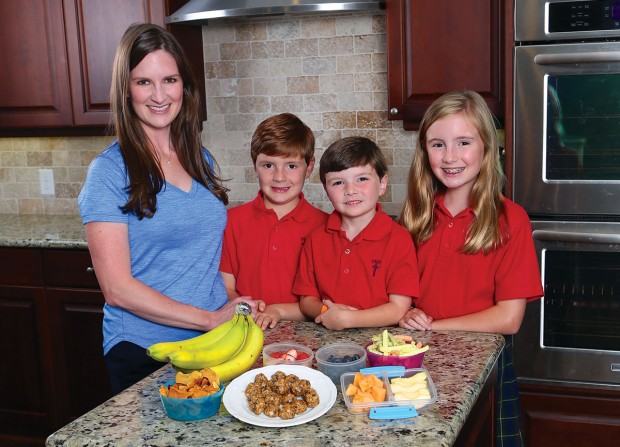 Bellaire resident Allison Sovany, a stay-at-home mother of three, ramps things up in August. "With every back-to-school season comes changes for everyone. Though I strive to keep my kids eating on the healthier side, we do slip up more in the summer time (popcorn movie days, turning the grill into a pizza oven), so getting back into the school routine brings more structure," she says.
"To be smart in school and a strong athlete, you must feed your body the proper fuel. It's not to say that we eat clean and strict all the time; it's all about balance."
Food allergies are a complication. "Food in general is a challenge at my house because everyone has different tastes and allergies," says Sovany, whose children, Caroline, 10, Henry, 7, and William, 6, all attend St. Vincent de Paul Catholic School.
"My daughter is allergic to cashews and pistachios, and one son is allergic to walnuts, and my other son was milk-protein allergic as a baby. My kids tend to be picky, and I cater to their pickiness at lunch because I want them to have a good meal while they are away from me."
Sovany says as a family, they look at the school lunch menu on Sundays and decide which days they will take lunches from home vs. buy, and then they map out menus. "I think that if you give your kids a say on what they can have for lunch it gives them a sense of inclusion and a say over something that is important to them," says Sovany. "We require our kids to have a good serving of protein at every meal because that is what sustains you, and I also make sure they have a fruit that they will actually eat – we're still working on vegetables they like and eat!"
"Snacks have to be quick, practical and something they like, or you will end up seeing it uneaten when they come home – with a moody kid to show for it." Her go-to staples are apple slices, granola bars, carrots with ranch dip, pretzels with peanut butter, hummus and vegetables, and veggie straws.
See some of Allison's favorite snack recipes: No-Bake Energy Bites and Banana Bread.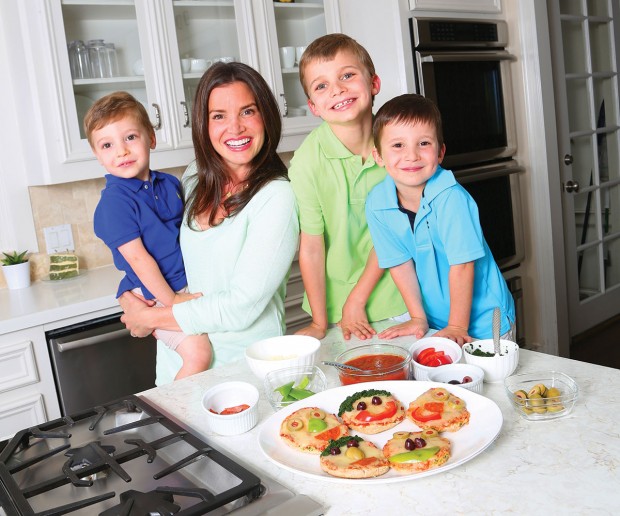 West University resident Lindsey Lee Hirsch finds that having a weekly game plan helps her when making lunches and snacks for her three children: Daniel, 8, Jonah, 5, and Nicholas, 3. While Daniel and Jonah attend Post Oak School and have no food restrictions, Nicholas attends Beth Yeshurun Day School and has some parameters about what can be brought to eat at school.
"Preparing lunches within the confines of Beth Yeshurun's dietary rules is no small task," says Hirsch, who is an in-home personal cooking instructor. "They allow the students to bring in kosher dairy lunches, which doesn't work for Nicholas because he is lactose intolerant. It's also a no-nuts campus, so I have to be really creative with his lunches." Hirsch sends protein-enriched English muffins with grass-fed butter, cereal with coconut milk, soy butter and strawberry jam sandwiches, veggies with hummus and her specialty, "Pizza Men" with lactose-free cheese.
Hirsch streamlines the preparation process. "I make lunches the morning of school," she says. "I give myself five minutes per lunch. Have your bread defrosted [if it's frozen], have your fruit already washed and dried, and have your veggies already sliced." Hirsch also recommends assembling sandwiches right before going into the lunch box to keep the bread from getting soggy.
See some of Lindsey's favorite lunch and snack recipes: Chicken Salad, Hummus, Egg Salad and Pizza Men.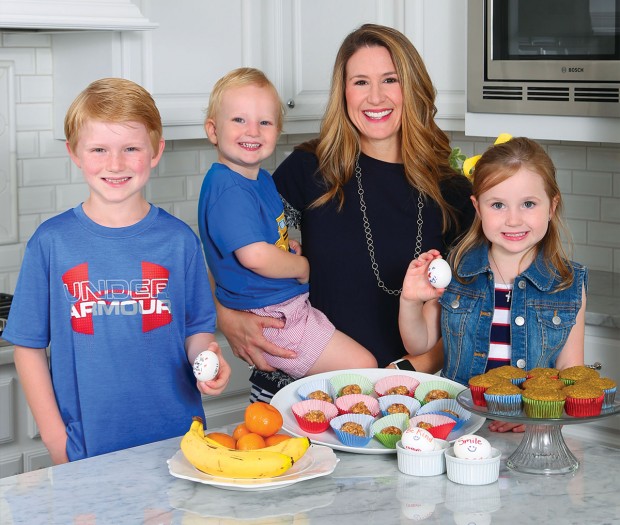 Also big on planning is Memorial resident Jordan Maedgen, a stay-at-home mother of three: Carter, 8, and Charlotte, 6, who both attend Rummel Creek Elementary, and Coleman, 3, who attends Christ Memorial Lutheran School.
"I would encourage anyone wanting to make a change to do it in small steps. Try adding fresh fruit to your lunch or cutting out extra sugar in snacks. Also, evaluate your kid's hunger level each semester. I have noticed my oldest son usually goes through growth spurts and eats more in the spring, and my daughter seems to be hungrier in the fall.
"I do as much as I can the night before. I'll leave their empty water bottles out on the island, so I can fill them with ice and cold water in the morning. My suggestion is to keep it simple. The cutesy Pinterest food animals are really fun, and I'm impressed with anyone who comes up with those things, but in the end saving yourself time and sanity to allow for even 5 minutes of quality time would be my choice."
Maedgen has come up with a creative way to get her kids to help. "I try and send one 'main food' that changes daily (turkey roll ups, chicken/spinach tortellini, chicken strips) and then a combo of a fruit, a dry/wheat product, a dairy and a vegetable, if I am lucky," she says. "I have a system of numbered baskets and bins in the pantry and fridge and the kids have the responsibility of selecting one item from each bin to pack in their lunches." Choices may include: (bin 1) cutie oranges, applesauce, raisins, dried fruit; (bin 2) almond crackers, veggie sticks, goldfish, granola; (bins 3 and 4) yogurt, string cheese, boiled eggs, apple slices, cut-up mango, frozen grapes, blueberries; (bin 5) Fig Newtons, Special K bars and vanilla cookies.
Doing lunch the night before helps. "I remind my kids to grab their lunch selections before heading up for baths and bedtime," she says. Maedgen likes to send notes of encouragement, writing messages such as, "I love you!" on the outside of a hard-boiled egg with a Sharpie pen.
See some of Jordan's favorite lunch and snack recipes: Yogurt-Covered Blueberries, Homemade Smoothies, Multi-Grand Hidden Veggie Muffins, Crunchy Lunch Wrap and Grilled Pizza Wraps.
Bell suggests focusing on simple guidelines and healthy choices. "We have a loose 'one packaged, one fresh' rule – meaning that they can have a bag of pretzels, but then the other snack needs to be something perishable like Greek yogurts because they have a lot of protein."
Bell hopes her children have lasting memories of healthy foods when they are adults. "Cooking is like a love language for me," she says. "It's one way I show my family how much I care about them. I feel a strong sense of connection with my Mom as I picture her packing my lunches all those years like I am doing now – one of a mom's true labors of love."
Read more school lunch tips and menus from these Buzz moms.
Want more buzz like this? Sign up for our Morning Buzz emails.
To leave a comment, please log in or create an account with The Buzz Magazines, Disqus, Facebook, Twitter or Google+. Or you may post as a guest.