St. John's Students Adapt to New Rotating Schedule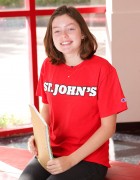 Click the Buzz Me button to receive email notifications when this writer publishes a new article or a new article in this column is published.
Things naturally change at the start of every new school year, with seniors long gone and bright-eyed freshmen eager to take their place. However, the biggest change this year at St. John's School has come in the form of a new rotating schedule, which has affected students' academic, social and extracurricular lives. 
The new schedule features longer, rotating classes instead of fixed classes and shorter lunches, as well as a later start and end time. 
More frequent free periods were also a key part of the new schedule's design, which aimed to make students' lives easier by restricting the number of classes students could take and requiring at least one free period. 
"The free periods are great because they give you a little rest from the day and you can get some homework done," sophomore Carlee Marquez said. "On the days that you don't have a free period, it's a little stressful because you have all your classes on one day."
Many students find that having more unscheduled time is the best feature of the new schedule.
"I really like having a bunch of free time," junior Lexi Lozano said. "If for some reason I didn't finish my homework from the night before, I can do it during the day. There's also a lot of good bonding time where I can catch up with friends." 
Classes now last for 60 minutes instead of 45 minutes, with one class per day that is 80 minutes long and varies in subject.
"60 minute classes are totally fine, but 80 minute classes are a little tough," Lozano said. "They can seem a bit too long, especially if it's not my favorite class."
Lunch has also changed, now lasting for 30 minutes instead of 55 minutes and occurring later in the day, at 1 p.m. instead of at 11:15 a.m. This has been a difficult adjustment for many students; however, most have additional time to eat earlier in the day during free periods.
"Thirty minutes just isn't enough to time to eat," junior Christian Flowers said. As clubs typically met during lunch, some students are concerned about how these activities will fit into the new schedule, despite several time periods allotted for club use.
"Last year, clubs were a really big part of SJS culture, and you could be really active in several of them," sophomore Stephen Kim said. "So far this year, there hasn't been as much of an opportunity to do that because there are limited times for clubs to meet, so you have to restrict yourself and stick to one club if you want to spend any substantial time on it." 
Morning classes now start at 8:30 a.m. for high schoolers instead of at 7:45 a.m., except for students who attend morning ensembles or sports practices. Depending on their schedule, non-freshmen students may even start school at 9:30 a.m.
"I usually go to bed pretty late, so waking up later feels a lot better, although a lot of fine arts students still have to arrive early in the morning," Kim said.
However, a later start means school must now end at 3:35 p.m. instead of at 2:45 p.m.
"Getting to sleep in is definitely worth it and I barely even notice that school ends later," Lozano said.
The advisory group program, which involves a faculty advisor and their small group of students, has also been affected by the schedule change. Instead of meeting in the morning, meetings are dispersed throughout each 7-day rotation, and they now focus on discussion questions usually relating to chapel or assembly speakers.
"Last year, advisory was less structured, but there was a more genuine feeling about how people interacted with each other, for example, by studying with each other instead of answering set questions," Kim said.
As it has only been about a month since school started, students will continue to adapt to the new schedule, forming new habits and opinions. St. John's is open to student feedback, acknowledging that there will likely be tweaks and changes to the schedule, especially for the following year.
"At the beginning of the year, I was a little apprehensive because the schedule seemed a bit confusing and cluttered," Kim said. "Now, I'm starting to see that there are so many great benefits, like less congested lunch lines, more free periods, and more time to study."
Want more buzz like this? Sign up for our Morning Buzz emails.
To leave a comment, please log in or create an account with The Buzz Magazines, Disqus, Facebook, Twitter or Google+. Or you may post as a guest.