Behind the Lens
The life of a LIFE photographer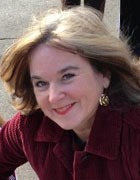 Click the Buzz Me button to receive email notifications when this writer publishes a new article or a new article in this column is published.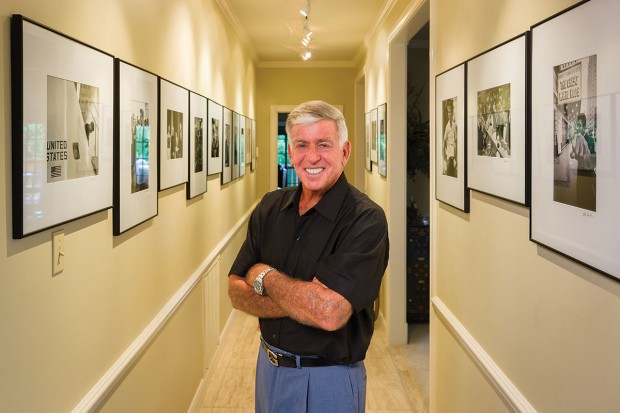 It was a crisp fall day in New York City, 1967, when LIFE Magazine photographer Bob Gomel hit the streets with Dustin Hoffman. The little-known actor was fresh from filming The Graduate, playing mentally adrift, nebbish misfit Benjamin Braddock who was uncertain about his future.
The movie became a breakout hit, landing Hoffman stardom and an Oscar nomination. "But at the time, he didn't know if it would be a success. The movie hadn't been released yet," explains Bob, 83. 
So on that day some 50 years ago, with intrepid photographer Bob in tow, Hoffman went about his daily business. He signed up for unemployment insurance.
"The funniest thing is we went there in a studio limousine," Bob says of Hoffman, whom he snapped leaning against a counter, sharing light-hearted banter with the clerk. "I thought that was hysterical."
If a picture is worth a thousand words, Bob's body of work is one heck of a read.
From 1959 to 1969, he was part of an elite cadre of LIFE photographers with access to some of the most powerful world leaders, bigger-than-life athletes and mesmerizing movie stars and celebrities of the day.
There's a reason The University of Texas Dolph Briscoe Center for American History, tasked with documenting historical treasures, offered to archive his entire photography collection. "The biggest thing that's ever happened to me," Bob says.
The Memorial home he shares with wife, Sandy, a former MD Anderson Cancer Center executive, holds a treasure-trove of iconic images – pictures of The Beatles, Marilyn Monroe, the Kennedys, Cassius Clay (later known as Muhammad Ali), Warren Beatty and Richard Nixon, to name a few.
Rich stories come with each photo, some light-hearted and funny, others summoning the most somber of times.
His image of President John F. Kennedy's casket, light streaming upon it in the Capitol Rotunda, defined a nation's grief in the fall of 1963. In his quest to record the day's emotion, the inventive photographer found the perfect vantage point for the shot, two stories up.
"I started walking around and saw this door open, and I went up this stairwell and ended up on this balcony looking down at the scene. Then this beam of light comes straight down and I took the picture. I credit it to divine intervention. It wasn't 20 or 30 seconds later that the light was gone," says Bob, who knew Kennedy personally from covering his run for the presidency.
He recalls the president-elect inviting him and another photographer inside to watch the Army-Navy game. They'd been stationed outside his Georgetown home, hoping to capture shots of newly appointed cabinet members. Running on little sleep, Bob dozed off. "The other photographer shook me awake and said 'Bob, Navy won. Kennedy has gone to bed. I think we should go outside now.'"
He took some good-natured ribbing over it from Kennedy when their paths crossed over the years. "He'd point at me and smile, and I'd turn beet red."
Muhammad Ali (formerly Cassius Clay) was another favorite subject. But don't confuse the person with the persona, Bob says. "I got to know him well. His carrying on was a clever way to build up attendance or interest in the fights, especially early on. He was not at all like the public persona that we were all exposed to."
One of Bob's favorite and most lucrative shots is of civil rights activist Malcolm X taking a picture of Cassius Clay the night he knocked out Sonny Liston to become heavyweight boxing champion. Its current market value is $3,000 for a print.
But it's another Ali picture that really tugs at his heart, one of Bob's oldest son Corey as a toddler, sitting on the champ's lap. Years later, Corey, now a Houston attorney, took the print to an autograph signing at the George R. Brown Convention Center. 
Ali, infirm from Parkinson's Disease, got up from the table and walked up and down the line of autograph-seekers, showing off the print. Then he stared sternly at the picture, back up at Corey, down at the picture again and said, "You still ugly," Bob recalls, laughing. He then graciously posed as Corey took a photo of daughter Madeleine on his lap.
"That was Ali. Very funny. A considerate guy."
Stories behind the pictures amaze. Bob's 1969 LIFE cover shot of Dwight D. Eisenhower lying in state was taken by foot-switch at ground level, zip-cord linked to his Nikon, suspended nearly 200 feet high in the Capitol rotunda dome. But it's a simple black and white picture taken by his science teacher in the Bronx that tells the tale of how he first fell in love with the craft.
"I was in grade school. There was this picture on the wall. I can see it as clearly today as if it were right in front of me, a picture of a cobblestone street, the center of which had a manhole cover with a pigeon on it. I looked at that all term long and thought, 'That's what I want to do.'"
So he attended the teacher's weekly photo club. A job delivering groceries by bicycle paid for his first camera with controls, a Ciro-flex. His optometrist dad and teacher mom allowed him to convert a closet in their Bronx home into a darkroom.
"I spent the next four years in high school in the closet," Bob quips. He learned photography by trial and error and read Popular Photography cover to cover.
As a NYU journalism major, he joined the newspaper, covering school games at Madison Square Garden. The press corp in New York covered the games too. He befriended many of the photographers, tagging along on their night-shift assignments, soaking up tricks of the trade.
By 1955 his photography was largely on hold for a stint as a Navy pilot. But he still managed to snap pictures from time to time, winning an All-Service award for a photo of Japanese fishermen. He also had work published in Popular Photography. By 1958, his Navy stint up, his dream of becoming a professional photographer took on new vitality.
"It's the first time I actually thought I could possibly make it a career."
 His last station with the Navy was in Port Isabel, Texas, 25 miles from the Mexico border. Bob traded in his Ford convertible for an economical 80-octane, junk-gas Morris Minor and headed for Mexico to hone his craft. He shot pictures continuously for a year till money ran out then returned to New York City, ready to hit up the big magazines.
Ironically, it was a riveting series of photos chronicling his family's own reaction to tragedy that got him a foothold at LIFE.
His younger brother was in a car accident, the passenger killed. Bob was behind the lens, profiling his family through the worst, even taking pictures in the operating room when surgeons removed one of his brother's lungs.
The spread ran as a Fourth of July cautionary tale about accidents and driving, he recalls.
Through the years, images of raw emotion have been his favorites. He points to a neatly framed photograph in his hallway, circa 1961, that of a little girl, tears welling as she anxiously awaits her father who has been away on the USS Triton, the first atomic submarine to circumnavigate the globe under water.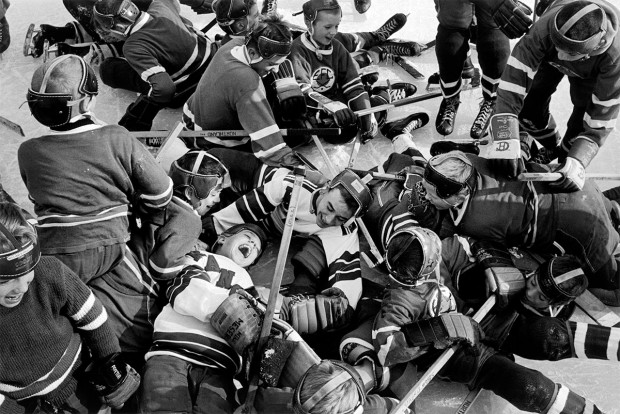 He refers to another, a gleeful pile-on scene of boys playing Little League ice hockey. "I needed a picture that made a statement about how much they loved the game, so I lined up the two teams opposite on the ice and put a $5 bill under a puck. I got up on a ladder and blew a whistle. They came charging."
Especially memorable is a photo session of a relaxed John, Paul, George and Ringo at a private pool, away from swarming fans during the height of Beatlemania. The joy on their faces is palpable as they frolic in the pool and relax in lawn chairs. The photos weren't published in the magazine, the editors picking different ones, but the images are displayed at Monroe Gallery in Santa Fe, where his work is represented.
"They were the whitest white boys I've ever seen when they took their shirts off," Bob says of the Fab Four. "And nice and friendly. Their stardom hadn't affected them."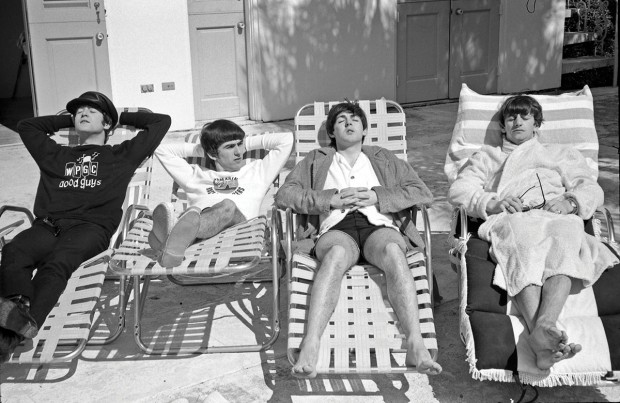 As time wore on, the nation eventually looked to television over magazines for coverage. Bob moved on too, pursuing advertising work, helping to introduce Merrill Lynch's Bullish on America campaign and photographing for Bulova, GTE, Audi and Renault. Commercial photography led him to Houston in 1977. Campaigns for Shell, Houston Power and Light, Compaq and Exxon, among others, benefitted from his sharp eye.
In recent years, he and wife Sandy, boasting eight grandchildren and one great grandchild, have focused on traveling. Of course, always a camera in hand. They chart a course, hire a driver and "look for the places not yet invaded by McDonald's or Coca-Cola," he says. They hope to set off for a second trip to China and Mongolia early next year.
"The thing I love about Bob is he may be 83, but he's open to new adventures always," says his wife.
"And Sandy, by osmosis, has picked up a lot of the things I preach in photography," responds Bob. "She took the picture of me on my Wikipedia page. It's a really wonderful picture. I know a good picture when I see it."
Want more buzz like this? Sign up for our Morning Buzz emails.
To leave a comment, please log in or create an account with The Buzz Magazines, Disqus, Facebook, Twitter or Google+. Or you may post as a guest.