When Neighbors are Family
Generations who live together – or next door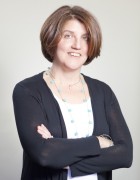 Click the Buzz Me button to receive email notifications when this writer publishes a new article or a new article in this column is published.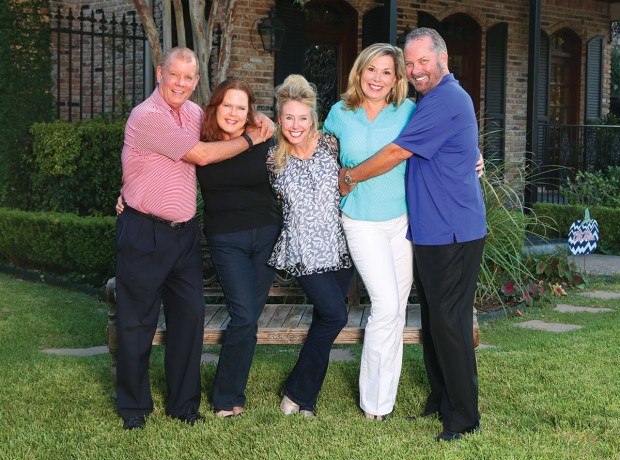 To say that siblings Larry Hoffman, Lori Wilkins and Lisa Riddle get along well would be an understatement. When they first struck off on their own, as young adults, and needed to find roommates for apartment shares, they turned to each other and not outside friends. Lori and Larry office together. They own a farm together. All three go on trips together. And all three live within 500 feet of each other on the same street in Bellaire.
The siblings and their spouses eat dinner together, pot-luck-style, at one of their homes four or five times a week. They are able to do what Larry's wife, Alisa, calls "home shopping." Run out of chili powder or toilet paper? Go over to a sib's house and grab some. Going to be late? Someone will be around and can let your dog out. In fact, the three families refer to their dogs, who spend a lot of time together, as "the canine cousins." Not to mention that Larry and Alisa's youngest, 16-year-old son Brennan, perhaps to his chagrin sometimes, has three sets of parents watching over him on the street.
Does the thought of doing this with your own family sound exotic? (And maybe alarming?) It may not be. As Karen Fingerman, professor of human development and family sciences at The University of Texas at Austin, pointed out in a recent article in The Psychologist, the idea that family generations would not live close to or with each other is the aberration. Moving out and away only became the expectation in the United States after World War II. Before that, families sticking together was the norm globally for "several centuries"– and still is in many cultures.
When Roseanne Sicola was growing up in Montrose, both her grandmothers lived within walking distance of her family. When the grandmothers got older, Sicola says, "We took care of one, and my aunt took care of the other." Three and a half years ago, Sicola's mother, Antoinette Bono, moved in with her and her husband. Sicola says she "didn't think twice" about it.
Overall, the idea of a "multi-generational household," defined as two or more adult generations of a family living together, is making something of a comeback in the United States. According to the latest analysis of census data by the Pew Research Center, 19 percent of all Americans, 60.6 million people, lived in multi-generational households in 2014, up from a low of 12 percent recorded in 1980.
The most striking finding is that, for the first time in 130 years, more young American adults, aged 18 to 34, live with their parents than live with a spouse or romantic partner. Thirty-five percent of all men in this age group live with their parents. While economic conditions are a factor, they are not, according to Pew, the only, or even the largest, one at work. According to Pew, "This turn of events is fueled primarily by the dramatic drop in the share of young Americans who are choosing to settle down romantically before age 35."
Another factor: UT's Fingerman pointed out that, whether they live together or not, the relationship between American parents and their older children has changed dramatically in the last 20 years, making it easier for them to contemplate living together. Most young adults, for example, are in touch with their parents at least daily, she says. In a 2012 Op/Ed piece in The New York Times entitled "You Can Go Home Again," she wrote that "many parents and children want this close contact" and that young adults who receive more support from their parents report "clearer life goals and more satisfaction" that young adults who receive less. "In fact, we could be celebrating the strong bonds between today's young people and their parents, rather than lamenting the foibles of the next generation," Fingerman wrote. "Forty years ago, the news media were filled with reports of a generation gap. Let's be grateful that we've finally solved that problem."
Still, it can be difficult to feel sure of yourself when you are going against what you've always assumed. About three years ago, Kaitlyn Sharp's daughter Gillian Knobelsdorf moved home five years after graduating from college. (Kaitlyn's other child, Michael, lives in Los Angeles.) "Gillian has a degree in education and wanted to teach and get a few years of good experience," says Sharp, who owns her own business, Custom Plumbing & Hardware. For Gillian, living with her parents made financial sense.
But Kaitlyn thinks of her own life experience – by the time she was 17, she was working, putting herself through college and living on her own in New York City – and wonders if her family is doing the right thing. "I don't want to hold her back by having her live here," says Kaitlyn, "but I also don't want to push her out if this is a good thing."
Gillian jokes, "I live a lot better here than I do when on my own." While Gillian has hired a maid service to help out, living with her parents means, she says, "I can watch HBO, I can have wifi without having to deal with roommates. I like being here and I'm glad they like me being here."
And Kaitlyn and her husband John Knobelsdorf, an attorney, do like it. "It's nice having her around," says Kaitlyn. "Gillian and John talk for hours."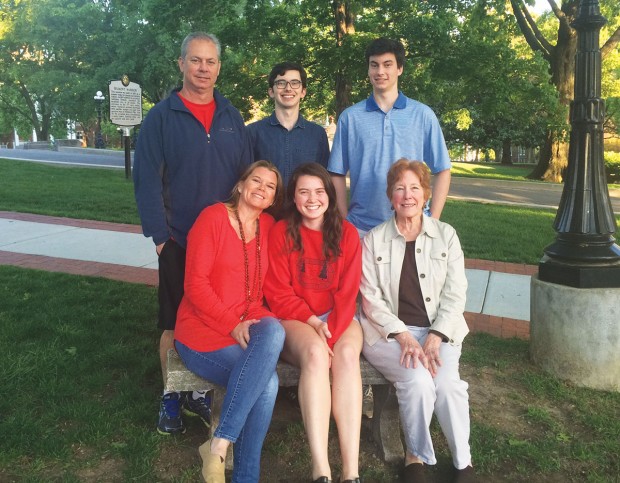 When Nora and Pete McMordie, she a travel agent, he a builder, moved in with Nora's parents 12 years ago, they already had three kids and the plan was for the move to be permanent. Nora calls it "the best thing we ever did." When the McMordies moved back to Houston from Southern California, they realized they couldn't afford to live in a neighborhood as nice, and with as good schools, as Hunters Creek in Memorial, where Nora's parents lived. Nora's dad, Robert Lee Vickers, suggested using their money to add on to Nora's childhood home. Because Nora and her father, who passed away eight years ago, were both avid cooks, they decided to have one large open kitchen and living area with the two sets of bedrooms at different ends of the house.
The situation continues to be positive. Nora and her mother, Inga, now 84, have coffee together every morning, and the family eats dinner together several nights a week. Nora's mother's expenses are less, she gets to stay in the house she loves, and she's not lonely. Even Nora's siblings feel reassured to know their mom is with their sister.
Roseanne Sicola points out that having your parent live with you is, in some ways, easier. "We used to live 9-10 miles apart," she says. "Getting over there, to deliver a meal, could get tough when traffic was bad."
One woman, who prefers not to be identified, lives next door, in an apartment building, to her in-laws. "They are literally four feet away," she says. The in-laws, retired, took it upon themselves to make dinner for the family every night. When her children were learning to drive, their grandparents, though they had given up driving themselves, could still be the licensed driver in the front seat while the kids practiced. And even when the kids were teens and technically no longer in need of babysitters, it was, their mother says, nice to have the grandparents close enough to check on them. The kids, now in nearby colleges and graduate schools, still often eat dinner with their parents and grandparents, sometimes bringing along friends. "It's good to actually see everyone, to know what's going on, to have the opportunity to give advice, whether it's wanted or not," their mom says. "And it all just happens naturally."
Still, as one person who is in a strained multi-generational living situation says, it doesn't always end up being "a butterflies and birds type of story." It can be hard to live with others. Tempers flare. Patience wears thin. People refuse to compromise.
What advice do people who have done it successfully have for people who might be thinking of it?
"Accept everyone for who they are," says Larry Hoffman.
"We don't let resentment or grudges build up, ever," says sister Lori Wilkins. "We're family; the love is unconditional."
All stressed the importance of being willing to discuss everything, openly and straightforwardly.
Everyone being willing to compromise, to adapt and change and to cede control is also important. The adult child coming home is not a child, but an adult. Likewise, the elderly parent moving in is not going to be the head of the household.
House design can be crucial. Many of the families profiled renovated their homes, adding features such as seating areas to master bedrooms and separate entrances, to give everyone their own space.
Larry, Lori and Lisa are hoping to convince their parents to move to their street. They talk, half-jokingly, about building a commune. Rather than three separate houses, with separate pools, yards, media rooms, "we could share common areas and then go home to our own space," says Lori. "We enjoy what we have that much."
People in this article:
Larry Hoffman
,
Lori Wilkins
,
Dale Wilkins
,
Lisa Riddle
,
Alisa Hoffman
,
Brennan Hoffman
,
Karen Fingerman
,
Roseanne Sicola
,
Antoinette Bono
,
Kaitlyn Sharp
,
Gillian Knobelsdorf
,
Michael Knobelsdorf
,
John Knobelsdorf
,
Nora McMordie
,
Pete McMordie
,
Bennett McMordie
,
Reid McMordie
,
Kate McMordie
,
Robert Lee Vickers
,
Inga Vickers
Want more buzz like this? Sign up for our Morning Buzz emails.
To leave a comment, please log in or create an account with The Buzz Magazines, Disqus, Facebook, Twitter or Google+. Or you may post as a guest.