More Restaurant Memories
Stories from Houston's dining past
Click the Buzz Me button to receive email notifications when this writer publishes a new article or a new article in this column is published.
Two years ago, I wrote a story on iconic restaurants from Houston's dining past. The article remains so popular that I am still receiving mail about it – and learning new stories.
One reader wrote in asking about an Italian restaurant. "Does anyone have any recollection of Vincent's Sorrento located on Bell St.? It opened in 1949 and had patrons such as Frank Sinatra."
In doing some research on Sorrento – located at the corner of Fannin and Bell in what is now Midtown, where new apartment homes are being developed – I found out they had gained notoriety soon after opening.
In town for the grand opening of The Shamrock Hotel on St. Patrick's Day in 1949, Frank Sinatra went to dine at Sorrento as the guest of then-Mayor Oscar Holcombe. Sinatra, who was married at the time to his wife Nancy, brought movie actress Ava Gardner along as his date. The couple was spotted by a local photographer from The Houston Post, who approached them to get a picture.
According to Kitty Kelley's 1986 His Way; The Unauthorized Biography of Frank Sinatra, Frank became so angry that he started to smash the man's camera. Ava screamed while hiding her face in her mink coat, and the restaurant owner, Anthony "Tony" Vallone Sr. (Tony's owner Tony Vallone's father), rushed over, and the photographer left without taking his picture. But that didn't stop the incident from going public, and the story appeared in the next day's paper, picked up by the wire services. According to Kelley, this incident made the secret 18-month affair of Frank and Ava public for the first time.
While the 1940s and '50s brought glamour and glitz to the Houston dining scene, the 1960s saw an explosion of themed restaurants along South Main Street as the Astrodome took center stage. One of these, Look's Sir-Loin Inn at 9810 South Main, was notable for the "knight in shining armor" atop a white horse greeting diners as they entered the parking lot. The owner himself, Sonny Look, was perched upon that horse on many occasions. Hailing from Brenham, Look was quite the showman in his bright sport coats, and his larger-than-life persona was evident at his English-themed restaurants.
You could have a photograph taken after your meal in a castle-like setting, complete with a throne and oversized furniture. In my family photo, we are sitting on an ornate sofa. After my article and photo appeared in The Buzz, I received a nice email from Andrew P. Biar, son-in-law of the late Sonny Look, who passed away in 2003. "I married Sonny Look's daughter, Elizabeth. We were both excited to see that you included him in your recent article about restaurant memories. I think my mother-in-law Carole has a chair that matches the seat you all are sitting on in the picture. It makes you feel like a king when you sit on it. It was a treat to see your article and the picture." 
Look's restaurants closed their doors in the late 1990s, but a few local restaurants have continued to stand the test of time, including Christie's Seafood, which opened in 1917 on Galveston Island. With its Westheimer location still serving classic dishes from the sea, Christie's remains the oldest family-run restaurant in Houston.
Owned by the Mickelis family, the beloved Cleburne Cafeteria in West University was another local long-standing family-run restaurant, opening in 1941. Many still wonder where the name Cleburne comes from. Longtime Houstonians may remember that the cafeteria's original location was downtown on Cleburne at Fannin. Cleburne suffered a devastating fire earlier this year, but is rebuilding, and plans are for a March 2017 re-opening.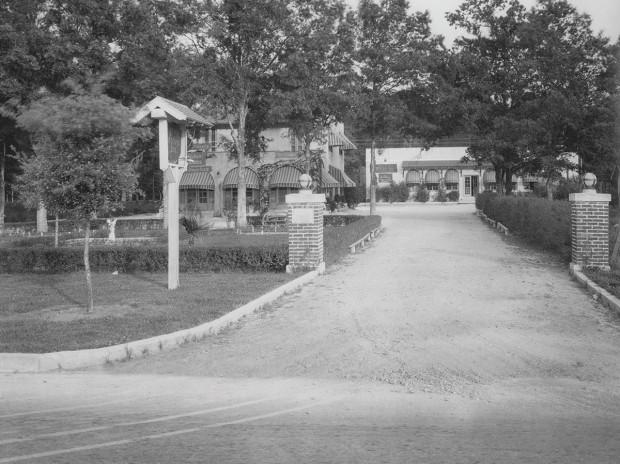 Other family-run restaurants were also inspired to name their establishments based upon location. Opening in 1919 across the street from Rice Institute (now Rice University) at 6545 Main Street, Ye Old College Inn originally started out as a snack stand called The Owl, a local hangout where kids would come for a burger or a soda. Owner George Martin had a bigger vision, and he opened up a full-fledged restaurant in 1921. With familiar arches and a tiled roof, its design was similar to that of some of the buildings on the Rice campus. William Dylan Powell's book, Lost Houston, explains that this was no coincidence, as both were designed by the same architect, William Ward Watkin. 
Ye Old College Inn was famous for char-broiled steaks cooked "the way you want," large baked potatoes and bourbon-pumpkin pie. A destination for Rice University coaches, as well as sophisticated international diners, Ye Old College Inn received accolades in the 1950s as one of the 20 greatest restaurants of the world, according to the book Historic Photos of Houston by Betty Trapp Chapman. While Rice students, alumni and athletes kept the varsity-themed dining room popular for years, Ye Old College Inn was razed after 60 years in business to make way for St. Luke's Hospital expansion in the early 1980s. A book of recipes, Ye Old College Inn Recipes, which George Martin released during the restaurant's popular days, can still be found by searching online.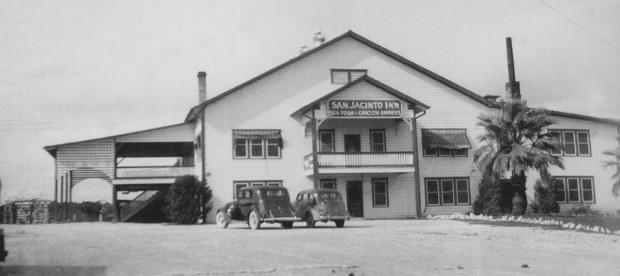 Dining out in Houston didn't always mean a neighborhood favorite. My family enjoyed road trips to visit the San Jacinto Monument and the Battleship Texas. After a tour of Texas history, our next stop would be San Jacinto Inn, established in 1919 by Jack and Bertha Sanders. Many don't remember that the restaurant's original location was by the south end of the Lynchburg Ferry near the Houston Ship Channel. The Sanders would catch the seafood themselves, and would also make fresh preserves to serve with their homemade biscuits. It wasn't until business picked up a few years later that the decision was made to move their restaurant to their iconic location in the shadows of the San Jacinto Monument.
Seasonal favorites included iced crab, fried fish, shrimp cocktail, oysters on the half-shell, as well as my favorite fried chicken. And the best part was that it was an all-you-can-eat buffet. The San Jacinto Inn had a good run. Among the signatures in its guest book were Greta Garbo, Elvis Presley and astronauts from NASA. But it was plagued with a string of bad luck. The place burned to the ground in 1926 and had to be rebuilt. The Sanders later divorced, and a new owner sold it to a corporation in the 1960s. In the 1970s, the restaurant started sinking below sea level, and the parking lot was often to be found underwater. Subsequently, the decision was made to demolish the building and construct an exact replica in its place. This new version of the San Jacinto Inn was short-lived, closing its doors for good in 1987.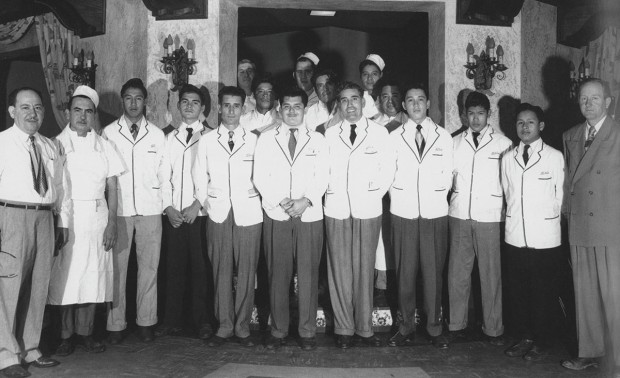 Mexican restaurants have always been popular with Houston diners. One reader wrote in after reading the Restaurant Memories article. "Not sure how you could write this without mention of Felix's." Felix Mexican Restaurant was part of the Houston restaurant scene for 60 years, after opening in 1937 by Felix Tijerina, the son of a migrant farmworker. Longtime Houstonians would go nowhere else for their Mexican food feast. According to William Dylan Powell's book Lost Houston,  Felix's iconic Montrose location on Westheimer, now Uchi, was built in 1948, and dinner there would cost 50 cents. The book says Felix created the first dishes in Houston that would become known as Tex-Mex. This concept became popular and competitive by the 1970s and 1980s, as national chains entered the market. Without Tijerina, who passed away in 1965, Felix began to lose customers and was never quite the same. It served its last order of fajitas in 2008. The legacy of Tijerina is captured by author Thomas H. Kreneck in his book Mexican American Odyssey: Felix Tijerina, Entrepreneur and Civic Leader, 1905-1965.
Do you remember any of these places? Or do you have stories of others I don't mention? We'd love to share your dining memories. Comment under this story or email [email protected].
Read more about Sonny Look and his restaurants in "Sonny Look: A Humble Showman," published in Houston History Magazine in March 2012.
People in this article:
Russell Weil
,
Frank Sinatra
,
Oscar Holcombe
,
Nancy Sinatra
,
Ava Gardner
,
Kitty Kelley
,
Anthony Vallone
,
Sonny Look
,
Andrew Biar
,
Elizabeth Biar
,
Carole Look
,
Gary Look
,
George Martin
,
William Dylan Powell
,
William Ward Watkin
,
Betty Trapp Chapman
,
Jack Sanders
,
Bertha Sanders
,
Felix Tijerina
,
Thomas H. Kreneck
,
Alfred Kahn
Want more buzz like this? Sign up for our Morning Buzz emails.
To leave a comment, please log in or create an account with The Buzz Magazines, Disqus, Facebook, Twitter or Google+. Or you may post as a guest.