Twice Blessed
Dual-religion couples talk faith and family
Click the Buzz Me button to receive email notifications when this writer publishes a new article or a new article in this column is published.
Every December, Daphne Bernicker carefully unwraps a golden Nativity scene from its delicate and time-worn packaging and arranges the figurines the same way she has since she was a child.
Every December, her husband, Eric Bernicker, takes out the antique menorah that he recited blessings over as a boy during Hanukkah and places it next to the gilded creche.
Although they are two different symbols of religious faiths, in the Bernickers' River Oaks-area household, a creche and a menorah coexist and are celebrated equally.
The Bernickers – she is Methodist, and he is Jewish – just celebrated their 25th wedding anniversary. They say their dual religions have made their marriage and their family richer in tolerance and understanding.
"We respect each other's faiths and have always believed that each of our faiths is right for us," says Daphne, founder of HumanAim, a leadership-consulting firm that specializes in emotional-intelligence development. "Eric and I met and fell in love, discussed religion and how our kids would be raised. We are very lucky that all four of our parents have always been very supportive of us."
"We really could not have been more fortunate," agrees Eric, who is the director of thoracic medical oncology at Houston Methodist Hospital. "My mother-in-law remains a devout Christian of deep, great faith, and she has never given us anything other than profound support."
For Daphne, the creche is a direct connection with her mother (also named Daphne) and her childhood, and a reminder that faith takes on many forms. "In 1942 when my mother was 12 and moved from Jamaica to mostly Catholic Trinidad, she saw a creche for the first time," says Daphne, who was raised in Pointe-à-Pierre, Trinidad. "My mother was enchanted with this depiction of the Holy family and bought it herself. From then on, we always had this creche in the house."
With Christmas Eve and the first night of Hanukkah falling on the same day this December, dual-faith families will have a lot to celebrate.
The Rev. Gregory Han, director of interfaith relations at Interfaith Ministries for Greater Houston, says that interfaith couples bring unique perspectives together. "Using a pretty broad definition, the 2014 Pew American Landscape Study found that almost four in 10 Americans – 39 percent – who have married since 2010 have a spouse who is in a different religious group," says Han. "Different faiths in a family can be a source of richness, but it does take work. More than having different religious traditions in a family – and I could argue that every family is an interfaith family, as no two parents believe the same things exactly – an atmosphere of openness, curiosity and respect is key. Seeing the world from multiple vantage points is a great skill and gift."
Bellaire residents Gisela and Igor Cherches – she is Catholic, he is Jewish – were the ones who set up Daphne and Eric on a blind date. "Igor and I were going bowling, so we invited a bunch of our school friends," recalls Gisela, who is the community relations director at St. John's School. "Daphne was my roommate at Rice, and Eric was Igor's classmate at Baylor Medical School. We thought they would have fun."
Eric and Daphne did indeed have fun that night and eventually fell in love. The Bernickers were married by a rabbi and say they have continually supported each other's religions. "Daphne always accompanies me to [Congregation Emanu El] synagogue, and and I always go with her to [St. Luke's United Methodist] church," says Eric. "Part of being a spouse is to support your partner on their faith journey – even if it is a different faith."
The Rev. Han says interfaith relationships work well when communication is open and honest. "Talking and sharing one's faith, religion and beliefs needs to be part of any healthy relationship, so as a relationship gets more serious, a couple needs to have those hard  – and rich – conversations about what is at the core of each person's sense of purpose and meaning," he says. "What gets each one up in the morning, what inspires awe and wonder, what are those core tenets of one's ethical core? Make time for those conversations."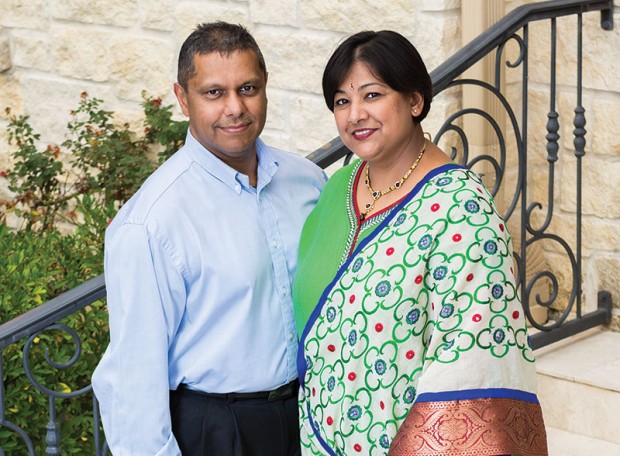 Bellaire residents Sharon and Mark Chetty say communication and compromise are key to their dual-faith marriage. Originally from Durban, South Africa, Sharon is Hindu, and Mark is Catholic.
And even though there was a spark between the two of them, Sharon says that when Mark asked her out on their first date 20 years ago, her initial reaction was to turn him down. "Crazy to say this, but it truly was love at first sight – there was something there," says Sharon, now a stay-at-home mom. "I refused because we were from different religious backgrounds, and I did not want any issues later in life. I did not want to convert." For his part, Mark refused to accept Sharon's refusal. "He laughed at me and said that he was only asking me out – not getting married," says Sharon, "but also, if it ever came down to that, it would be my choice."
Ultimately, Sharon chose to go on that first date and recalls that they had a terrific time in spite of the fact that Mark ordered a delicacy to share that was not to her liking.
"It was at a seafood restaurant in Durban [South Africa]. Unknown to me, Sharon was not an adventurous diner," recalls Mark, a principal consultant for Systems Application Product, an inter-enterprise software company. "I had ordered escargot, as I enjoy them and I offered Sharon one to taste. She took a bite and chewed – then said it tasted good. After we were married she told me that she hated it and did not want to come across as being a 'fussy eater,' so therefore she accommodated me." Sharon laughs at the memory: "Compromise started right from our very first date: boy oh boy, those escargots were just yuck!"
Sharon says their first date was indicative of what works for them in their interfaith marriage. "Sixteen years later, we have a marriage that is solid and strong," she says. "We have never had issues in our marriage due to our different faiths. We have made compromises in everything we have done. My husband and I were brought up with completely different religious beliefs; however we have both made it work and it's only brought us closer."
A prime example is their wedding day, when they had not one – but two – religious ceremonies. "My dream since I was a little girl was to have a traditional Hindu ceremony, and my amazing husband was happy to oblige," Sharon says. "We had a traditional Hindu wedding at a temple on Saturday early in the morning. I was able to have my dream come true in so many ways. I dressed as a traditional Indian bride. After the wedding, my husband went off to his home, and I left to mine to change and prepare for the Catholic wedding. I felt so blessed that we embraced both traditions and pleased both families. We ended the night with a reception with about 400 guests – it was a long day, but the happiness and love was so worth it."
In December, and throughout the year, they make sure to celebrate both of their religious holidays. "Decorating the Christmas tree was always a huge event in my family," says Mark. "It has become more significant since becoming parents."
Sharon and Mark share both of their faiths with their 11-year-old son, Rushil. "We have brought him up to be spiritual more than religious," says Sharon. "We both agreed that we were not going to push him into any religion but expose him to both so he could learn that mom and dad are different in some ways but still learn to live and love together. Growing up with parents who are following different faiths has certainly taught Rushil acceptance – he is embracing of all cultures and races."
Similarly, the Bernickers chose to share both of their faiths with their children, Lily, now age 23 and a recent Yale University graduate, and Carl, age 20, a junior at The University of Texas at Austin. Ultimately, Lily chose to be Methodist like Daphne, and Carl chose Judaism like Eric. Daphne went to church with Lily, and Eric tutored Carl for his Bar Mitzvah.
 "While Carl and I eventually decided upon different religions, we spent the majority of our formative years unaffiliated and thus practiced our faith in the same ways. We said the same prayers with our parents before bed, we both went to synagogue on High Holidays and church for Christmas," says Lily, who is an associate with Foundation Strategy Group in Washington, D.C. "So our experiences with religion were very much the same until I was 12. When I made the choice to be confirmed as a Christian, I didn't feel as if I had to give up or discard any of the beliefs or practices that I had shared with my father or brother – just adapt them."
Daphne smiles when she looks at the creche: a mix of memories of faith and family. "When I was a little girl, I would play with the figurines like a dollhouse. I always have arranged the figures the same way, and baby Jesus goes in last, in the center," she says. "This is very special to me. I love it for its religious significance, and it really connects our family to my past, to my childhood and to my mother's childhood."
Want more buzz like this? Sign up for our Morning Buzz emails.
To leave a comment, please log in or create an account with The Buzz Magazines, Disqus, Facebook, Twitter or Google+. Or you may post as a guest.