Putting on the Rodeo
Volunteers become family
Click the Buzz Me button to receive email notifications when this writer publishes a new article or a new article in this column is published.
Houston's rodeo memories run deep. You can ask just about anyone who lives here, and you'll hear stories of school trips to the livestock show, raucous nights at the World's Championship Bar-B-Que Contest, and everything in between.
After all, Houston is home to the largest livestock show and rodeo in the world.
In 2016 alone, more than 2.4 million people attended. Since its beginning in 1932, the Houston Livestock Show and Rodeo has committed nearly $430 million to the youth of Texas, mainly through educational scholarships.
From first-time rodeo-goers to multi-year volunteers, locals feel truly connected to this iconic annual event. But perhaps no one feels quite as connected as the Buzz-area volunteers who lead the effort year after year.
Bill Hanna has been involved with the rodeo for more than 30 years. "I had graduated from college in Nacogdoches," he says, "and moved to Houston to work. We had been volunteering at local county fairs and rodeos in East Texas, so it was kind of a, 'How do I continue to do that when I move to Harris County?' The rodeo was the likely place to look."
Bill, who works in compliance at Fayez Sarofim & Co. and is currently a director for the rodeo, joined the Special Children's Committee as a young twenty-something and never looked back. "Through my work the first 10 years at the Special Children's Committee is where I developed my interest in working with children and young adults with special needs," Bill says. He's now on his 32nd year. "Just being around the children and working with the other groups that get invited to come out to the Livestock Show is inspiring."
One event Bill enjoys is the Top Hands Horse Show, for riders with disabilities. "The coaches of the riding clubs always remind us that the kids think about the horse show and practice all year long so that they can come to Houston and win a trophy," Bill says. "When they pull up in front of NRG Arena, they immediately go look for their favorite committeeman and give him or her a hug. We only see them once a year, but they always remember us and tell us about what they have been doing since the last show."
About 15 years ago, Bill was appointed chairman of the Special Children's Committee. "It was a three-year role, and the most important part is appointing new members. Over those years I spent a lot of time talking to people. I saw their love of working with kids with disabilities and was inspired."
He's made rodeo a family affair. Wife Debbie is on the Tours Committee, and two sons have served on the Junior Rodeo Committee. Daughter Mollie, 17, is just old enough to serve on the Junior Rodeo Committee. But it was Bill's involvement with the Grand Entry Committee that prompted a unique purchase.
"Bill felt like they were short a fire truck," Debbie says. "We would have people there to ride in the Grand Entry Parade, and no fire truck. So he and his friend Tom Laird in Bellaire bought a 1955 fire truck on Ebay and fixed it up to be used in parades. Now Bill drives the truck in the Grand Entry about three-quarters of the time. He's technically supposed to drive every other night, but he just can't help himself."
Tom, Bill's partner in crime, says, "We just wanted to accommodate more children in the parade. It gives them an experience they'll treasure for the rest of their lives." The fire truck can accommodate 18 children. "Seeing the kids' faces light up riding on an actual antique fire truck is something we really enjoy," the home builder says.
Like Bill, Tom serves as a director of the rodeo and has been on many committees. In 1994, he started the Texas Social Club barbecue team, and that leads to his favorite rodeo memory. "Every year, we have the cook-off on Friday," he says. "Between 300 and 500 special-needs kids come in. They're all from HISD and other special-needs groups. The Houston Fire Department brings in new fire trucks, the SWAT team brings a helicopter, and we bring our antique fire truck. The kids take pictures with it and climb on it if they can."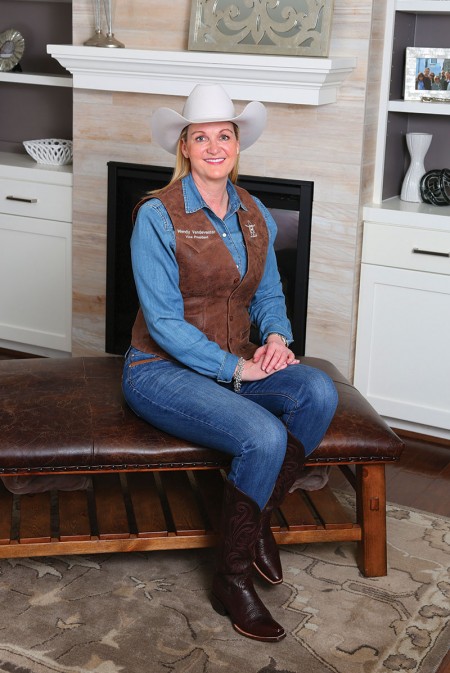 Wendy Vandeventer, a commercial real estate broker, is serving for the first year as a vice president of the rodeo. She's one of two women in the role (there are a total of 18 vice presidents), and just the eighth since rodeo's beginnings.
"Twenty years ago, I was working at a commercial real estate firm, and the person who did our title work asked if I wanted to be involved in rodeo," Wendy says. "I'm a city girl.  I didn't know the first thing about a rodeo. But he said it was a lot of fun and I'd be doing good work and would meet a lot of people. So I got involved solely for the social aspect. And then I got bitten by the bug. I started doing things so far out of my comfort level, like working with the kids and the animals, and I had a blast."
Wendy's first foray into rodeo was as a member of the Breeders Greeters Committee. "The kids would come in with their animals, and our job was to help them unload and get them in their stalls. If they arrived at 2 a.m., we needed to be there to greet them and help them with their pigs and their goats.
"Unloading the pigs was a pretty funny sight to see. We would hold boards, known as 'piggy boards,' on each side of the pigs to form a chute. Two of us would walk sideways across from each other with a pig in the middle. If one of us got out of line, the pig would run. And they are fast! I do remember wondering what in the world I was doing working with farm animals when my 'regular' job is sitting in front of a computer or on the phone all day. I had no idea I could have so much fun doing something like that!"
From there, Wendy was tapped to form the Gatekeepers Committee – the people who greet attendees at the gates and scan tickets. "Eventually I became chairman of that 1,400-person committee. That's how I got started in leadership," she says.
"What I love most about rodeo is not only the good we do for the students we send to college, but also meeting the other volunteers. They are the most generous, giving people in Houston. And even people who have moved outside of Houston come back to volunteer. Now I spend holidays with the people I've met volunteering. My entire family is involved now. My family became part of the rodeo, and the rodeo became part of my family."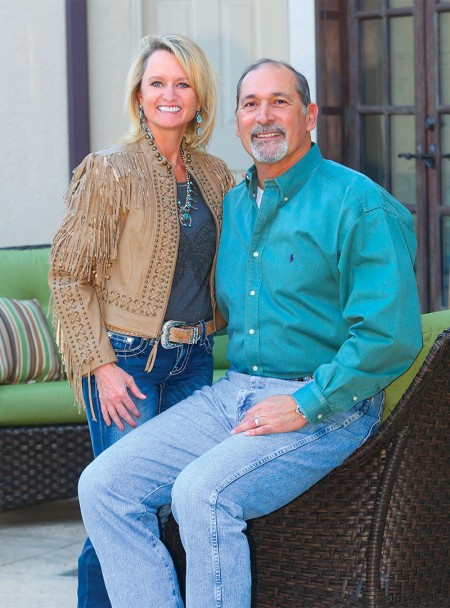 ER doctor Kelly Larkin truly found her family by volunteering at the rodeo. "When I first moved to Houston in 1994, I worked at Hermann in the emergency department in my residency," Kelly says. "I got to go to the rodeo with some paramedics on the floor where the cowboys are, and I ended up doing some research on cowboy injuries." Since then, Kelly has served on several committees and currently serves as a director.
She also started the Sports Medicine Committee, made up of healthcare providers who staff a rodeo ER. "We have an X-ray and can do stitches. We have a concussion specialist on the committee. We don't want them back out riding if they have had a concussion, same as with football or other sports.
"We take care of all the cowboys, and it's now a committee of 130 people – doctors, surgeons, massage therapists. We take care of the cowboys head to toe as soon as they get into town, and if they ever get hurt, we run out onto the floor and take care of them.
"One time, a bull rider was thrown off the bull and then was stepped on and knocked unconscious on the floor," she remembers. "Our team carried him back to our sports medicine room. Instead of going to the hospital, we treated him right there with everything he needed. We're very attuned to concussions. He left there, walked out and went home that evening, and we followed up with him the next day to see how he was doing."
Only after she shares her passion for the committee and the rodeo does Kelly mention the tremendous role volunteering with the rodeo has played in her life.
"I met my husband [banker Fernando Parra] when we were first on a committee together years ago," Kelly says. "It was the Houston General Go Texan Committee, and I was the first female chairman. At the time, we were married to other spouses. Along the way, we both divorced and ended up meeting each other many years later. But we had first met through rodeo years earlier. It was comforting to have that rodeo connection.
"Now we laugh about it, and I tell him I was his boss back then."
In 2017, the Houston Livestock Show and Rodeo will give away more than $26 million in scholarships and grants, thanks to a mega community effort. "It's a tremendous opportunity for people to volunteer and invest time in the community," Bill Hanna says. "There are so many ways to get involved, because it's so big."
Editor's note: Want to volunteer next year? See rodeohouston.com/get-involved/volunteer.
Want more buzz like this? Sign up for our Morning Buzz emails.
To leave a comment, please log in or create an account with The Buzz Magazines, Disqus, Facebook, Twitter or Google+. Or you may post as a guest.