You Want a What?
How I ended up with an RV
Click the Buzz Me button to receive email notifications when this writer publishes a new article or a new article in this column is published.
Whoa, look! Right there. The silver one with the black stripe!"
In the passenger seat, my sister turned her head to the right as our truck whizzed at 65 mph past a 25-foot-long gray blur, parked forlornly in a field off I-45.
"What?"
"Right there! It looks like an Airstream, but I don't think it is. It looks old but good. Don't you think?"
She looked back at me with a confused expression. "The RV? Um, yeah, I guess so. Wait, you want an RV? Why?"
It was a fair question. We had never camped as a family growing up. The few RVs we had slept in were musty, broken-down trailers on deer leases. As adults, none of us camped. Or hiked. Or visited state parks. Or even went on that many road trips. When we passed RV parks, we thought of them as a scenic liability, not a destination.
My husband Greg and I lived with our two high school kids in a two-story home in Bellaire, with lots of room and belongings. I had a reputation as a creature of comfort, where mattresses and surroundings had to be just so, or else I couldn't sleep.
There was one time years ago when we had taken my grandparents' giant old motor home down to a Galveston beach, when our kids were tiny. That had been a lot of fun, but the process was repair-filled and never repeated. A couple of years later, the motor home had caught on fire where it was parked.
Now, our kids had reached the age where their personal hell would be spending a weekend crammed in a tiny space with their parents, especially in the boonies with no wifi.
So why did I want – no, was obsessed with having – an RV? I slowed down at every trailer with a for-sale sign. I scoured Craigslist, RVTrader and Facebook's Tin Can Tourists. I wandered around hot parking lots and peered in windows.
The first word that came to mind was freedom. Freedom from what, I wasn't sure. The kids were heading to college soon. That empty space needed to be filled with a new passion. With no more school schedule, and a flexible job on my end, old rules on where and when to be were about to go poof.
I didn't want a fancy vacation with hotels and airplanes to schedule. Just the flexibility to make and break plans on a whim. As the daughter of a garage-sale queen, if the escape were affordable and a good deal, it would be twice as satisfying. Fashionably vintage would be a bonus and more likely to tempt my old-school, banjo-playing hubbie.
The simplicity was appealing. If belongings didn't fit, they would be out. Cleaning would take no time, and organizing would be a fun puzzle. I always had loved building forts. This would be a cozy hideaway, a grown-up fort.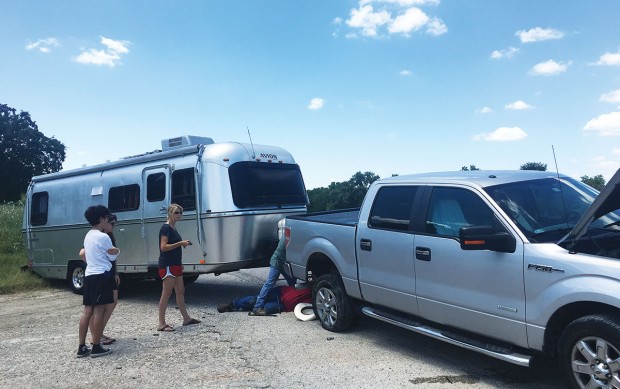 And although Greg didn't, I loved the idea of learning practical skills in plumbing, air-conditioning, electricity (12 volt too!), water heaters, propane and propane accessories, à la King of the Hill. At our house, we called repair people. In an RV, we'd figure it out.
And finally, zombies. A bug-out vehicle – in case of a Walking Dead apocalypse, hurricane or other emergency – seemed like a prudent, responsible option to have available. Stretch rationalization, but it made me feel better.
My sister and I continued on that day. Later, tired, on the way home, she said, "We should stop and see that RV you liked." I was touched she wasn't making fun of my silly dream. We pulled over, peeked in, and saw solid cabinets, hardwood floors, tasteful curtains. The tag said 1986 Avion.
When I got home later, I Googled "Avion" and found out that although this brand was no longer made, at one time it was a rival to the classic aluminum Airstream, and Avion fans thought they were even better built. I called the number on the for-sale sign. The price wasn't bad at all – a bargain if you thought long enough about it.
It's been nine months since we bought it.
In that time, I've had a tire blow out in the truck at 60 mph while hauling the RV with three teenagers – we were promptly saved by a cowboy-hatted and Spanish-speaking duo of heroes who pulled over and changed the tire.
While parked, we've had water pour out of an unknown pipe underneath – discovered in the dark after dinner and quickly fixed by Avion Facebook-group friends who mentioned the existence of a winterizing valve we had accidentally bumped.
The power went out, and I felt almighty when I found the breaker box, flipped the switch, and there was light. I felt just as proud when, with YouTube and a flashlight, I succeeded in lighting the oven's pilot. The cookies were yummy.
Most traumatic, a mouse took up temporary residence. In bed, I heard the terrifying clop clop of tiny feet above me. It may have been squirrels, or maybe even a tree branch in the wind, but I barely slept that night. The following visit though, my suspicions were validated when I discovered telltale evidence. I panicked and high-tailed it to a hotel. The next day, I bought 14 – not exaggerating – mouse traps of all different kinds. The mouse apparently was more level-headed than myself and decided to leave on its own when it saw the arsenal.
It's been awesome.
Despite the learning curve and the hiccups, we love our silver fort. It is tight but cozy, with comfy twin beds for reading, a couch that folds out, and a small but hot shower. We spend more time sitting outside under the awning, visiting with people, than we do at home, where I am a notorious cave dweller. We pumped up the tires on long-unused bikes and have been exploring on two wheels.
Funny thing is, we still haven't gone hiking or road-tripping or to state parks, vintage-trailer rallies or music festivals, although they are on our list. On our very first outing, we discovered the coolest RV park in the world – the legendary Pecan Grove in Austin.
It's within walking distance of Barton Springs Pool, Zilker Park, Lady Bird Lake, downtown, restaurants and food trucks, surrounded by high-rise condos and high-end neighborhoods. Actor Matthew McConaughey used to keep his Airstream here. The friendly people we've met are a mix of independent hippie, wealthy collector, limited-income retiree, all-around adventurer and footloose 20somethings. Some stay just a night or two, but others have lived here for decades, lined up in new and vintage trailers, old Streamlines, tiny Bambi Airstreams, huge luxurious Prevost buses, battered camper vans and fifth wheels with slide-out extensions, roomy as small houses.
They decorate their pecan tree-shaded spots with funky accessories, old signs, strung lights and found art, like displays of tennis balls one kayaker fishes out of the lake. Dogs walk politely on leashes – used to traveling and meeting new four-legged friends. The short-term campers infuse the place with a celebratory energy, and the long-termers make it feel like a quiet home. It's a unique community, a slice of old Austin.
On one visit, we eavesdropped as a newly arrived group in a circle of lawn chairs invited an older long-termer, who was walking by, to their campfire party. "Hold on a minute," she called in a drawl, smiling. "Let me go get my wine glass."
Another time, the friendly gentleman known as the "Balloonatic" rode up on his bicycle and presented my visiting in-laws with bracelets made of balloons. Later, at lunch, Mimi's bracelet popped, making her jump in the air, and Greg and his brother laughed like hyenas.
I'm not normally a big walker or cyclist or especially impulsive, but here, I decided to ride a bike all the way over Lady Bird Lake, through downtown, around the Capitol and to the UT campus. It was during a football game. I felt 20 again as I weaved slowly in and out of the tailgaters and campus crowds. Eventually, with no plans, I ended up at the alumni center across from the stadium and made new friends watching the game on a TV inside.
After a few trips to Pecan Grove, we hit the lottery and landed a long-term spot. We parked the Avion, leveled it, and strung up some festive Christmas lights on the awning arms. Now, we take a quick drive up to Austin whenever we want to escape. We don't miss hotels. I guess I should admit this – our oldest kid now goes to college in Austin at UT. That's a factor and a bonus. For us parents anyway.
I've been thinking again though. We could leave the RV there in its perfect spot long-term and use something else for spontaneous road trips. Have you seen those pop-top camper vans, like the old VWs? Or those shiny Capri pickup-truck campers the cowboys like?
If you see one on the side of the road, Greg says not to call me.
Want more buzz like this? Sign up for our Morning Buzz emails.
To leave a comment, please log in or create an account with The Buzz Magazines, Disqus, Facebook, Twitter or Google+. Or you may post as a guest.