Parks Guide
What's new at your park?
Click the Buzz Me button to receive email notifications when this writer publishes a new article or a new article in this column is published.
Maybe you've been hibernating inside this winter. When you venture out, you'll discover your neighborhood parks have been doing a good bit of sprucing up.
We'll get to the updated parks in a bit, but first, here's a brand-new one. If you've been driving by this prime, corner property at Bellaire and Newcastle – the site of former gardening mecca Teas Nursery – you know the workers have been busy.
Evelyn's Park
After years of community effort, Evelyn's Park is scheduled to open this month, on Earth Day, April 22. Teas Nursery closed in 2009, and brothers Jerry and Maury Rubenstein bought and gave the 5-acre site to the city of Bellaire under the condition that it be used as parkland and be named in honor of their mother, Evelyn, a longtime Bellaire resident and philanthropist who loved the outdoors.
Think tranquil and relaxing, with a decorative fountain at the southwest pedestrian entrance, a giant center lawn, intimate gardens, public restrooms and modern architecture under a canopy of live oaks, crossed by trails. The trails take you along a paved walkway to a gravel loop punctuated by rectangular-cube benches, gardens and artwork. More than 300 native trees have been planted, and designers used solar installations and repurposed tree stumps into play areas.
A main attraction will be a large Alice in Wonderland sculpture of the Mad Hatter's Tea Party by artist Bridgette Mongeon. The Mad Hatter and the March Hare are 8 feet tall, and Alice is seated in a large chair with room enough for a park visitor to sit next to her.
The Children's Play Area, located at the top of Lawn Forest Trail, does not feature traditional playground apparatus, but instead opts for a more natural play experience with open space and a single, extra wide slide atop a hill that Denton Ragland, executive director of the Evelyn's Park Conservancy, calls "Mount Bellaire." The play space encourages climbing and playing on the hill and jumping across a series of tree stumps.   
Another draw will be a restaurant, The Ivy & James, located in the new "Old Yellow House", a replica of the original structure, which could not be preserved due to wood damage. The restaurant's owners are Jamie and Dalia Zelko, formerly of Zelko Bistro in The Heights. The cafe will serve breakfast, lunch and dinner, including beer and wine, and can cater events at the Evelyn's Park Event Pavilion. The pavilion, available for private receptions of up to 250 guests ($1,000-$2,500), blends an airy indoor space with an outdoor patio and private lawn space.
Planned programming includes Farmer's Market Saturdays and art events. The summer schedule will be posted on the Evelyn's Park website after Memorial Day. The park is still accepting donations to complete remaining master-plan features, including a stream garden and pond. See evelynspark.org.
Nature Discovery Center
Recent visitors to the Hana and Arthur Ginzbarg Nature Discovery Center, also in Bellaire, just down the street from the new Evelyn's Park, may have noticed restricted access to the north parking lot and a shuffling around of outdoor animal enclosures while the park has been undergoing improvements.
For almost 30 years, the four-acre Nature Discovery Center has stood as a surprising and intimate nature preserve surrounded by urban neighborhoods. It's not a heavily landscaped, manicured park. Instead, the center's mission to nurture native plants, teach youngsters and remain a natural escape for visitors.
The walkway to the Henshaw House has been expanded, making it more visible and inviting to people pushing strollers or wheelchairs alone Newcastle. Signs have been added to once-unidentified vegetation and trees, inviting visitors to learn about the native ecology, and inviting kids to "feel this bark." The center path, which used to flood after heavy rains, has been reconstructed out of a porous material.
Executive director Henry Owen said a new restroom building outside prevents the old bottleneck of waiting children at the stairs in the Henshaw House. This means less time waiting in line for little ones to use the restroom, and more time visiting the park's beloved bunnies and reptiles, spotting birds, and walking the trails.
The Renovation Reveal is 10 a.m. May 6, with naturalists leading demonstrations, lessons and crafts. See naturediscoverycenter.org.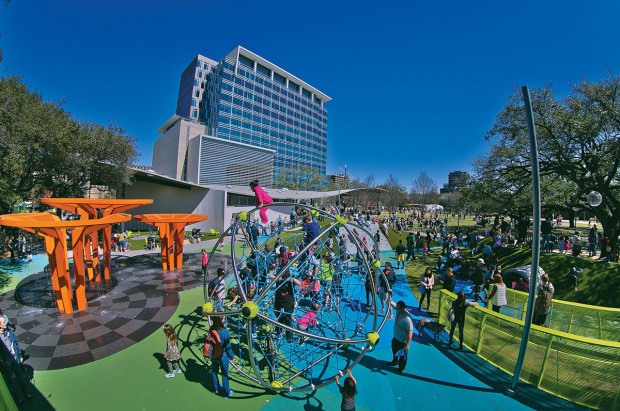 Levy Park
Levy Park, donated in 1941 by investor Leon Levy, came back online in February after a $15 million facelift led by the Upper Kirby Redevelopment Authority. To call Levy Park a park does not adequately describe this dynamic urban green space. It feels more like a permanent community festival.
The park occupies a city block at 3801 Eastside, south of Richmond Avenue in the Upper Kirby area. A swooping, modern, performance pavilion anchors the large park jammed with spaces that encourage activity more than lounging. It is a mix of lawn space, paved walkways, game tables, an enclosed dog park, and community gardens, shaded by live oaks and surrounded by upscale apartments and high-end offices.
The creatively designed children's playground, on a maze of blue rubber flooring, is all about adventure and imagination. It has a hill with a slide and a rock wall built in, a tree house, fountains to run through and what looks like a giant Buckyball to climb on. "It's one of my favorite areas of the park," says Doug Overman, park director for the Levy Park Conservancy. "There is a reverse splash pad with mushroom towers and lit tunnels and mounds, a small climbing wall, and a seven-foot slide."
A double-decker bus serves coffee and pastries in the mornings and beer and wine in the evenings. Live music is planned every Wednesday at noon, at an electric keyboard mounted inside an upright piano, painted in the Levy Park lime green. The event lawn and performance pavilion will host free concerts. For the Saturday morning crowd, there's park programming, from yoga and tai chi to astronomy, photography and reading programs through partnerships with the Houston Public Library. See levyparkhouston.org.
Memorial Park
At the northwest corner of 610 and I-10 is one of Houston's largest urban parks and protected green spaces, popular with runners, mountain bikers, hikers, golfers, tennis players and picnickers: Memorial Park. It's undergoing some changes too. One update will add 100 acres of grassy fields for passive relaxation, another will add a new endurance training loop for runners, and another will educate Houstonians about the park's World War I legacy,
Just after the Super Bowl, Memorial Park started moving East Memorial Loop Drive further east and expanding the popular running loop adjacent to East Memorial Loop Drive, the Lieberman Trail. The move will catch an 83-acre space that has been inaccessible to visitors due to the excessive growth of invasive plants. The move will expand the Lieberman Trail to measure exactly three miles, an optimum running distance for endurance and speed workouts. By next fall, the space will be further developed for use as a picnic area, with a five-acre lake and wetlands expected to create a whole new biology and habitat. 
Memorial Park served as one of 17 World War I training camps and is one of a handful in the nation that has not been paved. Memorial Park workers and volunteers have discovered archeological ruins from the park's Camp Logan history. Visitors who join Friends of Memorial Park can tour with park staff during the ongoing WWI centennial commemoration to view the ruins and even be part of the preservation effort. See memorialparkconservancy.org.
See What's Happening? Events and activities at the park for a list of upcoming events and ongoing programs at local parks. 
Want more buzz like this? Sign up for our Morning Buzz emails.
To leave a comment, please log in or create an account with The Buzz Magazines, Disqus, Facebook, Twitter or Google+. Or you may post as a guest.