Memorial meets India
Click the Buzz Me button to receive email notifications when this writer publishes a new article or a new article in this column is published.
Ash Sharma has been sharing the culture of his native India since he left at the age of 26. First, with his wife Yoosun, who is Korean; then with their two children, Mira and Aaron, and always with their friends, mostly in the Memorial neighborhood of Houston, where they have made their lives for more than two decades.
Mira and Aaron are happy Houstonian products of that cultural blend, with periodic trips to each of their parents' homelands during their childhood, after which they would come back to Memorial and share stories with their friends. "Growing up I would go to the Korean church with my mom, and then I'd come home and watch Bollywood movies with my dad," said Mira. "It all came together with my parents because they appreciate each other's culture so much."
This January, a dream a decade in the making finally came true when the Sharmas and a group of 27 friends, most of them from Memorial, made an epic journey to India. Thirteen of them were Mira and Aaron's friends. Mira, now 19, is a freshman at The University of Texas at Austin, and Aaron, 21, is at Texas A&M University.
"It's like a 10-year-old idea," explained Ash, an engineer in the oil and gas equipment-manufacturing business. "We've been promising some of our close friends we would make a trip to India when my niece gets married. My sister has one daughter, and my niece finally at age 31 got married – so we had a long wait."
When Mira mentioned it to her group of friends, she assumed the majority wouldn't be able to come – but then it turned out that most of them could. "They were so on board. They were like, 'Oh my gosh, that would be so fun to go to India.'" In all, six of her friends accompanied her, and seven of Aaron's friends.
Father and daughter both worried a bit about the culture shock, and whether their friends would be comfortable in a land so different from their own. As it turned out, everyone was enthralled.
Between the grandeur of the Taj Mahal and the monuments of the Golden Triangle, to the Jungle Book-like quality of the countryside wild animal safari, to teeming city streets filled with chaos, it was like nothing their friends had ever experienced. And the over-the-top traditional Indian wedding, a three-day affair with more than 1,000 guests, was the unforgettable climax.
Even for the Sharmas it was a new experience, as they had usually stayed with family when they had come before. Except for a train trip they took when the kids were young, this was the first time Ash had gone into full tourist – and tour-guide — mode.
"I discovered the country along with them. And with the kids grown up, and with all of our friends, you draw a different kind of flavor with a group that's never been there before… it was jaw-dropping, really."
Attorney Karen Peck was impressed with the graciousness and hospitality at every turn, beginning when the group arrived at their hotel, the Taj Palace New Delhi, where they were welcomed with a traditional red dot, known as a tilak, on the forehead and a glass of fresh juice. 
A history buff, Karen was excited to learn more about the vibrant history and culture of this cradle of civilization. "Going to these beautiful monuments and palaces and temples that were built in the 1500s and 1600s with such engineering feats was just amazing," she said. "And learning more about the rich cultural history… with so many different languages, but they meld that all with such a respect for the diversity of religions that are there. It's very impressive."
The lineup of UNESCO World Heritage sites in Delhi included ancient Hindu temples and the country's largest mosque. There was the Red Fort, with its once jewel-encrusted walls, long since looted but just one more indicator of its former glory. In Agra, there was the magnificence of the Taj Mahal – seen draped in fog, which made it all the more mysterious, from the perspective of Mira's friend Arabella Benavides.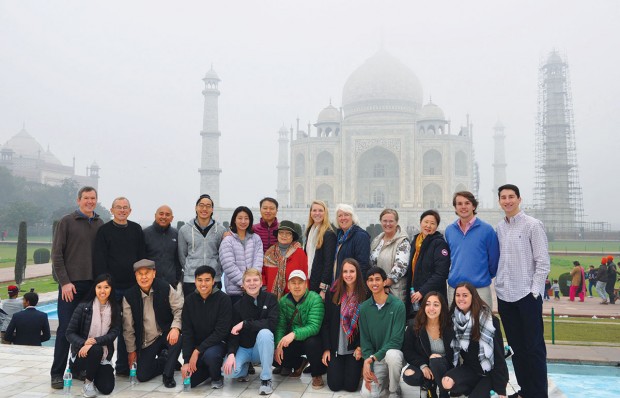 Retired businessman Gary Van Liew, another friend, was equally impressed by the antiquity and elegance of the architecture and the culture, but also by the contrasts. The rich were fantastically rich, and the poor were everywhere. Change is everywhere, as well.
"The modernization of some of the cities – skyscrapers, modern buildings with modern architecture – the growth, the enormous population" struck him right away, as well as the tremendous traffic issues in the big cities.
"The automobiles and buses can be rolling down the freeways at 70 miles an hour, and there could be a cow or steer walking down the highway – and there were pedestrians on the highway as well as bicycles and carts and elephants and everything else – so you do see some sights you wouldn't see in the U.S.," he added with a chuckle.
His first taste of this was as they were leaving the airport. "A man was there with a herd of sheep, right by the entrance to the airport, just walking on by."
Karen, too, was impressed by the chaos of the city streets.
"The lines on the road seemed to be mere suggestions, really," she said with a laugh, describing the intense weave and flow. "There was tons of honking, but it's not mean honking, there was no road rage, no one would get upset. It's like our guide explained, there's a belief in destiny, so no one worries about it. You just go for it, and if it's your time, well, so be it…," she said.
Arabella was blown away by the sheer scale of things in a country with more than a billion people.
"What struck me a lot were the statistics," she said. "You could say 10 percent of the population is Muslim and you'd be talking about 100 million people. The scale is incredible. The cities are huge and crowded with rickshaws and tuk tuks riding alongside the cows walking around and monkeys in the middle of the city."
India's extremely multimodal transportation rose to the top of the highlights for many of the travelers. First there were the helter-skelter rickshaw rides in the narrow, humanity-packed streets of Delhi's city center. Then there were the rides on the backs of elephants to the heart of the Amber Fort in Jaipur.
The food was another highlight for most – even Gary, who was challenged by the lack of beef, given the cow's sacred status in India.
A complete departure was a trip into the countryside for a tiger safari at the Ranthambore National Park, with a setting that Ash described as "straight out of Jungle Book," with its ancient vine-draped trees and menagerie of exotic animals. The group stayed at a hunting lodge converted into a hotel, where the likes of Queen Elizabeth and John F. Kennedy had been guests. For the safari they were divided into jeeps and driven out into the reserve in search of the elusive tigers. One group got lucky; the rest saw antelopes, leopards and crocodiles.
Finally it was time for the wedding, to be held in the beautiful "Pink City" of Jaipur, the third city in the famous Golden Triangle. The sights here included the Amber Fort, famous for its hall of nearly a million mirrors. The wedding itself was held in a palace-turned-hotel, and the festivities kicked off on Friday with a party called a sangeet. Here, the bride and groom held a cocktail party to welcome the younger crowd, and a simultaneous family sangeet was held. Saturday was filled with activities – a gathering designed for the women and one for the men, and a garden party featuring Mehendi, or henna painting, on the hands of the women. In the evening there were performances, including a Bollywood number by Mira and Aaron's group, a dance they'd taught their friends and practiced throughout the trip.
There were sari-draping services for the women – all of whom were given their own silk saris for the occasion – and safaa or turban tying for the men. Bride's-side women wore one color turban, and the groom's side wore another. Every Texan present wore a turban or a sari, with no complaints. "It's a lot different from wearing a ball cap," commented Gary.
An elephant was the choice mode of transport for the groom, whose entrance on a decorative platform atop a painted pachyderm was perhaps the most talked-about detail.
Arabella is accustomed to seeing poverty in her periodic visits to her parents' native Peru. "But it was a completely different level of poverty. Peru is poor, but India makes Peru seem like a first-world country."
For Mira, her encounters with that poverty throughout her life helps her to put things into perspective back home.
"I remember thinking how blessed we are in this country. We have poverty, too, but in India they have a caste system, and although now it's not as prominent you can still see it," she said. "There are so many people there, it's hard to help everyone – but they're still so happy to be there and have their position. It makes you think about how we have so much stuff, but still we're unhappy about certain things, when we could have nothing and still be just as happy."
People in this article:
Ash Sharma
,
Yoosun Sharma
,
Mira Sharma
,
Aaron Sharma
,
Karen Peck
,
Arabella Benavides
,
Gary Van Liew
,
W. Hwang
,
Daniel Peck
,
Hohyun Hwang
,
Nabeel Uddin
,
Tara Molavi
,
Elizabeth Washburn
,
Doug Peck
,
Bruce Marion
,
Andy Hwang
,
Gina Hwang
,
Hosung Hwang
,
B.J. Hwang
,
Caroline Peck
,
Lynne Marion
,
William Wilson
,
Yusuf Hadidi
,
Sue Hwang
,
Rhonda Van Liew
,
Michelle Tura
,
Saroj Sharma
Want more buzz like this? Sign up for our Morning Buzz emails.
To leave a comment, please log in or create an account with The Buzz Magazines, Disqus, Facebook, Twitter or Google+. Or you may post as a guest.