Dads and daughters
Click the Buzz Me button to receive email notifications when this writer publishes a new article or a new article in this column is published.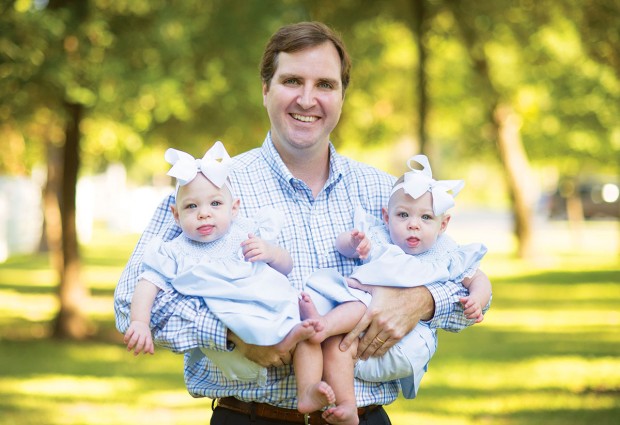 Buzz Baby is a column about babies from the perspective of a mom of three, including twin toddlers and a newborn.
In addition to our boy, Cash, we have two daughters now – Lila, Cash's twin, who is almost 3, and Georgia, who was born in January.
I love watching my husband, Tyler, brush Lila's hair and pick out baby dolls with her. He rocks at being a "girl dad," especially considering he has little experience, with two brothers and no sisters. He has even mastered putting bows in Lila's hair.
This month we celebrate Father's Day, so I thought it would be fun to hear from other Buzz-area men about what it's like to be a dad to a girl.
Will Klinke, principal at Total Wealth Partners, became a first-time father a little earlier than he and his wife, Justine, had planned. Justine, who is vice president of real estate investments and development for Forestar Group Inc., was pregnant with identical-twin girls in 2015. The girls decided to come very early, at 24 weeks and 2 days, on Nov. 18, 2015. Collier weighed in at just 1 pound, 6 ounces, and Palmer weighed in at only 1 ounce more. They were called micro-preemies, and they lived in the Neonatal Intensive Care Unit at Texas Children's Hospital for six months.
It was a bumpy ride full of tears and surgeries, and Will said he remembers the day doctors delivered  good news. "I can remember the day that we were told [the girls] would, in fact, be coming home to us. It was only a matter of when."
Many new fathers spend the early days on the couch at home, swaddling and changing diapers. Will's experience was vastly different. "I can remember the countless days and nights in the NICU, staring at numbers flashing on a monitor," said Will. "[There were] times when we weren't sure if God had picked the right parents for them. It has been a trying experience, but it is also something so phenomenal that words can't express."
The girls came home on the same day, on April 12, 2016. They have grown so much since then and are happy and healthy. "It is fascinating to watch them learn and to discover the world around them," said Will, "particularly when their first six months were spent in the hospital."
His favorite moment as a dad may seem insignificant to others. "Earlier this year, I had been out of town for one day. It was one of the longest times since the girls had been born that I was away from them. When I got home, they were crawling around in our den and Justine was on the floor playing with them. I shouted, "Girls!" They both stopped what they were doing, and in an instant they were at my feet." Justine said that's the fastest she has ever seen the girls crawl.
Will said he enjoys making breakfast of scrambled eggs, bacon, sausage and pancakes and also making early-morning donut and coffee runs. "Our girls are not the best sleepers, but seeing them in the morning even after a rough night is a great start to the day. I'm starting to earn my stripes as a short-order cook."
Another dad, Tom McDonald, enjoys a simple yet special tradition with his girls. McDonald, owner of M. Chemical Co., has three daughters, twins Margo and Emily, 6, and Betsy, who is 8. Ever since Betsy was a small child, he has taken her on a "daddy-daughter" date night every Friday night. He introduced the twins to the tradition when they were toddlers, too.
Most Friday nights, Tom can be found with his three girls eating dinner at Southwell's Hamburger Grill. They stop for dessert at TCBY and finally, at Barnes and Noble to pick up their favorite books, including the full Harry Potter collection, read to them by Dad.
"It is the cutest thing to see my girls look forward to this every week," said Tom's wife, Jennifer, a calligrapher. "He also works from home – we have a guest house, which has his office – and every day after school, he comes inside for 20 minutes or so to talk to each girl about her day. He treats being a father like a privilege, not a job."
Tom said being a dad to girls has broadened his knowledge base. "My football knowledge has gone way down, but my My Little Pony knowledge has gone way up."
Editor's Note: How do you plan to celebrate Father's Day this month? What stands out about a father you know? Email [email protected] or comment below
Want more buzz like this? Sign up for our Morning Buzz emails.
To leave a comment, please log in or create an account with The Buzz Magazines, Disqus, Facebook, Twitter or Google+. Or you may post as a guest.