Mailbag - August 2017
Click the Buzz Me button to receive email notifications when this writer publishes a new article or a new article in this column is published.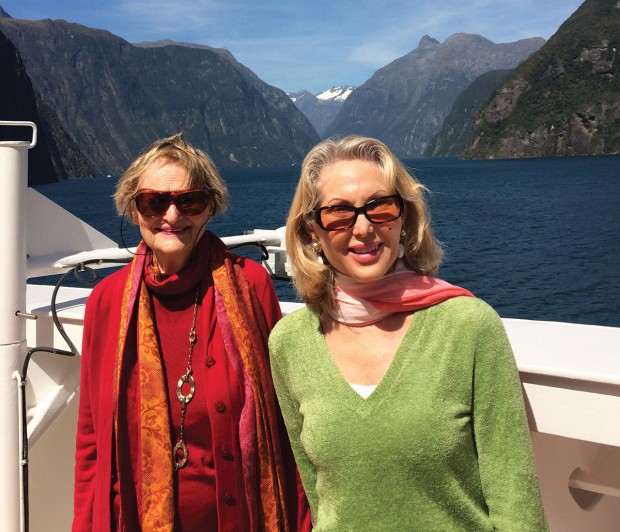 We agree. Tracy Barnett is amazing
Tracy [L. Barnett], you are an amazing writer! How you organized all the information into a story [Travel Buzz: 97 years of travel, July 2017] is beyond me. What a gift God has given you!
Thank you for taking the time with us to really dig deep for information. You have a talent for asking just the right questions to achieve the information you need to weave a beautiful masterpiece. The information was detailed and thought-provoking, giving the reader a true insight into real people.
We had a phone call from a friend of ours that lives in the River Oaks area. She had a call from her friend saying she just read the most interesting inspirational article about a 97-year-old woman. Our friend said she knew immediately that it was us.
I feel you met and accomplished a wonderful goal, by inspiring someone and giving a sense of hope. We enjoyed our many conversations. Thank you again. Many blessings to you!
Gayle Christie and Ruth Peters
Wait, that's me
The first thing I read in The Buzz is Sharon Brier's article Rumor Has It [The Memorial Buzz, July 2017]. I've been doing this since the magazine came out. Imagine how I felt when I see myself. My kids, friends, and neighbors all commented. Love this magazine, and I share it with all my clients moving into the area.
Joanne Naponic
Editor's note: Sharon's Rumor Has It columns run in The Memorial Buzz and The Tanglewood/River Oaks Buzz. But everybody can read them here.
Don't forget Weikel's
One of my favorite stops between Houston and Austin is Weikel's Bakery in La Grange. In my opinion, their kolaches are the best! And their pecan raisin cinnamon rolls are delicious, too. They make excellent sandwiches on homemade bread. I enjoyed your article on Roadside Pit Stops [Favorite places to pull over, by Russell Weil, July 2017]. Thank you.
Sandy Lee
Editor's note: Thanks for the suggestion, Sandy. One of our editors is a big fan of Weikel's too, especially the cream cheese kolaches.
The limelight feels good
My wife received some text messages from friends that had seen the West U and Bellaire magazine. That is how we found out about Marianna being on the cover of the West U magazine [The Buzz Magazines 2017 Photo Contest, The West University Buzz, July 2017]. We showed her the picture of the magazine that was sent to my wife, and she just jumped a couple of times and smiled. She was very happy. My oldest daughter, Isabella, has also made the cover of The Buzz, and I remember how happy she was. Few things in life beat making your kids happy. Thanks to the Buzz staff and judges.
Mauricio Recinos
Editor's note: Mauricio Recinos' photo of his daughter Marianna, then almost 7, placed in the People category of our annual photo contest. Two more of his photos also placed. Mauricio, we love the photo of your daughter and are glad to hear she is excited.
Fan of Morning Buzz
I just wanted to say congratulations! Your new daily is fantastic! (I can't believe you're doing DAILY now!) Don't work too hard, kids!
Sara Brook
Editor's Note: Thanks for the feedback on our new e-newsletter, Morning Buzz, which spotlights stories about neighbors every weekday. (Don't worry, Sara, we're still taking a break on the weekends.) To subscribe, click here.
Send letters to [email protected]. Please include your name, address, phone number and email address for verification purposes. Letters are subject to editing for clarity and space. Views expressed in letters do not necessarily reflect the opinions of The Buzz Magazines, and The Buzz takes no responsibility for the content and opinions expressed in them.
Want more buzz like this? Sign up for our Morning Buzz emails.
To leave a comment, please log in or create an account with The Buzz Magazines, Disqus, Facebook, Twitter or Google+. Or you may post as a guest.