Chef's Corner: Domenic Laurenzo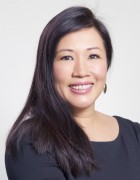 Click the Buzz Me button to receive email notifications when this writer publishes a new article or a new article in this column is published.
Find out about your favorite chefs in our Chef's Corner column. This month, restaurant writer Dai Huynh interviews El Tiempo Cantina chef-owner Domenic Laurenzo.
Domenic Laurenzo has vivid memories of his grandmother. But he isn't the only one who remembers Maria Ninfa Rodriguez, who became a Laurenzo when she married her Italian beau, also named Domenic. Many food historians credit the effervescent grandmother of 18 for helping to put fajitas on the map.
She wasn't the one who came up with the sizzle of the skirt steak. No, that credit goes to the vaqueros and their families in South and West Texas. But the Rio Grande Valley native popularized fajitas and Tex-Mex counterparts at her tiny namesake restaurant on Navigation that appealed to factory workers in the East End, along with socialites and celebrities (John Travolta, Aerosmith and ZZ Top).
"Mama" Ninfa passed away in 2001, but through her oldest grandchild, Domenic, her culinary legacy will continue. Domenic and his father, Roland, operate the successful El Tiempo Cantina. Currently, there are seven locations. An eighth is expected to open before Christmas in Webster, followed by two more in 2018, bringing the total to 10 Tex-Mex hibachi-grilling locations in the Houston-Katy-Clear Lake areas.
For the Laurenzo family, it's a dramatic comeback, given that they lost the rights to the Ninfa's name in Chapter 11 in the late '90s. And the Original Ninfa's on Navigation is owned by Houston's Legacy Group. But time heals, and on Oct. 22, The Ninfa Laurenzo Foundation (tnlsfhouston.org) will host Tacos Over Texas to raise money for scholarships in the parking lots of El Tiempo Cantina (2814 Navigation Blvd.) and the Original Ninfa's on Navigation (2704 Navigation Blvd.). Mama Ninfa would be proud.
But Domenic shared candidly that the road back wasn't easy, and El Tiempo Cantina almost didn't make it.
Twenty-five years after your grandmother opened the first Ninfa's, a humble taco stand to boost her tortilla factory, you and your dad, Roland, opened El Tiempo Cantina (3130 Richmond). 
We opened on April 8, 1998, with little fanfare. Days and weeks went by, and we had miserable lunches. The sales, or lack of, was starting to put a strain on us. My grandmother would come for lunch. It was the only positive thing: her coming to have lunch every day and me sitting down to talk to her.
Finally, my father approached me about shutting down the restaurant. I was beside myself. Then a few days later, a friend of my grandmother's, who was in the police force and a big part of the gay community, came for lunch. He called my dad over. He said, 'I drove here for breakfast and you're closed. Why are you closed on Sunday?' 
That following Sunday we were opened for breakfast. We got the pancake mix, the charro beans, and this guy packed El Tiempo with his friends, packed it until 8 that night. We never looked back after that.
Your grandmother taught you about customer service and that "the customer is king." What about your dad, Roland?
My father has an arsenal of ideas. His jumbo crabmeat nacho, for example, and the veggie fajitas. I get my creative side from my dad, the hardest working man I know. I love his approach to our culture and food.
El Tiempo is famous for its tender fajitas. When selecting fajita meats, what should you look for?
You have the outside skirt and the inside skirt. The inside is chewier with more tendons. It's a lesser quality than the outside skirt. Outside skirt is a bit thicker than inside skirt and more uniform in shape. A lot of taquerias use the inside skirt. They pummeled it until tender. This is their business model, and it's delicious and I love it. It's got its place in the world of food. But the outside skirt, if done correctly, is as good as a filet at The Palm. We use the outside skirt steak.
We know how much you love Tex-Mex, but are there other cuisines you enjoy with the family?
You know I've got five kids, so I find myself going to a lot of places that revolve around my kids, like Buca di Beppo (5192 Buffalo Speedway) and the Rainforest Cafe (5015 Westheimer). But for me personally, I love Mala Sichuan (9348 Bellaire Blvd.). I order the boiled spicy beef and the dumplings in spicy oil. The crispy chicken is just crazy good. We also like Vietopia (5176 Buffalo Speedway), and I love the pho at Les Ba'get (1717 Montrose). Vietnamese is my favorite food outside of Tex-Mex.
Tex-Mex has grown up since the days of Mama Ninfa and her taco al carbon. What are your thoughts?
People are much more knowledgeable, and there are people who didn't grow up with Tex-Mex, but are opening Tex-Mex restaurants. Everyone is serving Tex-Mex; even some Vietnamese restaurants are serving Vietnamese fajitas. You know if you find it in a Vietnamese restaurant, Tex-Mex has taken deep roots.
Editor's note: Buzz dining columnist Dai Huynh is a James Beard food-journalism award winner and longtime Houston-based restaurant writer.
Want more buzz like this? Sign up for our Morning Buzz emails.
To leave a comment, please log in or create an account with The Buzz Magazines, Disqus, Facebook, Twitter or Google+. Or you may post as a guest.