Chef's Corner: Kimberly Paul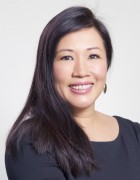 Click the Buzz Me button to receive email notifications when this writer publishes a new article or a new article in this column is published.
Find out about your favorite chefs in our Chef's Corner column. This month, restaurant writer Dai Huynh interviews bar chef Kimberly Paul.
Depending on the season, you may find sprigs of fresh rosemary, parsley, kaffir lime, sage, ripe peaches and nectarines adorning Kimberly Paul's bar. Nearby are a chemistry lab's worth of vials containing secret homemade elixirs.
Kimberly is the beverage director for Étoile and Brasserie Du Parc, who went from serving in the U.S. Air Force to serving hand-crafted cocktails. Her eyes sparkled as she listed her favorite destinations for hand-crafted libations and ingredients.
"Oriole in London – that's my crush," said the 47-year-old Texas native. "I wish I could just hang out there with those guys for a week and see what they do. They take unusual ingredients and turn them into something you know."
That's much like what Kimberly does for her bosses, French master chef Philippe Verpiand and his business partner-wife Monica Bui of Étoile Cuisine et Bar (1101-11 Uptown Park Boulevard) and Brasserie Du Parc (1440 Lamar).
Here, Kimberly discusses how the lines between the kitchen and bar have blurred, along with no-fail recipes for a perfect Rob Roy and other pours.
You referred to this as your dream job. How long have you worked for chef Verpiand?
Three years. That's unheard of in our industry. Being creative, you get bored easily. But I'm lucky that they don't put creative restraint on me. They let me run with stuff that they may think is crazy, but sometimes it works.
Name a crazy idea.
One of my first crazy ideas was The Green Hour. I thought, 'We're French, let's do absinthe service during happy hours, and let's do it tableside.' So we bought in the coolest absinthes we could find, stuff that no one had in town. I'm thinking of France's Belle Époque era before World War I, with all these artists, and absinthe was their muse. The idea turned out to be a hit and people loved it. I think partly because it's a little bit taboo, and it's just fun.
Are there misconceptions about the wormwood- and anise-flavored absinthe? 
We did have to educate people and let them know that it won't make them hallucinate.
For many of your cocktails, you make your own syrups, extractions and, even, bitters.
We try to keep it as homemade as we can. It all started when I made my own limoncello at an Italian place I worked at. Once I realized how the process and the extraction worked, the bells, whistles and lights started going off. So I thought, 'OK, if I do it like this, then what if I add this or that to it?'
I started doing things I hadn't thought about, like making my own blackberry liqueur. I couldn't find a crème de mûre that I liked. They all tasted like cough medicine. Now both restaurants make their own blackberry liqueur, and we make the best Bramble ever because it's not actually crème de mûre.
At the core of many hand-crafted cocktails is simple syrup. What is your version?
The standard ratio is one part sugar to one part water. I tend to go heavier on the sugar, more like one and a half sugar to one part water. I'm also particular about the sugar I use. It's a different kind of sweetness in the winter. I prefer muscovado sugar in the winter, but I would never use that in the summer. It's too heavy. In the summer, I would use regular sugar or an alternative, like agave or cane sugar. Lately, coconut sugar has been fun to mess with. I could stay in the kitchen all day and play with different cocktails.
Name a few of your favorite places around town for hand-crafted cocktails.
Anvil Bar & Refuge (1424 Westheimer Road) because they're the one who put craft cocktails on the scene. If it wasn't for Bobby Heugel, none of us would be doing what we're doing right now in Houston. What to drink? I would order any of their classics. We talk about how I'm not a recipe person, but they're stickler for recipes, and every time you order a drink, it's spot on.
Moving Sidewalk (306 Main Street) is a funky place. Alex Gregg is amazing. He knows more about liqueurs than anybody I've ever met. Then, around the corner, there is Reserve 101 (1201 Caroline) where Leslie Ross Krockenberger is a creative genius. She knows things not a lot of people know, like the way things are drunk and why they're drunk that way. I'm in awe.
The Scotch-based cocktail Rob Roy is making a comeback. Click here for Paul's version of this classic pour, along with her bergamot-infused twist on the Bonny Prince Dram.
Editor's note: Buzz dining columnist Dai Huynh is a James Beard food-journalism award winner and longtime Houston-based restaurant writer.
Want more buzz like this? Sign up for our Morning Buzz emails.
To leave a comment, please log in or create an account with The Buzz Magazines, Disqus, Facebook, Twitter or Google+. Or you may post as a guest.