Thrift Shopping in Bed
My Goodwill online-auction elixir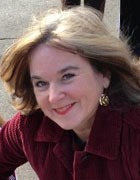 Click the Buzz Me button to receive email notifications when this writer publishes a new article or a new article in this column is published.
It was an ugly affair. Two weeks of low-grade fever, bronchitis and a chest-rattling cough that robbed me of restful sleep. My head was an overstuffed pillow set to implode.
I'd taken to bed with a wad of tissue, my 21-pound cat Bart and NyQuil, hoping to succumb to the haze of the cherry-flavored swill. I start surfing my iPhone, reading about cool eBay finds. A comment jumps off the page. "If you really like the thrill of the hunt," wrote the author, "there's always Goodwill's online auction site."
What? I'm an uber-thrifter and didn't know the non-profit thrift store solicited bids. I googled it. Immediately. Registered and created a password at shopgoodwill.com. Then I scrolled items. For hours…
Nasal passages cleared with the adrenaline rush. At my fingertips was an eclectic mix of weird, nostalgic, sometimes rare and often hilarious items culled from drawers, closets and garages all over America, deposited for my bidding pleasure.
 Oh, the oddities. A grab bag of 12 insects encased in acrylic, a velvet painting of a smoking monkey, a taxidermied squirrel dressed as a cowboy.
A pair of Chinese Yin-Yang stress relief bell balls up for bid might have helped auction die-hards going full throttle into the fire. The heat was intense around a diamond and ruby ring, $5,200 at last glance with 19 bidders.
I'm guessing those passionate bidders feel pretty bad about missing out on my sterling silver porcupine brooch that cost me $8.99. My loot also includes a vintage Karu Fifth Avenue necklace, circa 1940s, for $39. I've seen the same make and style of necklace on eBay and Etsy for $200 and $265, respectively.
I won a few other vintage jewels, all for less than $10 plus shipping, and I scored with 1-cent shipping on a couple of them. (Tip 1: Take the time to check out Goodwill's 1-cent shipping items. You can end up paying two or three times an item's price in shipping and handling charges.)
But I happily paid $9.50 to ship my $14.99 penguin, a 1940s wind-up toy in orange bow tie that opens its beak and flaps its wings. I trusted that its description contained a decimal point error. It was listed as 52.5 inches by 4 inches. I had no idea what I'd do with an absurdly skinny wind-up penguin topping 4 feet.
The piece de resistance, my score at $29.99, is a 35-by-25 inch 1960s figurative oil painting of a ginger-haired woman sitting at her kitchen table, legs crossed, in lime green slacks and black pointy-toe flats. "Morning is for Dreaming," it's called. I was smitten.
The California artist Naomi Hardy died in 2008 at 97, but I tracked down her daughter Christine Hardy, who was more than eager to share details about her prolific mom.
Her large figurative and abstract paintings sometimes sold for $6,000 to $7,000, Christine volunteered. "The one you have is on the smaller side, probably more like $1,500 to $2,000." She displayed at the San Francisco Museum of Modern Art in the 1970s. Gasp.
Christine is sending me promotional literature about her mom. I'm sending her a 5- by-7 inch glossy of the painting that now hangs on my living room wall.
Friend Jen Meneely of River Oaks says art and heirloom pieces might be the best bet for getting a deal. Popular label products like Kate Spade and Tory Burch create bidding frenzies. Jen and Pippa Williams, also a friend, know their stuff. They run the thrift blog Too Cheap Blondes and made lead story on Yahoo for dressing an entire bridal party for $20.
The duo prefers pounding the pavement at actual brick and mortar thrift shops, competing with a handful of shoppers instead of a throng driving up auction prices.
I get it. I'm out there a lot too. But it sure is fun when the FedEx treasure truck pulls up. As I write this, my husband Scott walks in the room with a small brown box. "Your daily delivery is here," he says.
 Ah, my vintage celluloid French cuff bracelet topped with beaded flowers: $4.99 with 1-cent shipping. It'lI look great with the vintage blue crystal flower costume brooch I bought while asleep.
Tip 2: Don't mix NyQuil with Goodwill. You might awake to discover you bought a brooch you didn't intend to due to an appendage accidentally clicking the "Buy It Now" button. Not only that, I somehow hit "confirm" to approve the transaction.
It was less than $10, and I like it. So no harm done.
"But," Scott says, "stop buying stuff in your sleep."
Want more buzz like this? Sign up for our Morning Buzz emails.
To leave a comment, please log in or create an account with The Buzz Magazines, Disqus, Facebook, Twitter or Google+. Or you may post as a guest.