Bandanas of Hope: BP MS 150 Tradition
Click the Buzz Me button to receive email notifications when this writer publishes a new article or a new article in this column is published.
During the spring of 2007, West University Methodist Church pastor Denise Jones announced to the church that she had been diagnosed with Multiple Sclerosis. She had decided to step down from the position to concentrate on her health.
A few Sundays later, WUMC member Kevin Leonard came up to Denise with a red bandana in his hand. "I recall handing Denise the bandana after church one morning," said Kevin, "I waited for most, if not all, of the congregation to leave and approached her and told her that I had ridden in the BP MS 150 bike ride for the first time and had carried the bandana in her honor."
"I wanted her to have the bandana as a reminder that there were a lot of people thinking about her and praying for her during her struggle." Kevin said. "She thanked me, a genuine thanks . . . not the kind like we do in everyday passing when someone opens a door, but a sincere thanks and a hug."
More than a decade later, that bandana continues to hang over Denise's desk as a symbol of hope, courage and motivation. And still brings tears of joys when she shares the story.
"It's so empowering and makes a powerful impact to know that someone thought about you," Denise shared. "I was overwhelmed. Eleven years later, I am still inspired by Kevin's bandana. It often helps me to keep going on some of my rougher days."
After participating in a few grueling training rides Kevin picked up his rider packet filled with all sorts of items including a bandana. After taking a moment, he started thinking maybe he needed to ride for someone for motivation instead of just riding to get in better shape.
"Surely riding for someone would be better motivation to conquer the hills and wind that I expected on the ride to Austin. And it was. Tackling the long grinding hills was better achieved when I could focus on the fact that I was riding for someone who cannot. Focusing on a person, who is going through a life-changing moment that will be with them every day for the rest of their lives, makes those hills seem not so steep. I hope the bandana gives Denise strength in her battle," said Kevin.
The BP MS 150, a two-day fundraising bike ride from Houston to Austin organized by the National MS Society, will take place April 28-29. 
Other friends and Buzz residents that have ridden in Denise's honor over the years include Jerry Meyerson, who was her boyfriend back in their Bellaire High School days, Mike Weill and Jeff Thomas who said, "It was an honor to ride for such a generous and positive woman!"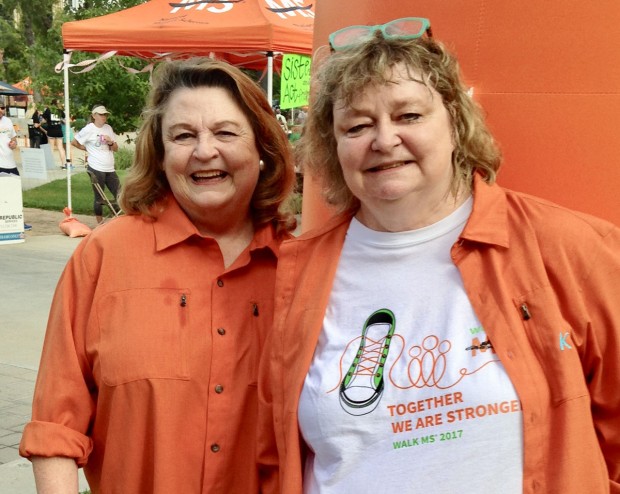 A few years after Denise's MS diagnosis, her younger sister, Karla Ofield, discovered she would also be living with Multiple Sclerosis.
"Karla and I were shocked by each of our diagnoses and apprehensive as to what the future held for us and our families. Our symptoms were and still are very different, and it continues to amaze us that we share the same crazy disease," Denise said. "As sisters and friends, we have experienced joys and celebrations as well as disappointments and heartbreak, it only seems fitting that we would share MS too."
Denise continued, "MS has played havoc with our lives. It has 'messed' with our bodies, our minds, our careers, our hopes, our dreams and sometimes even our spirits. It has never, however, 'messed' with our faith, joy and love for life! We feel extremely blessed and very thankful for excellent doctors and a range of medications and options to help us fight this disease."
Denise and Karla both volunteer in the MS community in any way they can.
"We'd love to ride in the BP MS 150," Denise said, "but that's just not going to happen, so we volunteer for tasks like distributing biker participation packets. It has made a huge difference in our lives and lifts our spirits to have the opportunity to participate in finding a cure for MS."
The National MS Society continuously searches for ways to provide support and services for those of us living with MS and we have been the beneficiaries of their work. None of this could be done without the fundraising that is done through the BP MS150, Walk MS and other events, which make breakthroughs in this disease possible.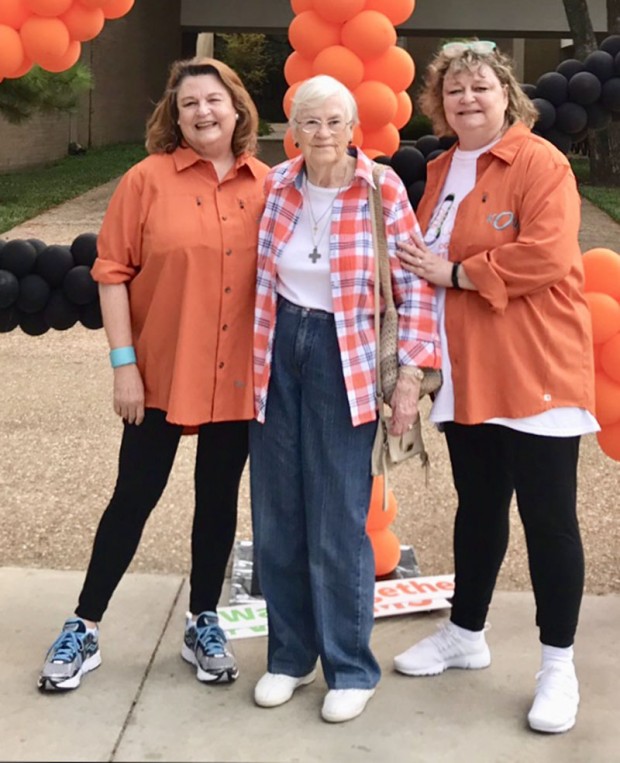 Two years ago, Denise and Karla fundraised for their first time. They gathered family and friends (including their 85-years-young mother, Carolyn White, and Denise's 95-years-young mother-in-law, Virginia Jones) to participate in the Walk MS, on their team, The Sister Act & Friends.
Other MS Walk team members and day-to-day life supporters include Denise's husband, Bob Jones, children and their spouses: Jessica Jones and Manuel Salgado, Danielle Jones Petrucciani and Anthony Petrucciani, plus Karla's husband Mark Ofield and their children Sam, Danny and Sean Ofield.
"Our entire family raises funds, and it has turned into an annual event for us," Denise beamed as she continued, "We were especially touched by the generosity shown to us this past fall. Even though many of our friends' homes flooded during Harvey, The Sister Act team was still one of the top fundraisers."
Denise said, "Karla and I also serve as MS Ambassadors and share our story. We speak for all of the brave and courageous men and women who live each day with this unpredictable, crazy disease.
"We are so thankful for our friends and family who travel this journey with us," Denise paused, "We have learned firsthand that we need each other in ways we never imagined and that we are always stronger together. We have come a long way from keeping our MS a big secret, and our lives are so much better for it."
This year Denise and Karla have their own inspirational bandana story. The sisters were honored to be chosen as one of only six highlighted 2018 Bike MS Champions to represent the 400,000 Americans/2.5 million people worldwide living with MS. At BP MS 150 Packet Pick-Up events, cyclists receive a t-shirt, goodie bag and an orange Bike MS Champions bandana. The 13,000 bandanas are adorned with the preprinted signatures of the Bike MS Champions, including Denise and Karla's.
The sisters also attend Packet Pick-Up events to sign the orange bandanas. Meeting the riders face to face give Denise and Karla the opportunity to thank them for supporting the MS community. Cyclists are also encouraged to write the names of other people affected by MS for whom they are riding and carrying their bandanas.
Thousands of 2018 BP MS 150 bandanas will inspire both bike riders and MS patients during the race weekend. Denise smiles reflecting on the gracious gift of Kevin's red bandana. Kevin said riding for Denise encouraged him to conquer hills and valleys on his route, especially some of the tougher parts. Many years later that same determination and inspiration continue to be a source of strength in helping Denise conquer her own MS hills and valleys. All thanks to a little red bandana.
Kevin shared that he had never thought to tell the story of him giving Denise the bandana to anyone but his wife, Lucy Leonard, as he didn't think it was that big of a deal. He was very surprised to learn that Denise even remembered it and was happy to know that over a decade later it still encourages her.
You never know the power of one thoughtful gesture.
Thanks and best wishes to all the 2018 BP MS 150 riders and the MS warriors for whom they are riding.
The BP MS 150 ride is the largest event of its kind in North America, with 13,000 cyclists, 3,500 volunteers and countless spectators along the route to Austin. The fundraising goal for the 2018 BP MS 150 is $14 million dollars to bring hope to many who are affected by multiple sclerosis. There is also an MS Walk on the University of Houston campus; this year, it takes place Nov. 4. 
Want more buzz like this? Sign up for our Morning Buzz emails.
To leave a comment, please log in or create an account with The Buzz Magazines, Disqus, Facebook, Twitter or Google+. Or you may post as a guest.