Handmade Decorations
Time-honored holiday traditions
Click the Buzz Me button to receive email notifications when this writer publishes a new article or a new article in this column is published.
When Pamela and Hayne Blakely had their daughter, Alane, 31 years ago, something in addition to their baby was born: a homemade holiday tradition.
Before Alane's birth, the couple celebrated and decorated for Christmas with items they bought from stores. But it was a gift from a friend during her pregnancy that got Pamela firmly immersed in a tradition that has become a hallmark of their holidays.
Back in 1987, Pamela was placed on bedrest in their West University Place home during her high-risk pregnancy. Confined to bed with a lot of time on her hands, she was gifted a goodie basket from her neighbor, Cindy Thorp. "Cindy put in bon bons and some trash novels, things to keep me occupied," recalls the bubbly and energetic Pamela. "And she also had a little piece of needlepoint in there." Pamela, a certified public accountant, had never stitched needlepoint, but the small square with the words "Baby Sleeping" beckoned.
Only allowed out of her house for doctor's appointments, Pamela asked Hayne to pop by a needlepoint shop en route one day. "I thought I needed to figure out how to do this," she says. "I was crafty, and I sewed a lot. But I had never ever done needlepoint. So I asked Hayne to drive me to the store, and I quickly went and bought a needlepoint book for me, and I taught myself basic stitches."
By the time Alane arrived, Pamela had completed the "Baby Sleeping" door hanger for the nursery. "That was the only thing I did until after Alane was born," says Pamela. "Then I went and bought a Christmas stocking canvas to stitch for her, and after than an ornament. And the tradition was born!"
When Pamela and Hayne had their son, Grant, she was inspired to stitch even more. Her homemade creations adorn their home. "I love the finished products, and I think they are so beautiful," Pamela says. "I feel like I am making heirlooms for my family. They say, 'What is my ornament this year, Mom?' It has become part of our family traditions."
In fact, Pamela has stitched so many ornaments that she has a dedicated Needlepoint Christmas tree in their family room. Even that does not hold all the ornaments, so Pamela has taken to decorating the dining room chandelier with them.
To help her learn more about the stitching, Pamela took needlepoint classes at Needle House and Chaparral Needlepoint. She fell in love with making detailed and intricate Nativity scenes, standing Santas and whimsical items such as needlepoint gingerbread houses. "The first Nativity I made was for Alane," notes Pamela. "But Grant says he likes being second because I always improve on them. Over the years, the canvases have improved, and so have the threads."
Pamela notes that the process of hand needlepointing a project takes time and patience. "If I am at my house I am always stitching," she says. "My fingers get itchy to stitch! I call it my therapy."
A Christmas stocking takes a full year to complete and have finished  (a needlepoint store attaches the lining and backing). "It's always so exciting to see the finished product," she says. "This is my hobby, and it is beautiful. To me it is like painting with thread and with fibers."
Pamela likes to choose hand-painted canvases to stitch. "For example, when I look at a bunny on a canvas, I know stitches that can make the fur look real and touchable," she says. "I use a lot of different stitches and thread because it really enhances the canvas."
The Blakelys have a Christmas tree with glass ornaments in their living room and, in a nod to where both Alane and Grant attended, a Texas A&M Christmas tree in their dining room. But the needlepoint items take center stage. One Nativity is placed on the dining room sideboard, while another rests on the living room coffee table. The needlepoint Santas stand sentry all over the house, their stitching so creative, they look three-dimensional.
Pamela says that although she stitches year-round, the Christmas items bring her the biggest joy. "When you see all of these things, you just know it's Christmas," says Pamela. "It does put you in the right holiday mood. My kids and husband love it!"
And, this year, Pamela has more traditions to begin, this time for granddaughter Avery. "Alane and her husband, Kevin Avila, had their first child on August 30," says Pamela. "I am already starting on her Christmas stocking and ornament. It's very special to me." And as for that first "Baby Sleeping" door hanger? Pamela has sent it over to hang on baby Avery's door.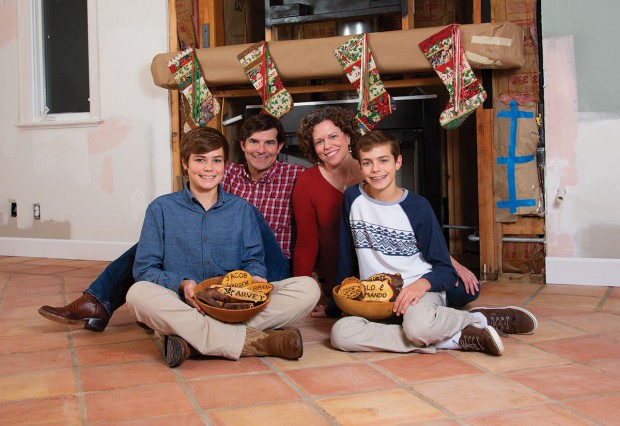 Another family who celebrates the holiday season with a special, homemade tradition are Lee Anne and Jason Dixon, who live in Bellaire with sons Jacob and Carter, who both attend Episcopal High School. Every year since they got married in 1997, Lee Anne and Jason have crafted a unique memento from their Christmas tree: a personalized slice of the tree trunk that they cut, cure and emblazon with words that epitomize their year.
"Jason and I got the idea from my sister and her husband, Kathy and Greg Anderson, who also lived in Bellaire," says Lee Anne, a principal with Walter P. Moore, an engineering firm. "When they were first married, they had a 'Charlie Brown' Christmas tree, which was what they could afford at the time. They decided to cut a piece of the tree as a memory. So they cut their tree and turned it into an ornament and used a Sharpie to decorate it."
Lee Anne and Jason were both attracted to the idea of making memories from Christmas trees.  "But we took it one step further," she says. "That first year, we just cut a circle from the tree trunk, and Jason figured out how to polish it and smooth it and sand it down. That year, when we got married, all we wrote were our names and 'Merry Christmas 1997.'"
The couple decided to not turn their Christmas tree slice into an ornament, but instead a treasured keepsake to display every year. "We thought it would be neat to do and have 50 of them one day," says Lee Anne, noting that they have 21 so far, which they proudly display in two large wooden bowls every holiday season. In the two-plus decades since that first holiday disk was created, Lee Anne and Jason have fine-tuned the process, which starts with picking out a tree that will not only look pretty for their decorations but also boasts a trunk the correct width for Jason to cut.
"Now we evaluate trunks, and Jason had to get clever how to slice it to get a nice writing space," says Lee Anne. "We have to be careful about not letting the Christmas-tree people trim or shave any parts off." And, once the tree is chosen, decorated and enjoyed for the holidays, Jason takes over in January. "I drain it out and chop all the branches off the trunk and then leave the 6- to 8-foot tree trunk in our garage to dry," says Jason, a structural engineer. "It's a family joke every year that I have that tree trunk in the corner of the garage. I let the sap cure and then I shave a slice through an area of trunk. I have learned to cut at an angle to get a larger area. Then I sand it down and write on slices with a pencil. I pencil in the words and any drawings, and then I trace over it and wood burn it."
Using equal parts sentiment and humor, the Dixons' disks are a treasure trove of family memories. "We try to write what stands out as truly unique," says Lee Anne. "We usually have something profound that makes sense. On one side we will write the word 'Christmas' and the year and then the message on the other side." Over the years the messages have been sweet, funny or sometimes tongue-in-cheek.
"One year Carter had meningitis, so we wrote 'MERRY MENINGITIS,'" says Lee Anne. "Another year Jason had knee surgery, so he drew a picture of the knee halo brace that he had to wear for months." One year was dedicated to close friends and neighbors the Fitzpatricks (Ryan Fitzpatrick is a former Houston Texans quarterback who moved to quarterback the New York Jets – and, later, Tampa Bay), with the tree slice saying "MERRY FITZMAS." Jason sent the disk to New York, where the Fitzpatrick family signed the disk and mailed it back.
And, then, there are the hurricanes, with these inscriptions branded into the wood: "RITA REFUGEES," "BAKER IKE BUNKER" and "HARVEY," whose "H" has a Houston Astros star surrounding it, reflecting 2017, when their Bellaire home flooded. "Watching the Astros was the only thing that kept us semi-happy the first six weeks after Harvey," says Lee Anne.
This year has been memorable for the Dixons, as they have been rebuilding their downstairs while living upstairs. The house is nearing completion, and they look forward to being able to bring out their Christmas tree disks to celebrate and reflect this holiday season. As for what they will write on their tree slab for 2018, well, that's still up in the air. "I just try to be clever with it if I can," says Jason. "All of these are unique and all bring back a memory that is precious to us. These are our heirlooms."
Want more buzz like this? Sign up for our Morning Buzz emails.
To leave a comment, please log in or create an account with The Buzz Magazines, Disqus, Facebook, Twitter or Google+. Or you may post as a guest.