Q&A with Awty College Counselor Robert Kostrzeski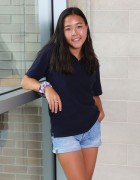 Click the Buzz Me button to receive email notifications when this writer publishes a new article or a new article in this column is published.
As seniors work on their college applications this fall, late nights and constant meetings with college counselors become a daily routine. At The Awty International School, a new college counselor has excited everybody because of his eccentric background. Mr. Robert Kostrzeski has lived overseas in beautiful countries such as Thailand, Korea, Malaysia, France, Vietnam, and more. He recently moved to Houston to work for Awty and students and staff have already grown to love his warm personality and willingness to engage with others. Today, I sat down to ask him a few questions regarding his job and personal life.
What made you become a college counselor?
That is an interesting question. I had worked as a teacher and admissions officer before becoming a college counselor. I had done admissions and served as a west coast representative for all states west of the Mississippi and I had the opportunity to visit hundreds of colleges. When I was interviewed for the head of the French and Spanish department at an independent school in San Francisco, they saw my resume and offered me the position. The idea of working with students discovering who they are and plan for their future is what inspires me most about college counseling. I love working with teenagers, I like that they are raw and imperfect and always asking questions and pushing adults. I think for me, college counseling gets to the center of, who am I? What are my strengths? If I have a wound, how do I go about the healing process? Therefore, to answer your question, I love a student's personal and academic journey, and college counseling allows me to access these.
What is the most challenging part of your job?
There are so many constituents, meaning the student, of course, but then you have the teachers and the family. Each have their own anxieties, worries, and goals. I think managing all of the personalities and emotions in the process is probably the most challenging part.
What is the favorite part of your job?
Number one, students. I love when they come to my door, send an email, or just say hello in the hallway. The connection to students is paramount.
What's the most interesting experience you've had while working with a student?
Each time I discover a personal story that is profoundly "sacred" – a truth for someone who has gone through something… a truth that has become the reason of being for them. For me, this is the most rewarding experience, not necessarily just where they end up in college, but witnessing their story by just being the listener.
How does Awty compare to previous schools where you have worked?
Awty is wonderful in the sense that there is a vibrant international verve here. If I'm correct, there are 39% non-U.S. passport holders and 60+ languages spoken! For me, having lived in Southeast Asia, Turkey, Korea, and Europe, the beauty of Awty is that I experience all the worlds that I love. I have met someone from all of the countries where I have lived. I think that's the amazing part about Awty
How does Houston compare to other places you have lived overseas?
Houston's interesting for me because if you told me I was ever going to live here, I would have never believed you. However, I have been pleasantly surprised with the diversity on all levels. My family and I have been well received in Houston; I find people to be polite. In that sense, I think it is great in regards to the diversity and feeling comfortable while all walks of life are welcome here in Houston, especially within the loop. I think it is challenging for me because it is such a spread out city, and a car is necessary unless you live in one tiny little part and work there as well.
What are your hobbies?
Travel and being a dad - I do not know if I would call that a hobby, but it definitely takes up a lot of my time and I love it! Film and food are also things I love about life. I love great food!
What's your favorite place you've traveled to and why?
The one place I will always keep close to my heart is Bangkok, Thailand and just Thailand in general. My son is half Thai, so I'm genetically connected to the country if you will, at least that is what I say. I just found the people there to be lovely and I have many great memories there. Istanbul is also another favorite.  I find the Turks to be extremely loyal.
What do you want to say to students who want to attend college? Any advice?
One thing that I always tell students is, "Reach for the stars, but keep your feet on the ground." The other one that I tell them: "Don't beat yourself up." I find teenagers to be extremely hard on themselves overall. There is a lot of expectations that may be self-imposed, from family, teachers, or whoever. I think it is best to ease up, have some compassion for yourself. You will have better access to a story you want to tell through your essays, and you will be better off in school if you approach it in a more mindful way. The best advice is probably to breathe.  You will find an academic home for sure: it all ends up working out. I think people should stay levelheaded, mindful, and realistic, yet still reach for the stars. I do not ever want to quash a student's soul, but being realistic to discover the best school, which matches one's personal and academic journey, is essential. Our job as college counselors are to serve as student advocates and assist in creating a list that is a balanced! 
Is any part of your approach to college applications different from most college counselors? If so, what?
​Besides professional experience, college counseling is also personal. I think each counselor's personality helps connect to students while offering advice and resources to inform the students' choices. I am extremely student-focused and like to think also comical. Maybe I have some teen Jedi skills, while others may not.  I try to be funny as it helps ease anxiety, gets people to open up, and builds trust. I also love my job, so that makes it all worth it.
Mr. Robert Kostrzeski is extremely excited to guide the Awty students in their college admission journeys. From handling the rollercoaster of emotions to crafting the perfect application, Mr. Robert Kostrzeski will be there to help the students get to where they belong. 
Want more buzz like this? Sign up for our Morning Buzz emails.
To leave a comment, please log in or create an account with The Buzz Magazines, Disqus, Facebook, Twitter or Google+. Or you may post as a guest.