Vivian Wu
Click the Buzz Me button to receive email notifications when Vivian Wu appears in an article.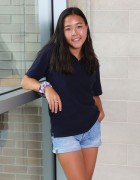 School Buzz Reporter
Hi there! My name is Vivian Wu and I attend the Awty International School. Something about me that surprises people is the fact that I have traveled to over 40 countries! I have experienced so many eye-opening cultures and I have learned to embrace diversity. This is why I attended international schools all my life, including ones in Norway, Malaysia, Indonesia, and finally here in Houston! I love lacrosse and cello as well as writing. Although I've lived overseas most of my life, I always came back home to Houston, my birth city. Houston truly flourishes in every aspect whether that is sports, arts, medicine, and so forth. I hope to contribute to this amazing and renown magazine in every way possible.