Abby Von Eik
Click the Buzz Me button to receive email notifications when Abby Von Eik appears in an article.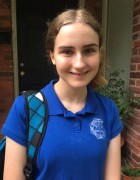 School Buzz Reporter
My name is Abby Von Eik and I'll be a sophomore at DeBakey High School for Health Professions. I hope to play both volleyball and soccer at my zoned school, Lamar HS. I played five sports last year while getting exceptional grades. Fun facts about me….I love dogs, skiing, cold weather and chocolate.. I spend a lot of time watching movies. Our family spent some of our time "distancing" at our family ranch in Central Texas and we go sailing. My current favorite things are Starbucks frappuccinos, icees, Dr. Pepper, Chocolate Chip cookies from Milk & Cookies, and Kolache Factory. My favorite show is Dr. Who.