Hank Davis
Click the Buzz Me button to receive email notifications when Hank Davis appears in an article.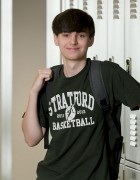 School Buzz Reporter
My name is Hank Davis, and I am a junior at Stratford. I love Houston's uniquely diverse, yet inclusive, nature, and I see Stratford as a microcosm of our awesome city. In my own neighborhood, I recently discovered an ever-increasing number of retired pet owners who love to travel, so I started a pet sitting service to take care of the many "home alone" critters and raise funds for local charities. As a School Buzz Reporter, I look forward to exploring the diverse achievements and extraordinary pursuits of the Stratford community and hope to inspire others to take part and get involved.