Elsie Wire
Click the Buzz Me button to receive email notifications when Elsie Wire appears in an article.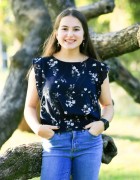 School Buzz Reporter
Hello! I'm Elsie Wire, and I'm a freshman at Saint Thomas Episcopal. I'm looking forward to participating in School Buzz to showcase the uniqueness of Saint Thomas. What makes our school stand out is our Scottish arts program. I am a highland dancer and know many people who play the bagpipes and drums for the school band. I love the atmosphere of the highland dance community. It's caring and helps you strive to be the best person you can be, whether it is dance or just as an overall human. It's amazing to meet people from all over the U.S. and even from parts of the UK and Canada who also compete in highland dance. It's the thing that connects us no matter where we live and I think it's so cool!