Anya Edelman
Click the Buzz Me button to receive email notifications when Anya Edelman appears in an article.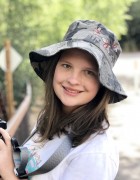 School Buzz Reporter
Hello School Buzz, my name is Anya Edelman, a junior at Xavier Educational Academy. I enjoy hiking, running, photography, and cooking. As a photographer I have great pride in capturing the raw emotion, action, and mood with my documentary photography and in the process feel a part of the community and the subject's lives. I enjoy exploring new places in Houston (especially food), museums, and all of what it offers. In my spare time, you might find me at Memorial Park riding my bike, walking my two labs Rawley and Shiloh, or participating in my youth group's chapter Wise BBG (BBYO).