Holly St., Lit with Memories
Click the Buzz Me button to receive email notifications when this writer publishes a new article or a new article in this column is published.
One of our family's favorite Christmas traditions is piling into the car on December nights and heading over to the 5000 block of Holly Street across from Bellaire High School.  Cars are usually in front of us and behind us as we slowly cruise by 5007 Holly "oohing and awing".
The trees, bushes and house, including the roof, are always covered in sparkling colored lights. We marvel at various posed figurines,  read signs as quickly as possible and spy each magical decoration vying for our attention. Even when you drive as slowly as possible, you can never soak it all up on one pass. Without fail we go around the block for another look or park and walk up to the house.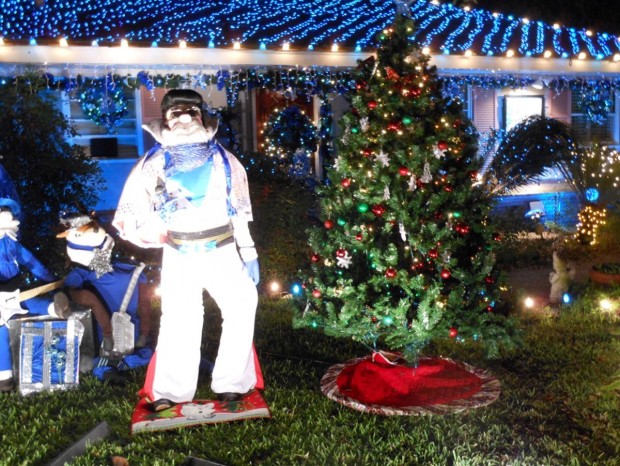 Each year, the theme is different. Themes over the years have included Elvis, Superheroes, Santa's Band (including Houston's own ZZ Top's Billy Gibbons), hockey penguins, Legos and Mario and Luigi complete with a giant game controller. There is also a Grinch that gets moved to different locations so it's always fun to find him.
So just like any December the last 14 years, a few weeks ago, our family headed to Holly Street but discovered there were no Christmas lights on the house. There didn't seem to be any lights on in the house either. Maybe the family just hadn't gotten the decorations up and were out of town, we thought. We went back the next week and there still weren't any decorations. It appeared that the decorations were not going up this year. We were afraid that the house had flooded during Harvey.
I had always meant to tell the family thank you and let them know how much we loved the decorations. But I never did.  So this year I went on a mission to find the family and perhaps rally neighbors to write thank-you notes or raise funds to help buy new decorations, if needed.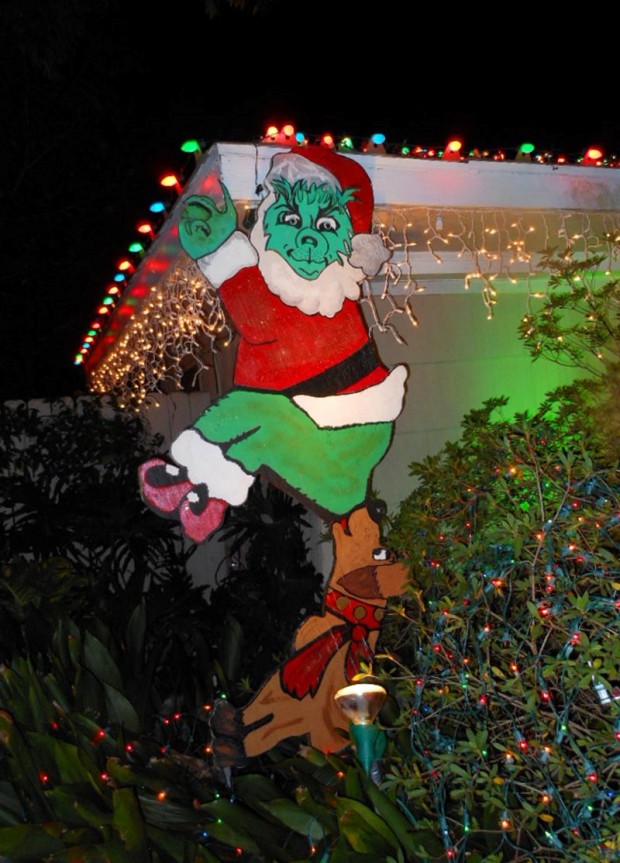 I knocked on a few neighbors' doors to see if they knew anything. Yes, the family had flooded. The family had moved to the Hill Country. No, they didn't have their contact information. The neighbors across the street, Hans and Nadia Huwyler, who also flooded, shared that the owners were John and Shari Greer. Yes, most of the decorations had been lost from the flooding.
However while sorting through their remains and packing up, the Greers had asked Hans and Nadia if they might want any of the decorations that had survived the flood. Nadia knew exactly what to ask for: She told John and Shari that they would be honored to have the Grinch. The Greers were thrilled to know that the Grinch would keep looking over Holly Street every Christmas season like it had for nearly three decades.
Finally, I got the Greers' phone number from neighbor Cynthia Schweirking, another 5500 block Holly Street neighbor who unfortunately was another displaced Harvey survivor. Cynthia had fond memories of her husband, Jim and children Benjamin, Joey and Maggie walking over to the Christmas house to get candy canes from the Greers and taking annual family pictures.  When I connected with John, he was happy to hear from me and appreciated knowing so many neighbors had enjoyed their decorations. I thanked him and let him know what a gift it had been to our community.
John said he and Shari had loved putting up the decorations for 28 years. They would start brainstorming the theme the year before. They made all of the decorations themselves in their carport, which is where they stored the decorations. They tried to repurpose items as often as possible. For example, the penguins' igloo transformed into a space shuttle and then into the turtle shell on the back of Bowser, Mario's archenemy. Shari designed all of the characters and John handled all the electronics for the lights. Their children, Joey and Shannon, would help with the design and set-up over the years.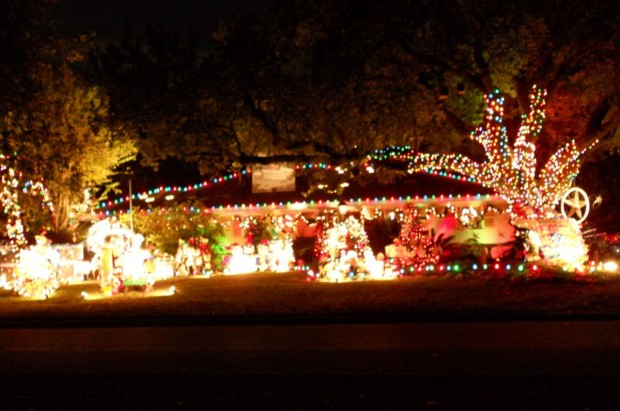 "Decorating the yard has been a joy." John said. "We loved living in Bellaire and loved the community. From the beginning of our marriage when we moved there, Bellaire embraced us. It's been a great place to live and raise a family. We were thrilled to give back to the community."
John shared that he would occasionally stand out front in a Santa suit waving at the kids and collecting money for different organizations. Over the years, they raised more than $25,000 for organizations such as Star of Hope, the Leukemia Society and BARC (Bureau of Animal Regulation and Care).
The Greers are now living in temporary housing in Wimberley. John said he and Shari had to laugh this year when it only took them a few minutes to put up their lights as opposed to when it took them weeks of hard work in the past. The Greers both recently retired and said they will miss Bellaire, but are excited about enjoying their new life chapter and plan to build a house in the Hill Country in 2018.
When I hung up the phone, it felt like I had been talking to Santa. John Greer is really that nice. It warmed my heart.
When I had reached out to other Bellaire families to see if they could help me find the Greers or if they had memories of the house, many responded and were sad to hear the tradition was ending.
Leslie Crossman and Stephen Loughhead remembered when their now- high-school-aged boys Hunter, Connor and Garrett were little, live puppies were in front of the house one year (probably when the Greers were collecting for BARC). The boys expected there to be puppies every year and were very disappointed when there weren't any puppies in years to follow. It's become a family joke.
One year, Kathy and Michael Bowlin and their sons, Matthew and Josh, left packages of lights on the front porch to donate to the masterpieces.
Karen, Mark, Jared and Anya Edelman have 17 years of memories of the "best-darn-decorated house in all of Bellaire," they said.
Julie and James Kuenstle and children, Emily, Connor and Mark always did a couple of drive-bys for 16 Christmas seasons.
Pegi, Bob, Thomas and Lizzy Newhouse said it was a "visual overload" for them and they would stay a while in awe of all the lights and funny-themed decorations.
My own husband, Andrew, and son, Thomas, used the Greers' decorations as our barometer for when it was officially Christmas and often found ourselves rerouting outings to be able to drive by the house more frequently.
Other families that have fond memories of many years of enjoying 5007 Holly Street include John, Suzanne, Victoria and Abigail Shelby; Kim Chau and David Ming, Andy and Reese Perlman; as well as Cindy, Chris, Conner and Callie Young plus many more.
So if you drive down Holly Street this holiday season, take a moment to look at the Greer's house and remember all the wonderful years of decorations. Then look across the street to 5000 Holly Street - the house with cactus Christmas decorations - and if you're lucky, you'll spy that Holly Street Grinch up on the roof, looking down with a holiday smirk just for you.
Many, many thanks to the Greer family.
Read Deck the Yard and Boughs on Holly by Cindy Gabriel, which was published in The Bellaire Buzz in Dec. 2003, for more on the Greers' holiday tradition.  
People in this article:
Billy Gibbons
,
John Greer
,
Shari Greer
,
Hans Huwyler
,
Nadia Huwyler
,
Cynthia Schweirking
,
Jim Schweirking
,
Benjamin Schweirking
,
Joey Schweirking
,
Maggie Schweirking
,
Joey Greer
,
Shannon Greer
,
Leslie Crossman
,
Stephen Loughhead
,
Hunter Loughhead
,
Connor Loughhead
,
Garrett Loughhead
,
Kathy Bowlin
,
Michael Bowlin
,
Matthew Bowlin
,
Josh Bowlin
,
Karen Edelman
,
Mark Edelman
,
Jared Edelman
,
Anya Edelman
,
Julie Kuenstle
,
James Kuenstle
,
Emily Kuenstle
,
Connor Kuenstle
,
Mark Kuenstle
,
Pegi Newhouse
,
Bob Newhouse
,
Thomas Newhouse
,
Lizzy Newhouse
,
Andrew Fuller
,
Thomas Fuller
,
John shelby
,
Suzanne Shelby
,
Victoria Shelby
,
Abigail Shelby
,
Kim Chau
,
David Ming
,
Andy Perlman
,
Reese Perlman
,
Cindy Young
,
Chris Young
,
Conner Young
,
Callie Young
,
Karen Vine Fuller
Want more buzz like this? Sign up for our Morning Buzz emails.
To leave a comment, please log in or create an account with The Buzz Magazines, Disqus, Facebook, Twitter or Google+. Or you may post as a guest.