Mickie May Levin
Click the Buzz Me button to receive email notifications when Mickie May Levin appears in an article.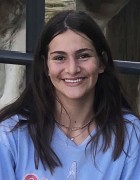 School Buzz Reporter
Hello! My name is Mickie May Levin, and I was born and bred in Houston, Texas, baby. I've always loved writing, and I'm really looking forward to meeting new people and having new experiences through my reporting with School Buzz. Some of my favorite hobbies include hiking, backpacking, reading, playing sports, petting my cat, and listening to music. A fun fact about me is that I've been featured in the Buzz for numerous reasons including but not limited to: community service, surfing, and even a concert in my front yard! All in all, I've been in the Buzz a whopping 8 times! (And yes, I do autographs). Lastly, the main reason I love living in Houston is because even though it's such a big city, we're all connected one way or another.
Articles Authored
September 21, 2021
November 1, 2019