Isabel Fernandez-Cueto
Click the Buzz Me button to receive email notifications when Isabel Fernandez-Cueto appears in an article.
School Buzz Co-editor
My name is Isabel Fernandez-Cueto, and I am a sophomore at Duchesne Academy of the Sacred Heart. I am very passionate about all things writing, especially argumentative essays, and this is my second year writing for my school's newsletter. I am an avid reader, so I try to read one book per week. Outside of school, I enjoy playing tennis with my family and friends. I am super excited to share a piece of my school's personality with the School Buzz team!
Articles Authored
March 1, 2023
December 1, 2022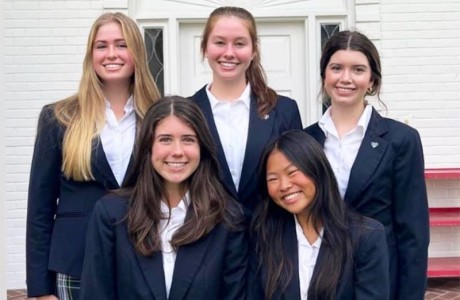 October 4, 2022
Article Mentions
By
Isabel Fernandez-Cueto
|
March 1, 2023
Meet our 2022-23 correspondents
By
Caroline Siegfried
|
September 27, 2022
People in this article:
Alina Syed
,
Ava Nair
,
Devan Kalra
,
Zach Daube
,
Amy Park
,
Andrew Liu
,
Anya Edelman
,
Gargi Rakhade
,
Jason Deng
,
Karis Chen
,
Melanie Fung
,
Mickie May Levin
,
Alexis Westlake
,
Ahmed Aslam
,
Ayushi Mohanty
,
Danielle Yampuler
,
Ruhaan Singh
,
Abby Von Eik
,
Athitiya Singhapan
,
Cherish Amby-Okolo
,
Jasmine Sidhu
,
Isabel Fernandez-Cueto
,
Izza Effendi
,
Julia Harfenist
,
Tessa Harfenist
,
Victoria Carroll
,
Dani Barg
,
Frances Sherman
,
Haley Saikin
,
Leah Cororve
,
Yonathan Bibi
,
Raigan Clay
,
Adriana Martinez
,
Diane Weber
,
Dj Ijaola
,
Donna Xue
,
Joshua Chin
,
Laraleigh Hackerman
,
Riley Warnica
,
Irene Roddy
,
Kate-Yeonjae Jeong
,
Matthew Jeong
,
Anna Galan
,
Danielle Bartholet
,
Denise Walsh
,
Ana Susman
,
Chisom Nwabudike
,
Eshaan Mani
,
Lindsey Karkowsky
,
Oliver Oldham
,
Kayla Pearl
,
Mischa Wijesekera
,
Caroline Killinger
,
Gwyneth Delling
,
Imry Shrout-Jordan
,
Alden Farrow
,
Andrew Yang
,
Ellen Baik
,
Hannah Kim
,
Laine Lohfink
,
Orianna Fong
,
Reed Ingersoll
,
Tulsi Parikh
,
Justin Wei
,
Ray Rosenthal
,
Caroline Martinez
,
Isabella Ventura
,
Alexandra Wong
,
Anika Shethia
,
Anna Frederickson
,
Bailey Raymond
,
Chiderah Emeakoroha
,
Lilly Jarlsjo
,
Melinda Dae
,
Rebecca Bi
,
Suria Mehta
,
Rebecca Jackson
,
Emma Chang
,
Maggie Hester
,
Veda Chilakapati
,
Josie Feldman
,
Laura Jones
,
Maggie Veech
,
Sofia Ordaz
,
Audrey Nguyen
,
Elsie Wire
,
Ethan Vinson
,
Bowen Moore
,
Carter McKenna
,
Rushil Chetty
,
Hank Davis
,
Aditi Iyer
,
Emily Goldstein
,
Hannah Groogan
,
Sophia Martinez
,
Trinidad Gonzales
,
Hannah Sternberg
By
Caitlyn McConnell
|
September 17, 2021