Asia Williams
Click the Buzz Me button to receive email notifications when Asia Williams appears in an article.
School Buzz Reporter
Growing up writing was always my favorite subject. My true passion for writing began around the 3rd grade when I competed in writing competitions my tennis tournaments would offer. I was encouraged to continue writing when I won my first competition. Working with School Buzz will give me the chance to collaborate with locals my age and get different perspectives of my community. Aside from writing, I love playing tennis. My biggest fun fact is I love Chinese watercolor. I love the diversity and hidden gems that makeup Houston. What makes Lamar High School stand out is the IB curriculum it offers and the block schedule to efficiently learn the material. 
Article Mentions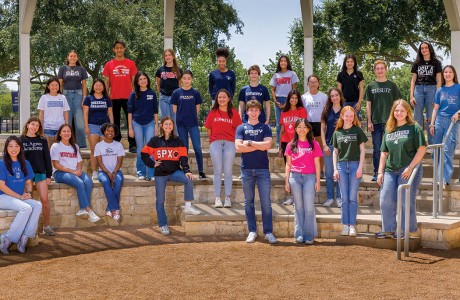 Meet our 2023-24 correspondents
By
Caroline Siegfried
|
September 26, 2023
People in this article:
Ava Nair
,
Alina Syed
,
Gregory Shafir Zelitt
,
Melanie Fung
,
Shyla Jogi
,
Charles Yu
,
Anjali Martinez
,
Beatrix Gnemi
,
Isabel Fernandez-Cueto
,
Julia Harfenist
,
Tessa Harfenist
,
Dani Barg
,
Eli Karpas
,
Donna Xue
,
Matthew Jeong
,
Jordan Muscal
,
Oliver Oldham
,
Eshaan Mani
,
Aleisha Paulick
,
Asia Williams
,
Alden Farrow
,
Keira Donovan
,
Kelsy Donovan
,
Emma Lai
,
Audrey Nguyen
,
Elsie Wire
,
Alexandra Wong
,
Madeleine Skaufel
,
Maggie Hester
,
Nia Shetty
,
Caroline Larrabee
,
Catherine McClees
,
Sophia Wagner
,
Anika Engler
,
Carver Hix
,
Solemei Scamaroni
,
Agnes Tang
,
Eden Williams