Ava Nair
Click the Buzz Me button to receive email notifications when Ava Nair appears in an article.
School Buzz Reporter
Hi! My name is Ava, and I am a current junior at Awty. I am excited to be an editor because one of my biggest passions is obviously writing! As a kid I was enamored with stories and loved the notion of creating my own. Being at Awty has helped foster my passion and the variety of clubs and writing opportunities that they offer have only made me more interested. Some of my other  interests include reading, traveling, and spending time with animals. A fun fact about me is that I grew up in London and lived there for 10 years before coming to Houston. Although I loved England, Houston now feels like home and I love the people, food, and especially the diversity of the city!
Article Mentions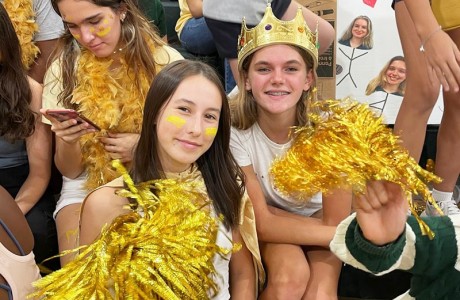 By
Ava Nair
|
October 7, 2022
By
Devan Kalra
|
October 5, 2022
Meet our 2022-23 correspondents
By
Caroline Siegfried
|
September 27, 2022
People in this article:
Alina Syed
,
Ava Nair
,
Devan Kalra
,
Zach Daube
,
Amy Park
,
Andrew Liu
,
Anya Edelman
,
Gargi Rakhade
,
Jason Deng
,
Karis Chen
,
Melanie Fung
,
Mickie May Levin
,
Alexis Westlake
,
Ahmed Aslam
,
Ayushi Mohanty
,
Danielle Yampuler
,
Ruhaan Singh
,
Abby Von Eik
,
Athitiya Singhapan
,
Cherish Amby-Okolo
,
Jasmine Sidhu
,
Isabel Fernandez-Cueto
,
Izza Effendi
,
Julia Harfenist
,
Tessa Harfenist
,
Victoria Carroll
,
Dani Barg
,
Frances Sherman
,
Haley Saikin
,
Leah Cororve
,
Yonathan Bibi
,
Raigan Clay
,
Adriana Martinez
,
Diane Weber
,
Dj Ijaola
,
Donna Xue
,
Joshua Chin
,
Laraleigh Hackerman
,
Riley Warnica
,
Irene Roddy
,
Kate-Yeonjae Jeong
,
Matthew Jeong
,
Anna Galan
,
Danielle Bartholet
,
Denise Walsh
,
Ana Susman
,
Chisom Nwabudike
,
Eshaan Mani
,
Lindsey Karkowsky
,
Oliver Oldham
,
Kayla Pearl
,
Mischa Wijesekera
,
Caroline Killinger
,
Gwyneth Delling
,
Imry Shrout-Jordan
,
Alden Farrow
,
Andrew Yang
,
Ellen Baik
,
Hannah Kim
,
Laine Lohfink
,
Orianna Fong
,
Reed Ingersoll
,
Tulsi Parikh
,
Justin Wei
,
Ray Rosenthal
,
Caroline Martinez
,
Isabella Ventura
,
Alexandra Wong
,
Anika Shethia
,
Anna Frederickson
,
Bailey Raymond
,
Chiderah Emeakoroha
,
Lilly Jarlsjo
,
Melinda Dae
,
Rebecca Bi
,
Suria Mehta
,
Rebecca Jackson
,
Emma Chang
,
Maggie Hester
,
Veda Chilakapati
,
Josie Feldman
,
Laura Jones
,
Maggie Veech
,
Sofia Ordaz
,
Audrey Nguyen
,
Elsie Wire
,
Ethan Vinson
,
Bowen Moore
,
Carter McKenna
,
Rushil Chetty
,
Hank Davis
,
Aditi Iyer
,
Emily Goldstein
,
Hannah Groogan
,
Sophia Martinez
,
Trinidad Gonzales
,
Hannah Sternberg