Charles Yu
Click the Buzz Me button to receive email notifications when Charles Yu appears in an article.
School Buzz Reporter
My name is Charles Yu, a current junior at Bellaire High School, and I mainly pursue competitive swimming and being amazingly inaccurate in my video game escapades. I was first introduced to journalism as an editor for Bellaire's yearbook (the Carillon!) and hope to improve my reporting skills through School Buzz. While tackling this frightful year of AP courses, I enjoy socializing in Bellaire's student council, Chinese club, and bread club. As a diverse school of three thousand students with a unique cardinal hour lunch, indoor pool, and vibrant student life, Bellaire has many page-turning scoops that I believe are worth capturing.
Article Mentions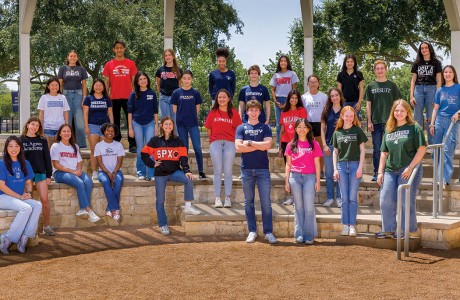 Meet our 2023-24 correspondents
By
Caroline Siegfried
|
September 26, 2023
People in this article:
Ava Nair
,
Alina Syed
,
Gregory Shafir Zelitt
,
Melanie Fung
,
Shyla Jogi
,
Charles Yu
,
Anjali Martinez
,
Beatrix Gnemi
,
Isabel Fernandez-Cueto
,
Julia Harfenist
,
Tessa Harfenist
,
Dani Barg
,
Eli Karpas
,
Donna Xue
,
Matthew Jeong
,
Jordan Muscal
,
Oliver Oldham
,
Eshaan Mani
,
Aleisha Paulick
,
Asia Williams
,
Alden Farrow
,
Keira Donovan
,
Kelsy Donovan
,
Emma Lai
,
Audrey Nguyen
,
Elsie Wire
,
Alexandra Wong
,
Madeleine Skaufel
,
Maggie Hester
,
Nia Shetty
,
Caroline Larrabee
,
Catherine McClees
,
Sophia Wagner
,
Anika Engler
,
Carver Hix
,
Solemei Scamaroni
,
Agnes Tang
,
Eden Williams
By
Charles Yu
|
September 18, 2023