Keira Donovan
Click the Buzz Me button to receive email notifications when Keira Donovan appears in an article.
School Buzz Reporter
Hi everyone! My name is Keira Donovan and I am a sophomore at Memorial High School. At school, I am on the lacrosse team as well as a travel team outside school. Some of my favorite things to do are read, watch tv, volunteer, and travel! Quite recently I discovered a love for writing, and I am currently exploring this side of myself. I am very excited to write for School Buzz because Buzz Magazines was always in my house growing up. Through this program, I hope to share my perspective and enlighten others about everything Memorial has to offer! Go 'stangs!
Article Mentions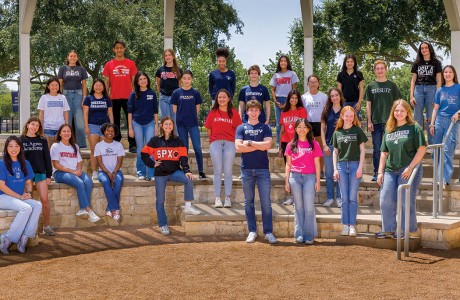 Meet our 2023-24 correspondents
By
Caroline Siegfried
|
September 26, 2023
People in this article:
Ava Nair
,
Alina Syed
,
Gregory Shafir Zelitt
,
Melanie Fung
,
Shyla Jogi
,
Charles Yu
,
Anjali Martinez
,
Beatrix Gnemi
,
Isabel Fernandez-Cueto
,
Julia Harfenist
,
Tessa Harfenist
,
Dani Barg
,
Eli Karpas
,
Donna Xue
,
Matthew Jeong
,
Jordan Muscal
,
Oliver Oldham
,
Eshaan Mani
,
Aleisha Paulick
,
Asia Williams
,
Alden Farrow
,
Keira Donovan
,
Kelsy Donovan
,
Emma Lai
,
Audrey Nguyen
,
Elsie Wire
,
Alexandra Wong
,
Madeleine Skaufel
,
Maggie Hester
,
Nia Shetty
,
Caroline Larrabee
,
Catherine McClees
,
Sophia Wagner
,
Anika Engler
,
Carver Hix
,
Solemei Scamaroni
,
Agnes Tang
,
Eden Williams
By
Angie Frederickson
|
March 27, 2022
People in this article:
Sadie Jackson
,
Ava Ableson
,
Kelsy Donovan
,
Luisa Llaneva Avogadro
,
Micah Thames
,
Maren Jackson
,
Ava Golden
,
Olivia Blissard
,
Brynn Derrick
,
Talley Cohan
,
Sophia Judd
,
Ted Owen
,
David Delemos
,
Keira Donovan
,
Sassy Huff
,
Eliya Gibson
,
Parker Wetmore
,
Courtney Whittaker
,
Caroline Peterson
,
Amanda Stinson
,
Kendall Adam
,
Maddie Box