Oliver Oldham
Click the Buzz Me button to receive email notifications when Oliver Oldham appears in an article.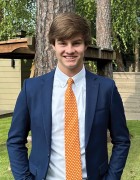 School Buzz Reporter
Howdy, my name is Oliver Oldham. I am so excited to have the opportunity to work with School Buzz and pursue my interest in writing. I play tennis both inside and outside of school, and I take an interest in all sports. I also take interest in a unique hobby of mine, bladesmithing, which I took on two years ago. I have lived in Houston all of my life, and I cannot complain about it! I love the diversity of culture, cuisine, and people within this great city. Once again, I am so excited to work with and write for School Buzz!