Tulsi Parikh
Click the Buzz Me button to receive email notifications when Tulsi Parikh appears in an article.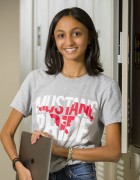 Contributing writer
|
School Buzz Reporter
Tulsi Parikh is a student writer and an incoming junior at Memorial High School. Born and raised in Houston, her love for this city has only grown as she's been able to evolve in the vivid, always interesting melting pot. For as long as she can remember, she's had this natural attraction to writing as opposed to math or science. Aside from writing, she is a very passionate actress and traveller. As much as she loves her hometown, coming from a family of travellers she has the privilege to visit the various beauties of society and escape to a different world. At school, she is part of the theatre program and a member of the student council. She is thrilled to spend this summer with the Buzz team!