Athitiya Singhapan
Click the Buzz Me button to receive email notifications when Athitiya Singhapan appears in an article.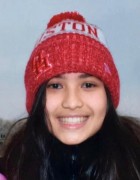 School Buzz Reporter
Howdy-do! My name is Athitiya (uh-thih-tee-yuh), and I'm a lover of people, cheese, and literature… in no particular order! I can wiggle both my eyebrows and love to find beauty in the simplest things! My favorite hobbies are running, daydreaming, and giving warm hugs. Houston is the PERFECT place for warm hugs – her city lights blink at all the different skin tones, accents, and personalities she encounters. She is surprised at how well they embrace each other and entwine so perfectly into a beautiful tinge of empire gold. I am here to capture such warming shades of color for readers like you!