School Buzz
Meet our 2021-22 correspondents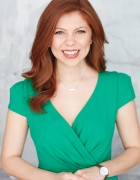 Click the Buzz Me button to receive email notifications when this writer publishes a new article or a new article in this column is published.
Our popular School Buzz program is in its ninth year this fall. Our correspondents – 74 high schoolers from 24 local high schools – cover campus happenings and give us behind-the-scenes glimpses into everyday life at their schools.
You can see hundreds of student-written articles about campus events, clubs, teachers, classes, extracurriculars, trends, and more. Some writers and editors are fresh faces just getting started, while others are veterans returning for their fourth and final year with School Buzz. 
In August, before the school year began, some of our correspondents gathered at The Emery/Weiner School to capture this photo and discuss their vision for the upcoming year. Below, they share their experiences with School Buzz so far and how the program has impacted them as writers and students.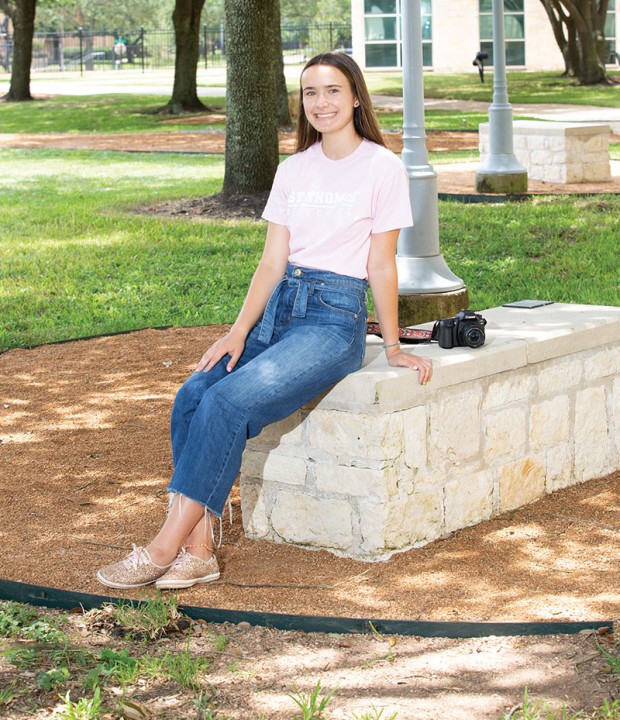 Mary-Ellen Abshire, Saint Thomas' Episcopal School, reporter
Through my work as a School Buzz reporter, I've gained skills that will be helpful in the business world, like time management and meeting deadlines. Joining School Buzz also helped me realize how much I enjoy writing and my passion for journalism. I joined School Buzz because I wanted to hone my writing and photography skills while highlighting fun events at my school. Student spotlights are probably one of my favorite topics because I get to get a peek into students' lives and learn interesting things I never would have known. The most fulfilling topic I covered was the rebuilding of my school. After Harvey devastated our school, the community came together, and eventually we started to rebuild. Hearing memories of the old building from staff and students as it was being demolished gave us a heavy dose of nostalgia but hope for the future. One of the fun facts I learned from STE alumni was how milk was delivered to the school and a lucky kid in each class got to fetch the milk for their class with tiny grocery carts! I love learning new things about my school and sharing them with the Buzz community.
Eliot Aiman, St. John's School, reporter
I've always known I wanted to be a writer – not a full-time author, or even a profound journalist, but rather an adult whose hobby offers the privilege of occasional publication. At first, spending a month as the Buzz Magazines summer intern seemed daunting. I wasn't sure journalism would "be my thing." What I quickly learned, though, was that journalism, especially with The Buzz, was actually a great combination of my passions: community and writing. I spent my month-long internship visiting museums and local events, writing, interviewing, and helping connect the community I've grown up in with neighborhood news. The end of my internship brought a hard goodbye, but I'm thrilled to be back as a School Buzz correspondent, a new experience for me! This year, I hope to cover a wide range of topics and share a piece of my St. John's life and family with the broader Buzz community. I'm still not sure about becoming a full-time writer as an adult, but I am sure that I'll be spending these next months with School Buzz learning, writing, contributing to community, and doing something I love.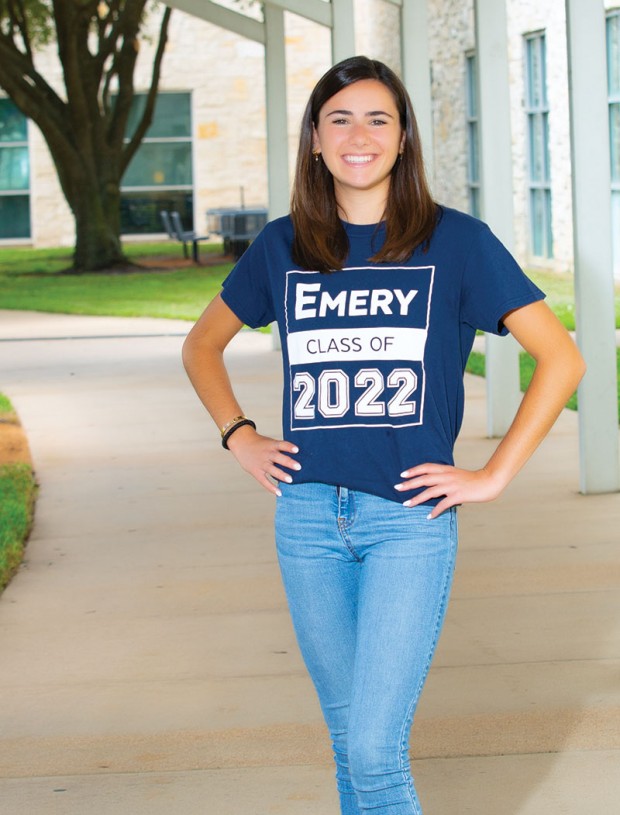 Abby Cowan, The Emery/Weiner School, editor
After my internship with The Buzz during the summer of 2020, I was inspired to continue improving my journalism skills and to remain a part of the Buzz family. Joining School Buzz has been the most amazing way to do so, as I have been covering stories that showcase my school community and that interest me as a young writer. I have had the opportunity to report on first-time voters and students' summer experiences, to name a few. It is fulfilling to use my voice and promote the extraordinary things happening in the Emery community. I hope to work in journalism in my future, and I know my experiences in School Buzz have helped to prepare me.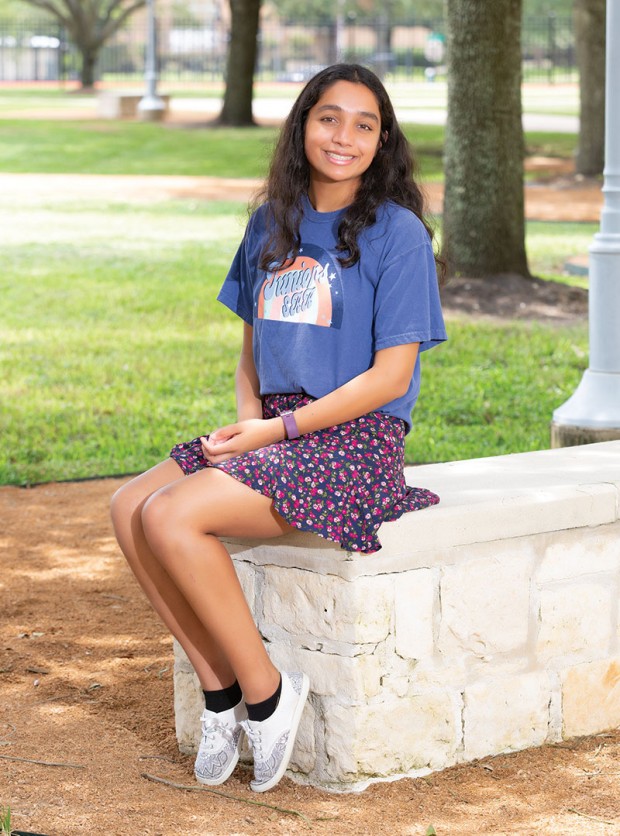 Maya Harpavat, St. Agnes Academy, editor
I joined School Buzz because I wanted to view writing from a different lens. In school, I am used to creative writing and essay writing, but School Buzz gives me the opportunity to combine both styles into articles about my community. This past school year, I wrote a more personal narrative about cultural dress day at St. Agnes. It was so meaningful to me because I got to report on the happenings at St. Agnes while also sharing the importance and impact of cultural dress day from my perspective. My experience with School Buzz gives me the opportunity to connect with people in my community and hear their own stories. I am a senior this year, and after high school, I eventually want to become a pediatrician. My experience with School Buzz and dreams of being a pediatrician may not seem to go together, but it has taught me the importance of hearing everyone's story. One day when I am a doctor, I hope to realize that behind every patient is a person with a story.
Kate-Yeonjae Jeong, Kinder High School for the Performing and Visual Arts, co-editor
School Buzz allows me to stay in touch with my journalism skills, which I believe to be important for my future. I joined the program because I wanted to share the extraordinary experiences of my school and write about community events at HSPVA. My favorite topics to cover are special events because they truly capture the unique and creative spirit of HSPVA students! It was heartwarming to cover the story of my school's Artist Academy, an all-day event spent on campus to welcome freshmen. It was the first of many memorable experiences that students will have at HSPVA. 
Matthew Jeong, Kinder High School for the Performing and Visual Arts, reporter
I joined School Buzz this year because I want to delve into the world of journalism and to contribute to my community in a way that I felt passionate about, which is writing and sharing stories of events with others. I like to cover happenings at my school, from contests to shows and events around campus. This year as a reporter for School Buzz, I hope to develop my skills as a writer. I want to be able to share more insightful and thought-provoking stories with others and to hone my skills by doing so.
Zoe Kass, Bellaire High School, editor
Writing for School Buzz as a freshman helped me familiarize myself with the often-overwhelming Bellaire High School experience. Approaching people for pictures and exploring Bellaire's clubs and extracurriculars to find inspiration for an article was never easy, but this process made me realize the value of being a reporter. When an article I wrote sophomore year about Maple Street Journal, BHS's literary and art magazine I was struggling to restart, was noticed by a manager at HISD's printing operation, my small club's dreams of seeing students' creative works on paper transformed into a reality far exceeding expectations. That one article led to my team establishing a collaborative relationship that allowed us to publish two volumes (and counting) of incredible student work. Now, as I enter my senior year as a School Buzz editor, I get to view the BHS experience through different eyes and look forward to seeing what doors these articles will open for a new group of reporters.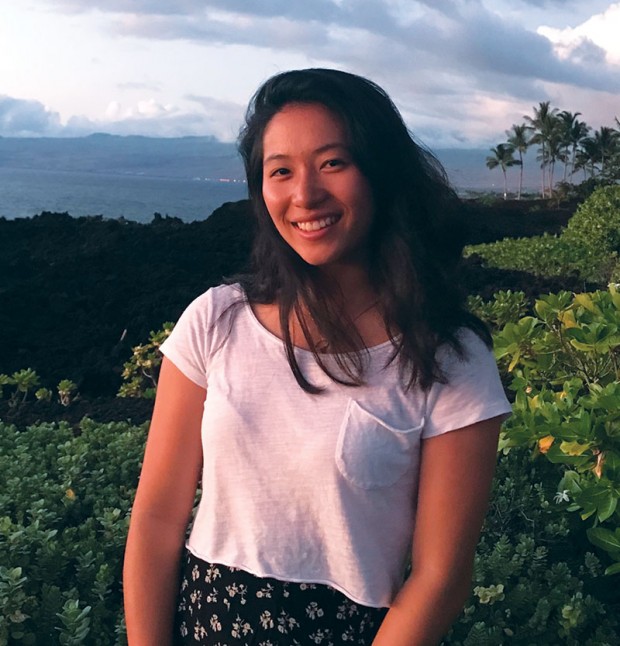 Lauren Koong, Lamar High School, editor
I joined School Buzz to gain more experience as a journalist in a real-world setting. At school, I am very involved with the journalism program but was interested in furthering my journalism education. By writing for School Buzz, I was able to get hands-on learning about journalism in a professional setting. I started out as a School Buzz reporter and was promoted to editor. Not only is writing for School Buzz helping me further my journalistic ability, but I also have so much fun doing it, and it is one of my favorite extracurricular activities. Because I will be graduating this year, this will be my last year writing for School Buzz, which is hard for me to accept, but I am so grateful for all the lessons I have learned along the way.
Tina Li, Carnegie Vanguard High School, editor
Storytelling has always been of central importance in my life. As I've grown older, I've held a deeper appreciation for the human experience and the joy and sorrow storytelling can encapsulate. School Buzz has offered me an amazing opportunity to craft and hone my style of storytelling. I love to tell the stories of other students I admire the most. After The Buzz, I plan on continuing to college to study (hopefully) economics and political science. All stories are worth telling. The stories told through The Buzz and School Buzz are just a small fraction of what the world has to offer.
Hank Davis, Stratford High School, reporter
I joined School Buzz this year to explore and report on the various endeavors of students at Stratford. The Buzz Magazines and, in particular, School Buzz are great resources for keeping the local community informed on what is happening in the numerous schools and neighborhoods across our awesome city. The thing I like most about the Memorial area is that there is a broad mixture of both public and private schools where student groups come together and merge for a time and then go in different directions. It is great to have a resource like School Buzz where residents can stay informed and support one another. I am intrigued by the unique nature of Memorial and the diverse achievements and undertakings of its student population. As a School Buzz reporter, I hope to learn more about and report on these extraordinary pursuits.
Tulsi Parikh, Memorial High School, reporter
Entering 11th grade as a third-year School Buzz correspondent, I cherish the privilege of carrying this outlet with me throughout my high school career thus far. At the beginning of my freshman year, I was in search of a creative release separate from my school environment and stumbled upon School Buzz after receiving our monthly subscription. During my time as a contributing writer, I've been putting the spotlight on Memorial's theater program. Although I thoroughly enjoy updating our community on the stories of our stage, I'm hopeful that this upcoming season that School Buzz will encourage me to discover parts of my school that I normally wouldn't be introduced to. This summer I was blessed enough to intern at the Buzz Magazines and cover my own story from the first spark of an idea, reporting at events, to finishing the last edit before publication. Without writing for the School Buzz, I wouldn't have been led to this internship that truly developed my skills as a writer.
If you are in a high school in or near The Buzz Magazines' circulation zone and are passionate about writing or photography, it's not too late to apply for our School Buzz program. Check out the School Buzz blog at to learn how. Questions? Email Jenna Mazzoccoli at [email protected]. Here are this year's correspondents so far.
The Awty International School
Alina Syed
British International School of Houston
Viola Holmes
Alexis Westlake
Bellaire High School
Jonathan Chiriboga
Anya Edelman
Sophia Hernandez
Zoe Kass
Mickie May Levin
Amy Park
The Briarwood School
Scout Novelli
Sara Stribling
Carnegie Vanguard High School
Tracy Huang
Tina Li
Nitin Manian
Ayushi Mohanty
Gabriela Rodriguez
Ruhaan Singh
Dhruv Tekumalla
Danielle Yampuler
Michael E. DeBakey High School for Health Professions
Abby Von Eik
Jasmine Sidhu
Athitiya Singhapan
Duchesne Academy of The Sacred Heart
Caitlyn McConnell
The Emery/Weiner School
Abby Cowan
Leah Cororve
Rachel Gittleman
Lauren Haas
Hailey Saikin
Frances Sherman
Houston Christian High School
Joshua Chin
Dj Ijaola
Adriana Martinez
Kinder High School for the Performing and Visual Arts
Kate-Yeonjae Jeong 
Matthew Jeong 
Irene Roddy
Incarnate Word Academy
Isabella Terracini
Denise Walsh
The Kinkaid School
Eshaan Mani
Lamar High School
Lauren Koong
Kayla Pearl
Kathryn Stone
Memorial High School
Ellen Baik
Catherine Fenz
Orianna Fong
Hannah Kothari
Laine Lohfink
Berkley Matthews
Tulsi Parikh
Giselle Tabibi
The Post Oak School
Leila Lopez Marks
Sutton Walsh
Second Baptist School
Preston Igo
Caroline Martinez 
St. Agnes Academy
Melinda Dae
Anna Frederickson
Maya Harpavat
Lilly Jarlsjo
Ava Phillips
Bailey Raymond
Anika Shethia
St. Francis Episcopal School
Rebecca Jackson
St. John's School
Eliot Aiman
Mia Baumann
Emma Chang
Veda Chilakapati
Josie Feldman
Wellsley Moore
St. Thomas' Episcopal School
Mary-Ellen Abshire
Laura Newcomer
St. Thomas High School
Robert Longo
Strake Jesuit
Rushil Chetty
Carter McKenna
Stratford High School
Hank Davis
People in this article:
Alina Syed
,
Viola Holmes
,
Alexis Westlake
,
Jonathan Chiriboga
,
Anya Edelman
,
Sophia Hernandez
,
Zoe Kass
,
Mickie May Levin
,
Amy Park
,
Scout Novelli
,
Sara Stribling
,
Tracy Huang
,
Tina Li
,
Nitin Manian
,
Ayushi Mohanty
,
Gabriela Rodriguez
,
Ruhaan Singh
,
Dhruv Tekumalla
,
Danielle Yampuler
,
Abby Von Eik
,
Jasmine Sidhu
,
Athitiya Singhapan
,
Caitlyn McConnell
,
Abby Cowan
,
Leah Cororve
,
Rachel Gittleman
,
Lauren Haas
,
Hailey Saikin
,
Frances Sherman
,
Joshua Chin
,
Dj Ijaola
,
Adriana Martinez
,
Kate-Yeonjae Jeong
,
Matthew Jeong
,
Irene Roddy
,
Isabella Terracini
,
Denise Walsh
,
Eshaan Mani
,
Lauren Koong
,
Kayla Pearl
,
Kathryn Stone
,
Ellen Baik
,
Catherine Fenz
,
Orianna Fong
,
Hannah Kothari
,
Laine Lohfink
,
Berkley Matthews
,
Tulsi Parikh
,
Giselle Tabibi
,
Leila Lopez Marks
,
Sutton Walsh
,
Preston Igo
,
Caroline Martinez
,
Melinda Dae
,
Anna Frederickson
,
Maya Harpavat
,
Lilly Jarlsjo
,
Ava Phillips
,
Bailey Raymond
,
Anika Shethia
,
Rebecca Jackson
,
Eliot Aiman
,
Mia Baumann
,
Emma Chang
,
Veda Chilakapati
,
Josie Feldman
,
Wellsley Moore
,
Mary-Ellen Abshire
,
Laura Newcomer
,
Robert Longo
,
Rushil Chetty
,
Carter McKenna
,
Hank Davis
,
Aditi Iyer
Schools in this article:
The Awty International School
,
Bellaire High School
,
The Briarwood School
,
British International School of Houston
,
Carnegie Vanguard High School
,
Duchesne Academy of the Sacred Heart
,
The Emery/Weiner School
,
Houston Christian High School
,
Incarnate Word Academy
,
Kinder High School for the Performing and Visual Arts
,
The Kinkaid School
,
Lamar High School
,
Memorial High School
,
Michael E. DeBakey High School for Health Professions
,
The Post Oak School
,
Saint Thomas' Episcopal School
,
Second Baptist School
,
St. Agnes Academy
,
St. Francis Episcopal School
,
St. John's School
,
St. Thomas High School
,
Strake Jesuit
,
Stratford High School
,
The Village School
Want more buzz like this? Sign up for our Morning Buzz emails.
To leave a comment, please log in or create an account with The Buzz Magazines, Disqus, Facebook, Twitter or Google+. Or you may post as a guest.