Zoe Kass
Click the Buzz Me button to receive email notifications when Zoe Kass appears in an article.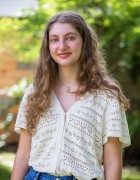 Buzz reader
|
School Buzz Reporter
My name is Zoe Kass and I am a junior at Bellaire High School and a Bellaire native. When I am not doing homework, I look forward to finding new places to eat, visiting museums, and coordinating advocacy initiatives in our state. I love living in the Houston area, with all its opportunities to explore other cultures. However, my all-time favorite pastime is travel. When I can't leave the country, I love to crack open a book and explore the world through its pages. I enjoy being part of School Buzz and reporting on our part of the world.